By Nature's Willow
SKU# NWWB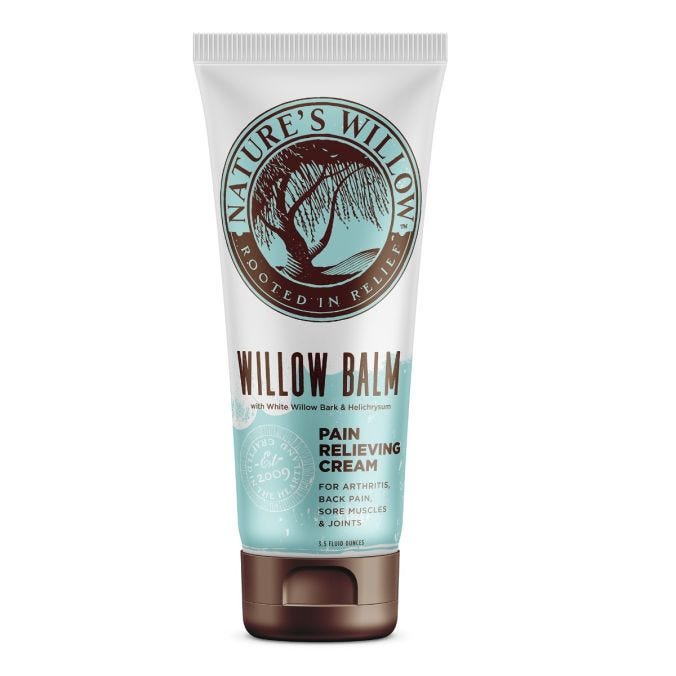 Ships by: Wed, Jan 20th
FREE Shipping over $50
Product Specialist
Lifetime Phone Support
Financing Options
Need Help?
Talk to one of our Experts!
For more than a decade, Nature's Willow Balm has provided natural pain relief for hard-working folks across the heartland. A blend of white willow bark and helichrysum, our patented formula makes short work of pain.
Our patented combination of white willow bark and helichrysum works quickly to reduce pain and inflammation related to arthritis, muscle pains and injuries, joint pain and other ailments, even migraines
Alternative to synthetic medications: The naturally occuring salicin in white willow bark behaves much like aspirin to reduce pain, while the anti-inflammatory properties of helichrysum improve blood flow to muscles
Packed with natural counterirritants: Menthol acts quickly to cool the skin, camphor and eucalyptus essential oils relieve mild inflammation, and lavender and geranium bring antiseptic, anti-inflammatory and antibacterial properties (and a pleasant scent!)
Hardworking, patented formula: Willow Balm acts quickly to relieve pain so you can get back to the work that needs to be done
Made in USA: Our non-greasy topical pain cream is proudly made in the US with natural ingredients
Product Highlights
Relieves joint and muscle pain
Lessens migraine and chronic pain
The original pain killer
INGREDIENTS
BOTANICALS: camphor, eucalyptus oil, geranium oil, helichrysum gymnocephalum oil, lavender oil, spearmint oil, white willow bark
OTHER INGREDIENTS: almond oil, caprylyl glycol, ceteraryl alocohol, cetereth, cetyl alcohol, glycol monostearate, isopropyl palmitate, jojoba seed oil, mineral oil, phenoxy ethanol, propylene glycol, stearic acid, stearyl alcohol, water
No returns if the item is opened. This is for sanitary reasons.
Frequently Bought Together: