Falls become an increasingly serious health risk as family members and loved ones age. One errant step or slip can result in serious injuries: broken bones, hip fractures, or infection. The best way to protect against these accidents? Take steps today to promote fall prevention in your home.
In this guide, we'll offer seven tips to decrease the risk of fall injury. These range from inexpensive home modifications, to overall adjustments the care team can make for older adults.
In this case, an ounce of prevention truly is worth a pound of cure.
Work with a professional
One of the most important steps in the fall prevention process is to work with a professional as needed. A physical therapist or occupational therapist can work individually with loved ones to improve muscle strength and injury recovery.
These professionals can conduct a formal risk assessment, offering tailored fall prevention strategies for your unique situation. In physical therapy, older adults can improve their strength, balance, mobility, and endurance for daily activities like walking or using the bathroom.
Remove obstructions
Start by looking around the home for common obstructions that could become a fall hazard.
Keep an eye out for:
Electrical cords
Wrinkled carpet
Uneven steps
General clutter

Under the right circumstances, anything blocking a clear pathway around the home can create a fall risk.
Take an hour to walk through your home and identify any possible hazards. The good news? Most can be quickly removed without expensive home renovations.
Increase visibility around the home
Healthcare research has found that vision impairment is one of the primary risk factors for falls in older adults.
Combat low visibility by installing night lights, track lighting, and brighter lights around the home. While ambient lighting may create a relaxed mood, it isn't always the best option. Lowlight shadows can distort visibility, especially around corners and in stairways.
Focus on bright, accessible lighting across the home.
Improve bathroom safety
Do you know what the most dangerous room in your home is? Few living areas have more potential for serious injury than the restroom. Wet floors, hard tile, and slick surfaces all create an environment ripe for fall risk.
Install nonslip mats, a shower chair, and safety rails throughout your bathroom to create a safe, more navigable environment.
Need some extra inspiration? Check out our Bath Safety catalog for a comprehensive list of tools and devices to improve bathroom safety.
Lean on lift chairs
Transfers, such as transitioning from a seated to standing position, can present a significant fall risk for loved ones with mobility challenges. In the case where a family member or caregiver is not always available to help with these transitions, a lift chair can be a valuable tool. Users can independently lift themselves from a sitting position to their feet with the press of a button.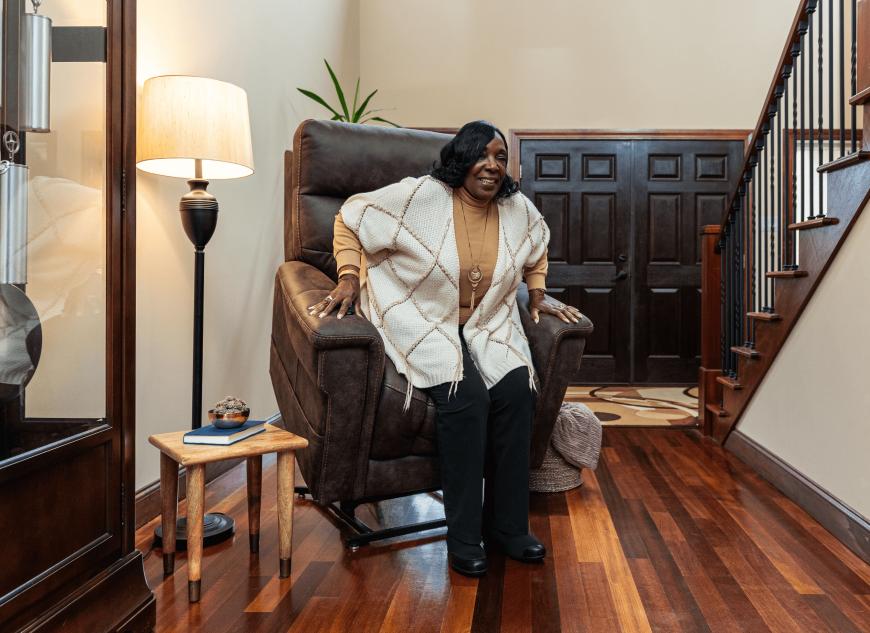 Install grab bars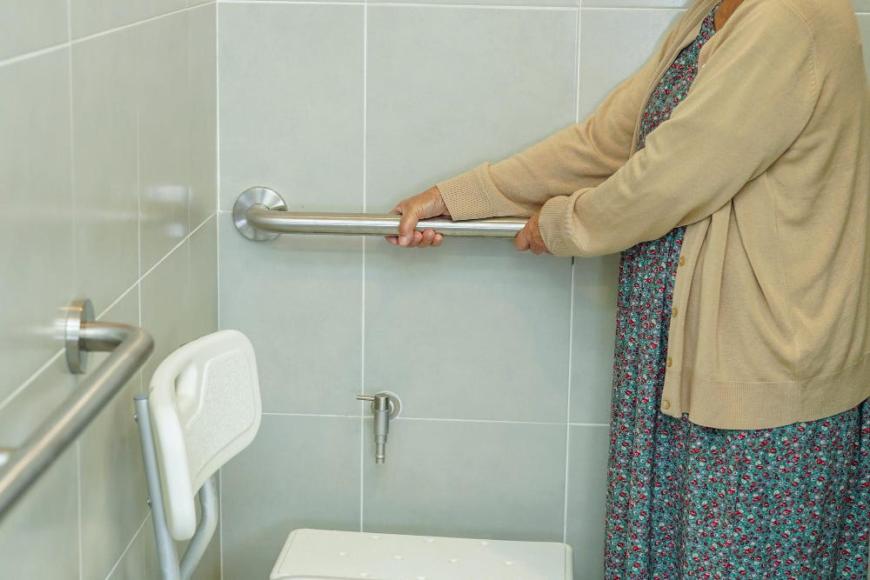 Grab bars are affordable low tech solutions to provide a helping hand around the house, wherever it's needed. Install metal handholds in hallways, bathrooms, entryways, or anywhere else in your home– the possibilities are endless.
These assistive devices prevent falls by offering a sturdy place to rest and lean on for support.
Have a plan
No matter how comprehensive your fall prevention strategies may be, accidents can happen. Care team members should frequently audit an older adult's risk factors, as well as create a tailored plan in case something goes wrong.
Decide in advance what to do in case of a fall. Consider a wearable emergency alarm system, establish who to contact in case of emergency, and keep hospital staff informed of any significant health changes. Having an established plan in place helps everyone stay calm and prevent further injury or distress.
With the right precautions in place, loved ones can live a much safer everyday lifestyle in their home.
If you have any further questions on the right equipment for preventing falls, please reach out to the product expert team here at Med Mart. We've been providing expert advice and helping families for over 30 years–– we would love to help you find the perfect solution for your home.