Struggling with mobility can make even the simplest tasks seem impossible. That's where patient lifts come in– essential tools that make day-to-day transfers easier for both the patient and caregiver. From moving between rooms in the house to getting in and out of the pool, the right patient lift can safely move patients without putting any unnecessary strain on anyone.
However, with so many different models, features, and requirements to consider, finding the perfect patient lift for your needs can be overwhelming. That's why we've created the Ultimate Buyer's Guide for Patient Lifts. Here, we'll cover everything you need to know to make an informed purchase decision.
And if you still have questions or need help choosing the right lift, our team of product specialists with decades of experience are always available to assist you.
In this guide:
Who are patient lifts for?
Electric vs manual patient lifts
Manual patient lift example
Electric patient lift example
Foldable patient lifts
Foldable patient lift example
Sit-to-Stand lifts
Sit-to-Stand lift example
Specialty Lifts
Bath lifts
Pool lifts
Heavy duty patient lifts
Heavy duty patient lift example
Features to consider when buying a patient lift
Conclusion- The perfect patient lift is in reach
Who are patient lifts for?
A patient lift can be helpful in any situation where patients have mobility issues. For example, it can be useful for patients who are recovering from surgery or have a chronic condition that affects their mobility, such as multiple sclerosis or muscular dystrophy. Patient lifts can also be useful for elderly patients who may have trouble moving or standing up due to age-related issues like arthritis or osteoporosis.
Electric vs. Manual Patient Lifts
While both lifts can be excellent, reliable solutions, there are key differences depending on your preferences.
Electric patient lifts are powered by a rechargeable battery and can be operated using a remote control or a handheld control unit. Power patient lifts are designed to reduce the risk of injury for caregivers and patients, as they eliminate the need for manual lifting and require less physical exertion.
Manual (or hydraulic) patient lifts, on the other hand, require the caregiver to manually pump a hydraulic lever or crank to lift the patient. They are typically less expensive than electric lifts and are a good option for caregivers who require an affordable lifting solution. However, a hydraulic lift requires more physical effort to operate and can be more challenging to maneuver, especially with larger patients. They may also be less suitable for patients with complex care needs.
See the table below for a side-by-side comparison of manual vs electric lifts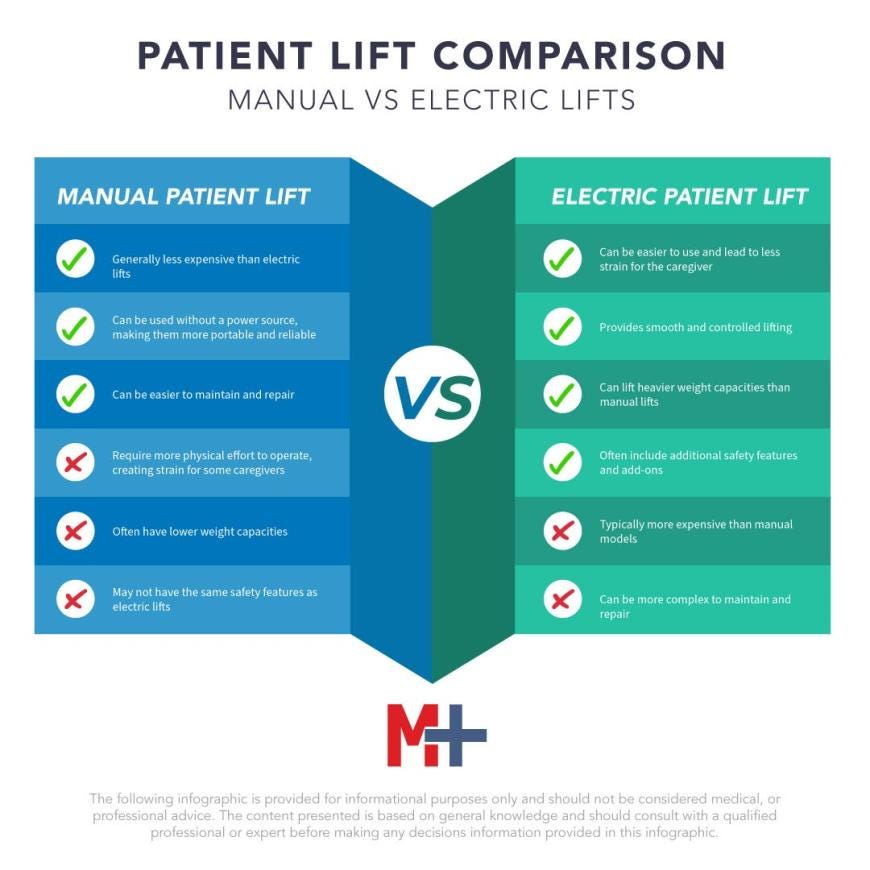 Manual Patient Lifts
Introducing the Advance-H Portable Patient Lift – the versatile and functional hydraulic lift that will make your life as a caregiver easier and more comfortable. With its foldable design, this lift can be easily transported and stored without the need for tools. Its oversized handle and foot-operated leg spreading mechanism allow for increased control and minimal physical exertion, making it a breeze to use.
The adjustable base can slide underneath furniture with minimal clearance, and the lift range accommodates transfers from a variety of surfaces.
Review from Jean W: It has been a life saver. My husband is confined to bed and it helps me to be able to lift him. I am able to raise him so I can change the sheets and pads on the bed by myself. Without the lift I would not be able to keep him at home.
Electric Patient Lifts
Whether you're caring for a loved one at home or working in a clinical setting, this best-selling Hoyer lift is designed to meet all your transfer needs. With a lifting range of 29"-76", it can handle most transfers with ease, and the 6-connection sling bar makes it easy to switch between slings and positions. The curved sling bar and reverse-mounted actuator provide ample leg and headroom, ensuring a comfortable and spacious transfer for the patient. Lightweight yet sturdy, this lift supports a weight capacity of up to 400lbs, making it perfect for both home and clinical use. Ergonomically designed with caregivers in mind, every aspect of this lift is designed for comfort and ease of use.
Review from Nancy M: Absolutely love this. We purchased this Deluxe Power Lift and never looked back! This is a godsend! For a heavier person, with many aches and sensitive skin, this is SO much more comfortable and quicker than the pump pump pump if the hydraulic. Worth every penny.
Folding Patient Lifts
Needing extra mobility assistance shouldn't stop you or a loved one from travel. There are many foldable and portable lift options designed to take with you on-the-go.
Folding patient lifts are designed to be compact enough to quickly fold down for easy storage in a corner, closet, or trunk of a vehicle. Many folding patient lifts can also be disassembled into two pieces for easy transport. These lifts are typically electric, which allows the lift to fold down into a compact size.
A staff favorite, the Hoyer Advance-E 340 lift is a reliable and versatile solution to any transfer situation in everyday life. Its unique 3-point style connection point and swan-neck style leg design provide complete stability and close access to any kind of furniture or wheelchairs. With a working load of 340 pounds, patients can feel safe and secure during transitions. Caregivers can reduce strain and risk of injury with its push-button functionality and oversized handle. The lift's remote control push-button operates almost silently and its rechargeable battery contains up to 60 lifts in a single, 8-hour charge.
Review from Kurt B: We just took our folding lift on our first trip and it is working great. I used it for a couple of weeks to check and we now prefer it to our regular, and much heavier, lift. It is so much easier to move it around and position for use. Completely happy with it.

Sit-to-Stand Lifts
Sit-to-Stand lifts, also known as stand assist lifts, are an excellent option for patients who are partially weight-bearing and need some assistance to transfer from one surface to another. These lifts offer additional support to help patients lift themselves into a standing position, making it easier for caregivers to move them to another location. Sit-to-Stand lifts are particularly helpful for patients who can sit up on their own, bear partial weight, and hold onto the lift. Patients who are able to bend their hips, knees, and ankles can also benefit from these lifts.
Apart from simplifying transfers between seated surfaces, Sit-to-Stand lifts also encourage patients to develop muscle strength over time, making them an excellent tool for rehabilitation. Patients play an active role in the transfer process, which boosts their self-confidence and sense of independence. By providing patients with a helping hand, Sit-to-Stand lifts can improve their quality of life and overall well-being.
We highly recommend the Hoyer Journey sit-to-stand lift as a practical and economical choice for those who require a sit-to-stand lift that can be easily adapted to fit the full range of individual needs of any patient. Its unique cow-horn mechanism makes it adjustable to fit almost any patient, eliminating the need for multiple differently-sized lifts. Its folding design allows it to stand unaided, making it easy to store and transport. The compact size allows for easy maneuverability through tight spaces, and a bump guard helps to protect surrounding furniture.
The Hoyer Journey features an adjustable kneepad and lifting range of 28.4" to 60.2", making it a versatile purchase for any professional care setting. The lift is powered by a 24V DC rechargeable battery, and comes with a Hoyer Deluxe Standing Sling.
Review from Jerry W: This device was a "shoulder saver"! My previous lift was one that used an acme screw. I used it three to four times a day. I could feel my rotator cup popping with every turn. With the addition of the Journey 340 and a power lift hospital bed, I may be able to last a little longer as a Caregiver!

Specialty Lifts
Fewer places in the home present more of a fall risk than the bathroom. Cold, hard surfaces and slippery tile can be a recipe for disaster.
Bath lifts provide a safe way for loved ones with mobility issues to enter and exit the tub, without expensive remodels. These lifts are designed to help users safely and comfortably lower themselves into a bathtub and then raise themselves back up again when they are finished. They can be particularly useful for people who have difficulty standing or sitting for long periods of time, or who have balance or strength issues.
Bath lifts are typically lightweight, affordable, easy to use, and can be easily installed in a home bathtub.

Pool lifts can make a world of a difference when it comes to enjoying exercise, aquatic therapy, and general fun-in-the-sun on hot summer days. Uniquely designed to help users enter and exit swimming pools, spas, and hot tubs safely, these lifts are built to last and can withstand water exposure.
This is particularly helpful for individuals who have trouble with steps, ladders, or need an extra helping hand. These lifts come in both manual and electric models.

Heavy-Duty Patient Lifts
Heavy duty or bariatric patient lifts are designed to support individuals who weigh more than the typical patient lift capacity. These lifts can support a weight capacity of between 500-700 pounds, depending on the model. They are constructed with durable materials such as steel or aluminum and come with wider bases and larger lift slings to accommodate larger individuals.
These durable lifts for bariatric patients ensure safe transfers for both loved ones and caregivers, providing peace of mind and a more comfortable and secure experience for everyone involved.
The Maxi Move Power Lift is a high-performance, battery-powered passive sling lift that prioritizes safety and comfort during patient transfers. With a weight capacity of 500 pounds, this lift is designed for use in demanding care environments, but it's also suitable for home care. The handheld control unit provides complete control for caregivers, while the ergonomically designed maneuvering handle allows for precision and comfort. Two batteries are included as standard, and the automatic safety cutoff ensures the lift will stop if it's lowered onto an obstacle. The lift also includes a battery discharge indicator and a service indicator for accurate usage readings. Simple instructions are included, making this lift easy to use and operate.

Features to consider when buying a patient lift
While you're in the process of finding the perfect patient lift for your needs, here are some items to consider:
Caregiver strength: Some lifts require more physical effort to operate than others. Will the caregiver be able to operate a manual lift, or is an electric lift preferred?
Lifting height: Will you be primarily lifting the patient from the bed, or will they require lifts from as low as the floor? How high do you need to lift the patient? Will you often be maneuvering around bulky furniture (in which case, lift adjustable U-legs may come in handy)?
Budget: The costs of lifts can vary widely. Consider your budget range and input it into your online search or tell your product specialist your price range.
Lifting scenarios: Will you be using this lift in the home, or taking it with you in transport scenarios? Is the lift for one patient only, or to be used with multiple patients? Your unique scenario requirements will inform the best lift for your needs.
Sling requirements: Slings are one of the most important parts of a lift, as they directly touch and support the patient. Slings come in a variety of models and materials– be sure to check sling compatibility before purchasing a patient lift.
Safety features: Modern patient lifts include unique safety features such as emergency stop buttons, manual emergency lowering, low battery indicators, and more.
Weight Capacity: Lift models exist for all variations of patient sizes. Check the weight capacity of your lift to make sure it can safely operate with your patient.
The perfect patient lift is in reach
Finding the right lift can make all the difference in safety and quality of life for you and a loved one. This guide was designed to help guide you in the process of discovering the perfect lift solution for your unique needs and lifestyle.
If you're still looking for some personal assistance, our team of product specialists here at Med Mart are always available to help. Whether you're looking for power lifts or a pool lift, we've got you covered.