Patient slings are necessary when using most types of patient lifts. Slings will ensure safety and stability during transfers, but you need to make sure to use the correct sling for both the lift and the patient. Understanding the purpose of the sling, as well as the size and weight of the patient, is imperative in finding the right model. If you are working with multiple patients, you will need to make sure that you have a sling that will work for each patient. You may want two different slings in general- one for commode and shower use and one padded, sturdier sling for other kinds of transfers. This post will explore the various types of patient slings and explain how to find a size that will be comfortable and effective during transfers. We offer a variety of styles, designs, and sizes, so you're sure to find exactly what you need!
Full Body Slings
The first type of sling we will discuss is a Full Body Sling. As its name suggests, this design will offer your patient full body support, including head support, during a transfer using a Hoyer lift or a ceiling lift. This type of sling is perfect for patients who have difficulty bearing any weight. Full Body Slings are designed to attach to spreader bars using straps located at the four corners of the sling, allowing the sling to envelop the patient's body. A Full Body Sling is ideal for transfers from a wheelchair to a bed or another chair, as well as transfers from the floor to a bed.
"I needed a way to transfer my disabled sister from her bed to a comfortable chair in the living room. The sling is easy to use with the electric patient lift. My sister tells me she feels very comfortable and safe."

– Mary F. on the Full Body Sling by Invacare
The Full Body Sling by Invacare is by far one of our customer favorites! This sling is available in either polyester fabric or mesh, which are both able to be used in wet or dry environments. The mesh version of the sling is more breathable, and therefore useful for patients who need to spend long periods of time in the sling. The polyester fabric version of the sling features a soft lining that will prevent the patient from sliding during transfers. This particular sling has a weight capacity of 450 pounds, which will be adequate for most patients. We offer several other Full Body Slings that will support a patient weight of up to 600 pounds.
Watch this video to see how to properly position a Full Body Sling under a patient for transfers from a bed to a wheelchair.
U-Slings
U-Slings will provide the perfect amount of comfort and support for a majority of patients. If you need a sling to use for transfers with a Hoyer or ceiling lift, but the patient you are working with does not necessarily need head support, a U-Sling is a great solution. While we do offer U-Slings with added head support, many of the designs we offer only extend to the top of the patient's shoulders. This type of sling can be crossed under the patient's legs to provide a divided-leg seated position during transfers. You can use a U-Sling to provide a patient with comfortable transfers from a seated position or a reclined position. U-Slings, like Full Body Slings, also attach to spreader bars with four or more straps located at the four corners of the sling. Our Best Selling U-Sling is the Hoyer Advance QuickFit Deluxe Sling. Featuring extra material in the seat section for added comfort during transfers, this sling is made out of durable polyester and will safely support a weight capacity of up to 600 pounds. Please note, however, that this sling should only be used with a Hoyer Advance, Presence, or Stature lift. U-Slings are a versatile alternative to a full body sling, as the bottom of the sling can be positioned in a variety of ways to accommodate your patient's needs. See a few examples of some of our most popular U-Slings below: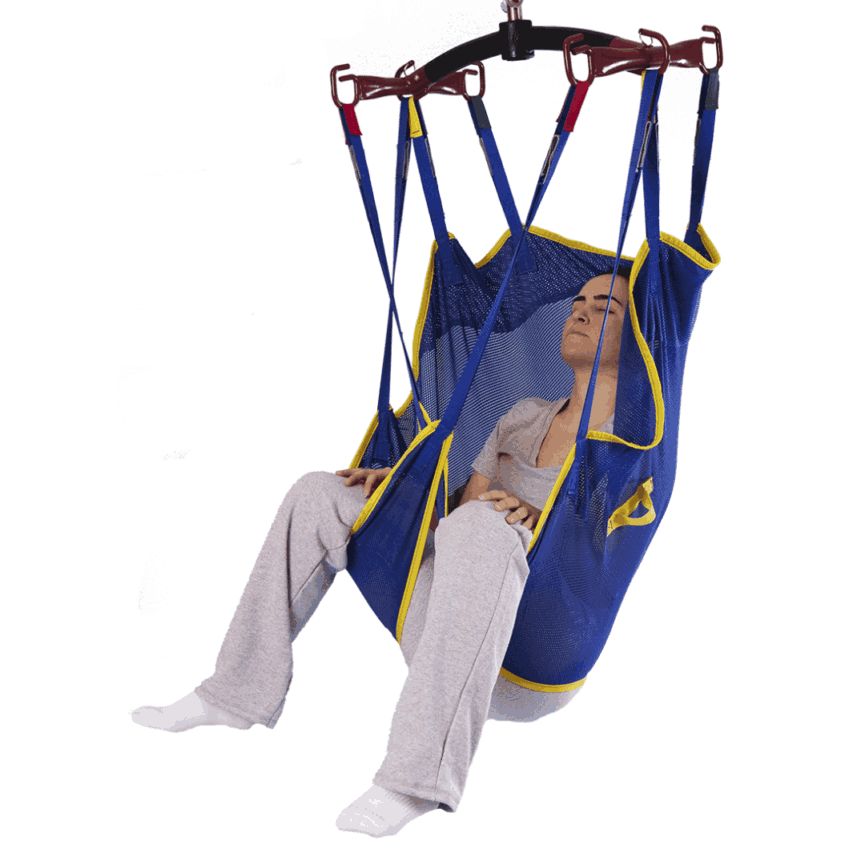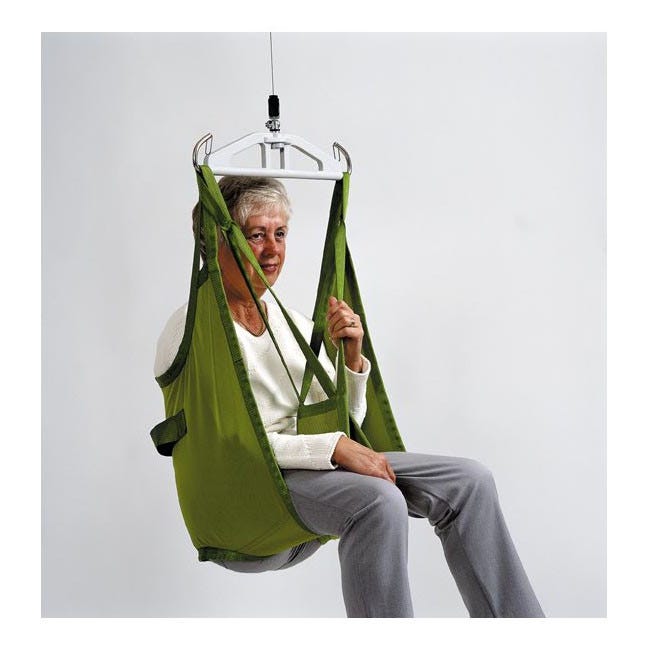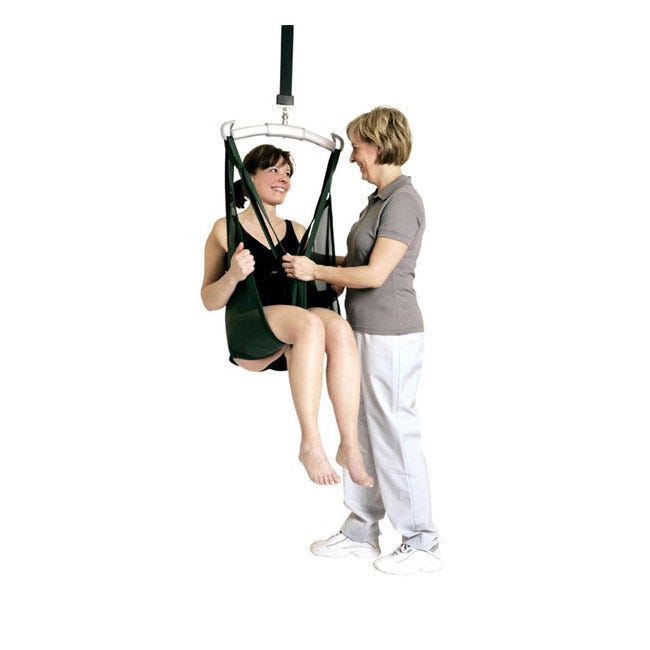 Commode Slings
Transfers to and from the bathroom often require a commode sling. This type of sling features a commode opening in the seat and extra support to the patient's arms and lumbar. We recommend choosing a mesh commode sling, as they are easier to clean and can be washed and dried very quickly. Commode Slings can be used with a Hoyer, Stand Assist, or ceiling lift, depending on the patient's needs. Traditional Commode Slings, like the Universal Commode Sling from Bestcare, offer full body support and have an opening at the base of the seat. More recent designs, like the Hygiene Sling from Liko, feature a larger opening at the base of the sling so that the patient may be undressed while in a lifted, seated position. The Hygiene Sling combines the versatile design of a U-Sling with the functionality of a Commode Sling, resulting in an innovative, user friendly product. Full body support, a split leg seated position, and a large opening in the seat make trips to the bathroom quick and secure. We offer a wide variety of Commode Slings in both adult and pediatric sizes. Click here to see our full selection of Commode Slings.
Stand Assist Slings
Stand Assist lifts are useful for patients who are able to use a limited amount of strength to move from a seated position to a standing position. Stand Assist Slings wrap around the back of the patient to support the lower back, shoulders, or buttocks as the lift raises them to their feet. These patient slings are typically attached to the spreader bar of the lift with two or more loops located at the ends of the sling. We carry a wide range of Stand Assist Slings to meet a variety of patient needs. The Bestcare Universal Stand Assist Padded Sling is ideal for a patient who is able to use limited upper body strength but is in need of support to their back. This sling features lumbar and under-arm support and is secured around the patient's waist to ensure a smooth and steady transfer. You can check our our full selection of Stand Assist Slings here and see the Universal Stand Assist Padded Sling in action in the video below:
Size Matters
To find the correct size sling for your patient, you will need to know the weight of your patient and the distance from their tailbone to the top of their shoulders (or to the top of their head if you are using a sling with head support). You may also need to measure the circumference of your patient's chest if the sling wraps around the front of the patient's body. The sizing information for all of our patient slings can be found under the "Specs" tab on each product page. Be sure to also note the weight capacity for each size of sling. If you are not sure that you have found the correct size, you can give our product experts a call at 1-888-260-4430. Below is an example of the sizing for the Bestcare Stand Assist Padded Sling:

How to Properly Position a Sling
To ensure safe and comfortable transfers, you must be sure to place the sling properly on the patient. Positioning is slightly different for different types of slings, so feel free to call our product experts if you have any questions about sling placement. One general rule to always follow is to make sure the side of the sling with the seams, hand grips, or straps is facing away from the patient. The patient should be in contact with the smooth side of the sling at all times. When using a full body sling, the patient's knees should be at the bottom of the sling and their head should be just below the top. U-Slings will vary in placement but the base of the patient's spine should generally sit just at the opening of the bottom of the sling. Again, Commode Slings and Stand Assist Slings vary so greatly that there is no universal method to properly place them, but please give us a call at 1-888-260-4430 if you need any assistance in securing your patient in the sling. See below for some positioning tips from Invacare: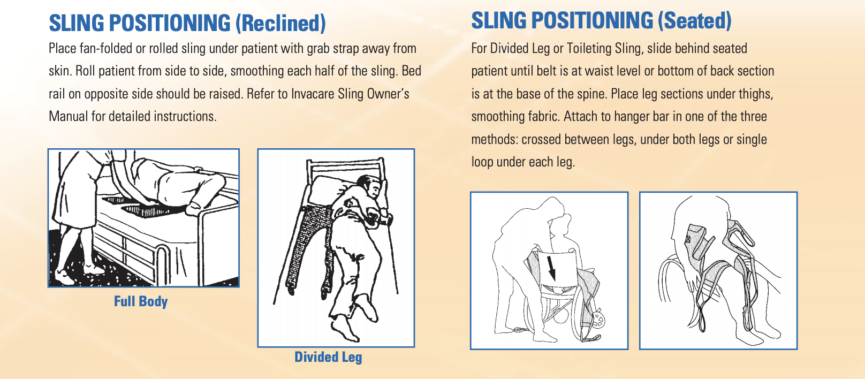 Sling Maintaenance
Regardless of which type of sling you choose, you should always check for any damage to the sling material and the straps between transfers. If the sling you are using shows any signs of wear you should replace the sling immediately. Using a patient sling with even the smallest tear could lead to a serious injury or damage to a patient lift. Worn slings are another reason to consider having two slings. It would be better to use a mesh commode sling for regular transfers then to have no reliable way to transfer your patient while you wait for a replacement. Patient slings are created to withstand high frequency use and are made with durable materials, but it is better to regularly check for wear to ensure patient safety.
We hope this post has helped you with your search for a patient sling! If you are still unsure of what type of sling is right for your patient, feel free to talk with one of our product experts by calling 1-888-260-4430.
Do you enjoy reading the Med Mart blog? Follow us on Facebook to see all of our latest blogs, newest products, and exclusive promotions!