It's American Heart Month and the Med Mart team is here to help you understand how to keep your heart healthy. Learn about the causes of cardiovascular disease, understand the signs and symptoms of common heart problems, and take on a challenge from the National Heart, Lungs, and Blood Institute!
Cardiovascular Disease
Cardiovascular disease is a condition of the heart or blood vessels including heart disease, heart attacks, arrhythmias, heart valve problems, and strokes. This disease is the leading cause of death worldwide, claiming more than 17.6 million lives annually. Women make up a larger portion of those who suffer from cardiovascular disease, and according to the American Heart Association, more women die from cardiovascular disease than from all forms of cancer. While it's helpful to know the signs and symptoms of all types of cardiovascular disease, it is especially important to understand the symptoms of heart attacks and strokes.
Symptoms of a Heart Attack:
Chest discomfort that feels like pressure, fullness, or pain lasting more than a few minutes

Discomfort in one or both arms, the stomach, neck, back, or jaw

Shortness of breath

Cold sweats, nausea, or lightheadedness
Symptoms of Stroke:
One side of the face becomes numb or begins to droop

One arm is weak or numb

Speech becomes slurred
If someone you know experiences the symptoms listed above, even if they go away, you should call 911 and get them to a hospital immediately. Learn more about what symptoms to look for in the video below:
What Causes Cardiovascular Disease
There are a range of risk factors that may contribute to a less healthy heart. Knowing your family's medical history is an important step in understanding your risk. If a male in your family was diagnosed with heart disease before the age of 55, or if a female if your family was diagnosed with heart disease before the age of 65, you may be at greater risk. Women above the age of 55 and men above the age of 45 are also at a higher risk. Other risk factors include:
Having high blood pressure

Having high cholesterol

Having diabetes

Being overweight or obese

Smoking

Not getting regular physical activity

Practicing unhealthy eating behaviors

Adopting Healthy Habits
Eat Well
Check out these heart-healthy recipes from the National Heart, Lungs, and Blood Institute...and even more recipes from the American Heart Association!
Know Your Risk
Check your Blood Pressure and Cholesterol as frequently as your medical provider recommends. Get your own personal Blood Pressure Monitor to quickly check your blood pressure from the comfort of your own home.
Exercise Regularly
Whether it's taking a 15-minute break move around, taking a yoga class, or going out on a jog, working regular physical activity into your routine is a must for a healthy heart!
Manage Your Weight
Talk with your medical provider if you are having trouble maintaining a healthy weight. Being overweight or obese may raise your blood pressure and cholesterol levels, which can increase your risk of cardiovascular disease.
Get Quality Sleep & Manage Stress
Your heart rate and blood pressure go down when you sleep, so getting good-quality sleep allows your heart to rest and recover. Stress may cause your heart rate and blood pressure to increase, so it's best to avoid stressful situations and find healthy ways to relax.
Stop Smoking
The chemicals inhaled while smoking can damage your heart and blood vessels, which can lead to cardiovascular disease. Click here for resources to help quit smoking from the CDC.
Get Involved!
To join the Med Mart team in celebrating American Heart Month, we challenge you to the 7 days of Self Care plan from the National Heart, Lungs and Blood Institute: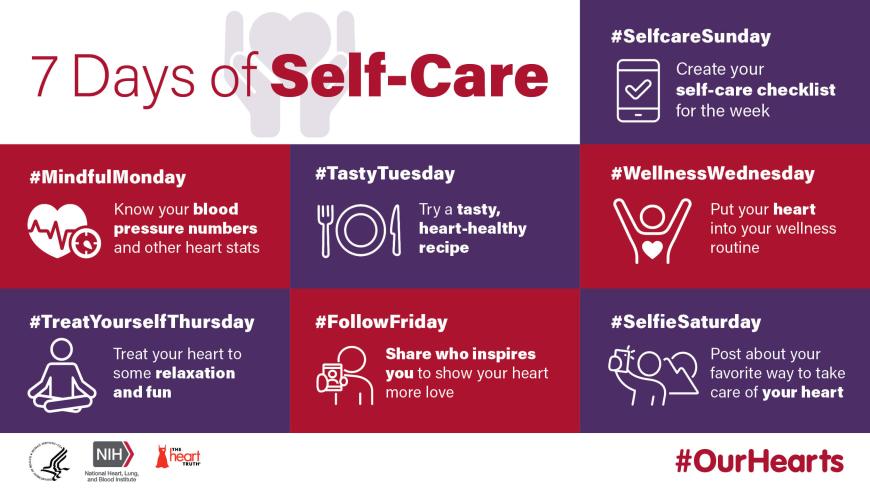 You can also donate to the American Heart Association by clicking here. All donations will be matched throughout the month of February!
Share this post with your friends and family to spread the word. American Heart Month is all about spreading awareness about heart health and understanding our risks for cardiovascular disease. If you have friends or family at risk, make sure they know what steps they can take to encourage heart health.
Do you enjoy reading the Med Mart blog? Follow us on Facebook to see all of our latest blogs, newest products, and exclusive promotions!