The Facts
About 1 in 8 women will develop breast cancer in their lifetime
The most significant risk factors are gender and age - women above 50 years of age experience the highest risk of developing breast cancer
Mortality rates from breast cancer have steadily decreased since 1989, yet over 40,000 women are expected to die from breast cancer in 2019
Breast cancer is the second most commonly diagnosed cancer in women in America, after skin cancer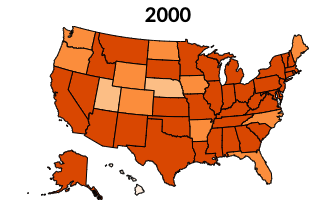 According to the CDC, the annual rates of breast cancer-related deaths have steadily declined over the past few decades, with the darkest color showing 25-39 deaths per state per year to the lightest being under 20. Awareness, prevention, and early detection are all ways to ensure that the breast cancer survival rate continues to increase.
Detection
There are many signs and symptoms that can be detected through a monthly breast self-exam. A change in skin texture, tenderness, or the presence of a lump are three symptoms to keep an eye out for. Any change in the appearance of your breasts, like swelling, shrinking, or dimpling, are also signs that you should see your healthcare provider for further testing.
Watch below to be walked through the steps of a monthly breast self-exam by Laura Kruper, M.D., co-director of the Breast Cancer Program at City of Hope cancer treatment and research center.
You should also receive a clinical breast exam annually from your family physician or gynecologist, who will check for abnormalities. Most lumps are found during self-breast exams, but your doctor may notice a symptom that you did not notice on your own. Mammograms are also an important part of early detection, especially for women over 40. The images produced by mammograms can help your doctor detect breast cancer at the earliest possible time, even before you experience any symptoms. Talk to your healthcare provider to find out how often you should be scheduled for a mammogram. You can check this page on the CDC's website if you want to know if you qualify for a low-cost or free breast cancer screening.
Prevention
Maintaining a healthy lifestyle is a great way to ensure your immune system is running at its best. There is no magic formula for avoiding cancer, but there are many ways in which you can greatly lower your risk:
There are many myths about what causes breast cancer. Milk and dairy, antiperspirants, and even mammograms have been rumored to be causes for breast cancer. See this page from the National Breast Cancer Foundation for even more debunked myths. At the end of the day, maintaining a healthy lifestyle and regularly checking yourself for signs and symptoms are the best ways to reduce your risk.
Join the Cause
There are many volunteer opportunities for anyone looking to raise awareness or support people currently going through treatment. Here are some fantastic ways to help:
Help the women in your life by educating yourself and providing others with support. Breast Cancer Awareness Month is every October, but help is needed all year long, 24/7.
The team at Med Mart will be donating $10 to Breast Cancer Awareness for every qualifying order made through October 20th. Use the code PINK0619 to save 6% sitewide, or the code PINK1019 to save 10% on any pink item and we will donate $10 to Breast Cancer Awareness.