Do you know what the most dangerous room in your home is?

You may be surprised. Even considering the hot stove and sharp knives in the kitchen, bathrooms are statistically the most accident-prone room in your home.
One report by the CDC in 2008 found that an estimated 234,094 accidents occurred in residential bathrooms every year. These accidents can range from broken bones to serious head injuries.
For elderly individuals or those who struggle with mobility, bathrooms can be particularly tricky to navigate safely due to slippery floors, hard tile, and frequent transfers.

Don't let you or a loved one become a statistic. Here are some of our top tips to improve the safety and mobility of your home bathroom.
Consider a shower wheelchair
Shower chairs can take the headache out of tricky transfers from a wheelchair to shower or tub. These non-corrosive waterproof chairs are designed to be wheeled directly into and used in the shower– no transfer required.
Many shower chairs, such as the Wings Shower Wheelchair, also include a detachable commode to remove the need to transition to and from the toilet.
https://medmartonline.com/medacure-rolling-shower-wheelchair-with-commode
Choose safe materials for shower walls
Shower walls are an often-overlooked area of bathroom safety. Purchasing weighted shower curtains can help reduce the amount of water splashed on the floor, lowering the risk of slipping. Is your shower wall made of breakable glass? Consider replacing it with safety glass, which shatters into harmless pieces if broken.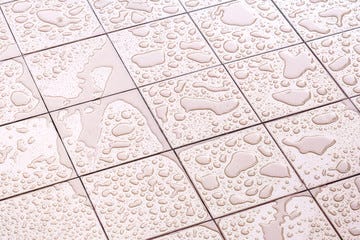 Invest in a handheld showerhead

For individuals who struggle with mobility, moving a showerhead can be much easier than moving their body. Handheld showerheads allow a patient or caregiver to easily rinse from just about any angle without added physical strain. Look for showerheads that come with an extra long hose for added flexibility.
https://medmartonline.com/vive-handheld-shower-head
Install safety handles and grab bars
Making your bathroom safe doesn't have to mean expensive equipment or home renovations. Grab rails are easy to install and provide much-needed support for individuals who need help transferring to/from the toilet or shower or who want to navigate the bathroom more confidently.

Mount grab bars next to the toilet, in the shower, or just about anywhere else some extra stability is needed– the possibilities are endless.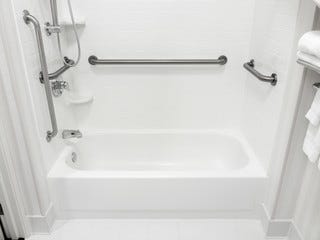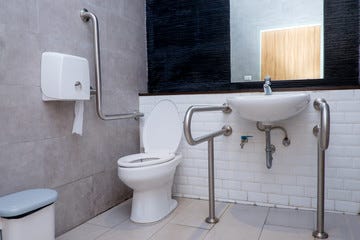 Consider a walk-in bathtub

Enjoy the comfort of relaxing in a warm bath, without the fall risk. Simply open the door, walk into the tub, and seal the door behind you before turning on the faucet. These tubs include built-in seats and grab bars for extra stability.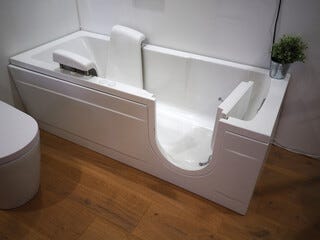 Don't forget about lighting

Few things are more critical to the safety of a room than quality lighting. With age, eyesight begins to deteriorate. We recommend installing nightlights or motion-activated lights leading up to and inside the bathroom. Doing so prevents unnecessary trips and falls during nighttime bathroom trips.
While these tips are helpful, they are just the tip of the iceberg. There are dozens of solutions that help improve the safety of your home bathroom. Some additional recommendations include (but are not limited to):

Non-slip mats on the floor and shower
A raised toilet seat with handles to easily sit down and stand up
Transfer benches to make standard tubs safer to navigate
And more…
Ultimately, the perfect bathroom solutions will be custom-tailored to your bathroom layout, preferences, and mobility needs.
We encourage you to browse our collection of hundreds of bath safety products or get in touch with one of our product specialists to find the best fit for your needs.
https://medmartonline.com/bath-safety?p=1