Mobility scooters can be a great option for anyone needing an extra bit of support and independence to live an active lifestyle. By finding the right scooter for your needs, you won't miss a beat in accomplishing daily errands, excursions, or even international travel.
When to purchase a mobility scooter
Do you or a loved one ever avoid going out because of the required walking or other fatigue the trip would create? Do you struggle to "keep up" with others? A mobility scooter can instantly make your life more comfortable, giving you the energy to accomplish more in your day.
Elderly users often benefit from mobility scooters, as well as those with a handicap or illness that impacts their mobility. Scooters can also be a great fit for individuals recovering from surgery, allowing them to get back to their busy lives as soon as possible.
Benefits of a mobility scooter
Greater Independence
Forget being limited to smooth pathways– the right mobility scooter can take you just about anywhere. With varying degrees of clearance, incline ratings, large wheels, and shock absorbers, scooters can handle all sorts of terrain: from grass to gravel, dirt, and more. Go wherever you need to with greater independence and comfort.
Many scooters can quickly become your most trusted travel companion! Portable scooters fold or disassemble into parts convenient to store in the back of a vehicle or plane overhead compartment.
Keep Up With Your Busy Schedule
Get more done in your day without losing energy. Electric mobility scooters don't require manual force to move, meaning you or a caretaker won't tire from pushing a chair. Incredibly, these scooters often travel from 5-20 miles on a single charge, keeping up with your most action-packed days.
Increased Comfort
Mobility scooters are designed for comfort, helping you accomplish all your tasks without strain. Sit back, relax, and cruise through grocery store aisles or shopping malls as fast as you'd like.
Most electric scooters also have storage baskets and compartments to store your bags and personal belongings without added strain.
Which Mobility Scooter is Right for Me?
These days, electric mobility scooters come in a wide range of models for your specific needs and lifestyle: from a simple travel folding chair to an all-terrain power scooter that can tackle snow and steep curbs.
The first thing to consider when choosing a mobility scooter is the number of wheels (really!).
3-Wheel vs. 4-Wheel Scooters
Both scooters are great options but have different benefits according to your lifestyle preferences.
A 4-wheel scooter is a great mobility option for those who live active, outdoor lives. They typically come equipped with a sturdier wheelbase, greater clearance heights, larger tires, and higher incline ratings. These scooters generally boast higher speeds and greater battery mileage, limiting the times you'll need to stop and recharge.
On the other hand, 3-wheel scooters have tight turn radiuses and are better for maneuvering in narrow spaces. If you primarily use your scooter indoors, a 3-wheel scooter may be a better option. The triangular design also gives users more legroom to stretch out and relax. If you travel often, 3-wheel scooters are often lighter and more compact.
There are, of course, exceptions to every rule. Some 4-wheel models are designed for travel, while certain 3-wheel scooters can easily handle outdoor terrain. Every scooter model will have a unique set of benefits, so be sure to read the description of each.
In addition to the number of wheels, here are some other items to consider:
Weight Limit: What weight requirements would you like your scooter to accommodate? If you need extra support, consider a heavy-duty scooter with weight limits of up to 600lbs.
Range: How long do you need your scooter to travel on a single charge?
Incline Rating: Do you live on a steep driveway or regularly encounter hills? You may need a scooter with a larger climbing angle.
Portability: Consider where you'll be taking your scooter. If you're a frequent traveler, find a model that can easily fold or disassemble.
Storage: Scooters come equipped with a variety of storage compartments and baskets. If you'd like to use your scooter for regular errands, select a model with your desired storage space.
Style: Make sure to choose a color and scooter model that you love. Many models come in multiple colors, making it easy to match your personal style.
Add-ons: Consider any add-ons which are important to your ideal comfort and functionality. Such as safety lights, USB charging, LCD displays, cupholder, and more.
Our Bestsellers
While we stand by every mobility scooter in our carefully-selected catalog, a few of our bestsellers are a great place to start your search.
EW-72 Recreational All-Terrain Scooter
Looking for peak performance alongside a smooth ride? The EW-72 is at the top of its class. With a long-lasting 43-mile charge and a record-breaking 15mph top speed, the EW-72 mobility scooter is built for outdoor adventures. This stunning 4-wheel scooter has full suspension, extra-large tires, and a 6" ground clearance to tackle just about any terrain.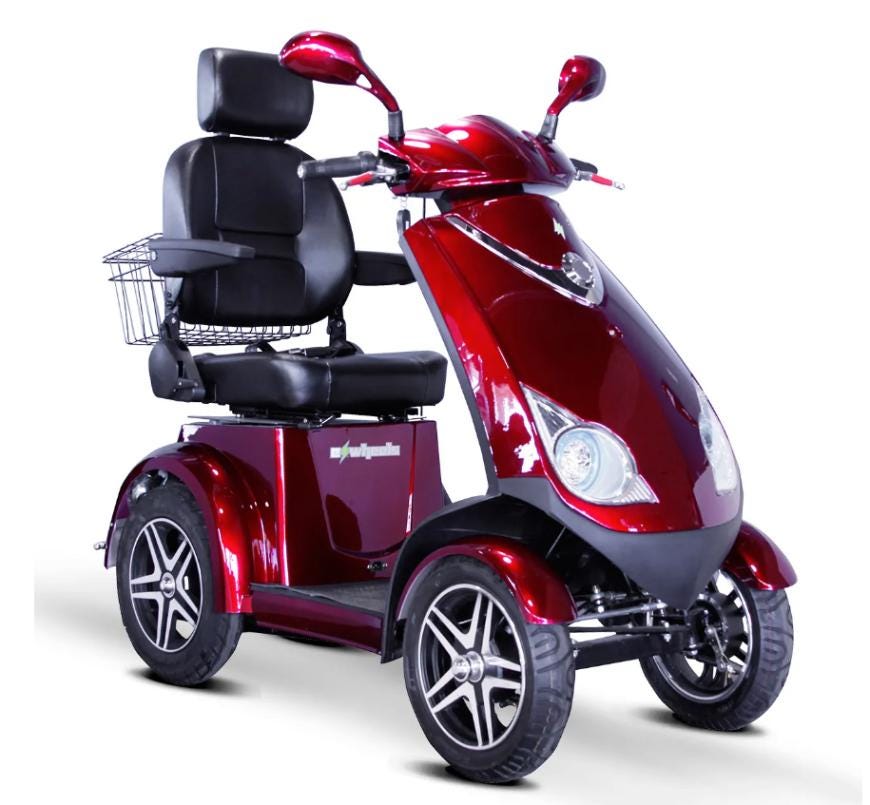 Pride Go-Go Elite Traveller 3-Wheel Scooter
Small but mighty! This 3-wheel Pride scooter is built with easy travel in mind. It easily disassembles into 5 lightweight pieces, connected by a front-to-rear cable, to pack up and take to your next destination. A unique wrap-around ergonomic tiller allows users to smoothly navigate around tight corners without strain.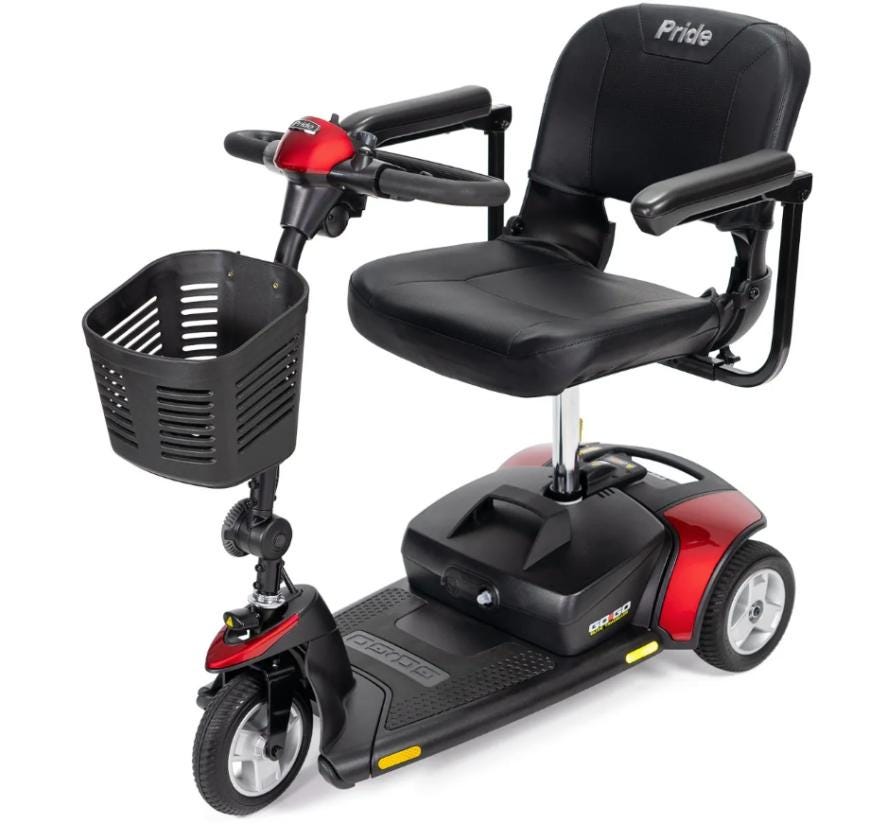 Buzzaround EX Extreme 4-Wheel
A stable, comfortable scooter perfect for long-distance rides and travel. The Buzzaround EX Extreme 4-Wheel can travel up to 18 miles on a single charge with a top speed of 5mph. It's packed with extra details and add-ons: from a plush stadium-style seat, to extra foot room and a super bright LED headlight.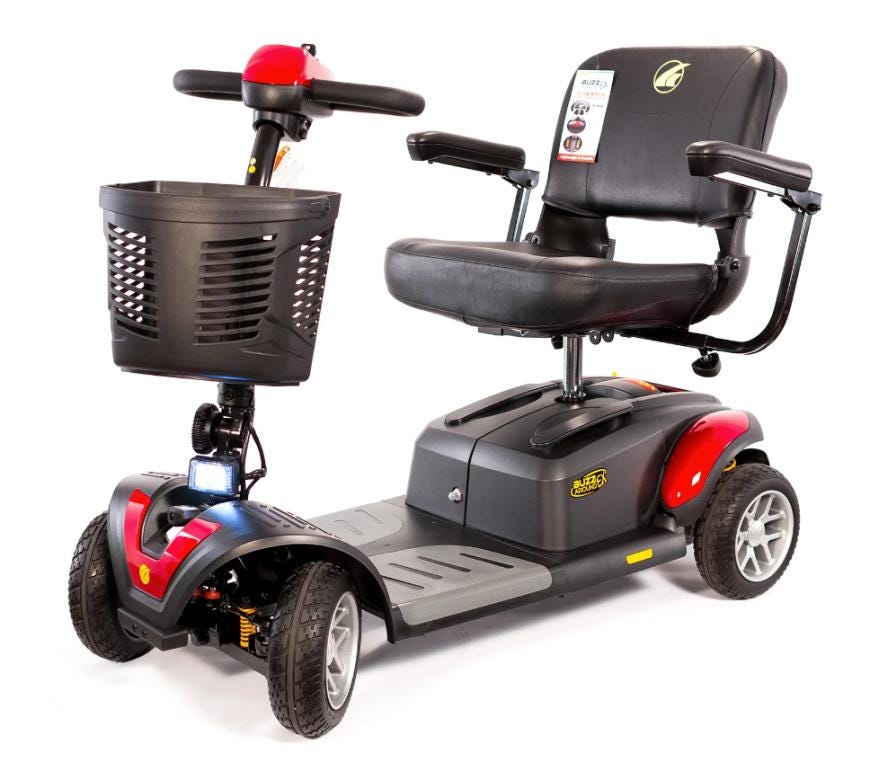 Revo 2.0 3-Wheel Scooter
This 3-Wheel scooter effortlessly combines durability and versatility. This scooter can travel up to 12 miles on a single battery charge, and its generous 400-pound weight capacity makes it a great choice for a variety of users. The 40" turning radius and flat-free tires mean this scooter can adapt to many different environments, and an ultra heavy-duty drivetrain provides all the power you need. Traveling? Quickly disassemble the scooter into 4 portable pieces.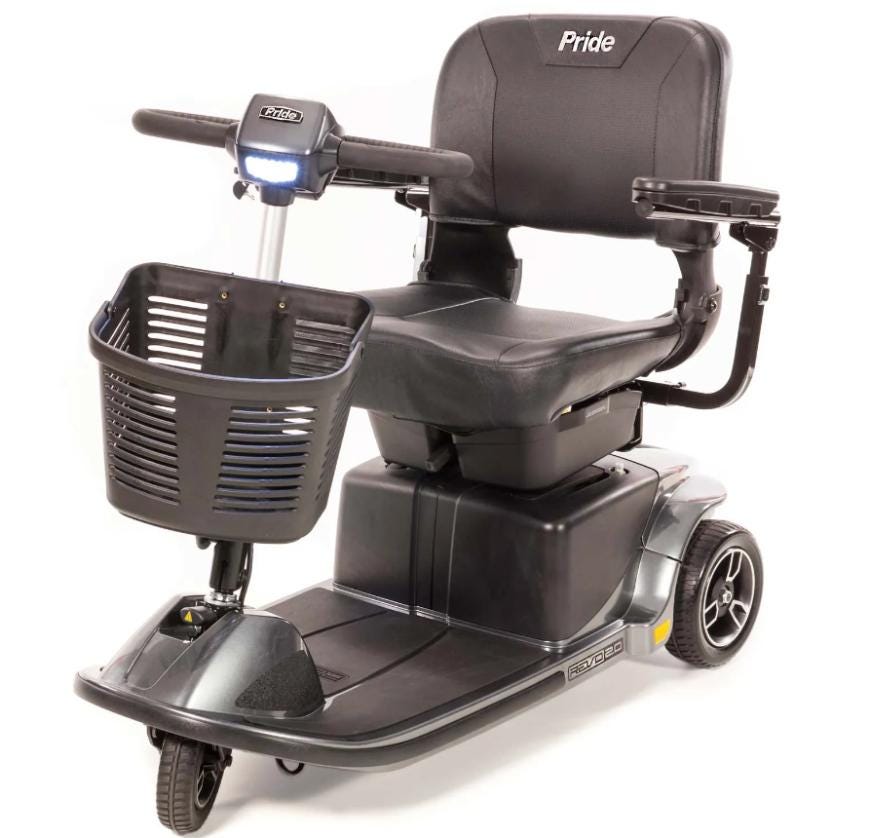 Need some extra assistance finding the perfect scooter for you or a loved one? Contact our team of product specialists, and we'd be happy to help you find the best pick for your needs and lifestyle.