There's little doubt that quality of sleep is essential for overall health and well being. Despite that, a full 7-19% of adults do not get enough sleep to maintain a healthy lifestyle (National Institute of Health). Selecting the right bed for optimal sleep is one of the most important purchases you can make for you or a loved one's overall health– it can even save your life!
For adults dealing with chronic illnessess, a loss of mobility, or a stationary lifestyle, finding the right bed is exponentially more important.
While most people know the importance of finding the right long term care bed, it's easy to overlook one of the most important elements of a good night's sleep: the mattress.
The right medical air mattress can support medical treatment and offer much needed pressure relief for loved ones.
In this blog, we'd love to introduce you to two of our favorite mattress types that help support patients: pressure redistribution mattresses and low air loss mattresses.
What is an alternating pressure Mattress?
Pressure redistribution mattresses and low air loss mattresses, while not exactly the same, often provide similar benefits. They are often used interchangeably, but have important differences.
Alternating pressure mattresses are designed to periodically change the pressure distribution on different areas of the body. Multiple air chambers periodically inflate and deflate, maintaining constant pressure over time. This alternating pressure therapy helps alleviate pressure points, improve blood circulation, and reduce the risk of developing bedsores or pressure ulcers.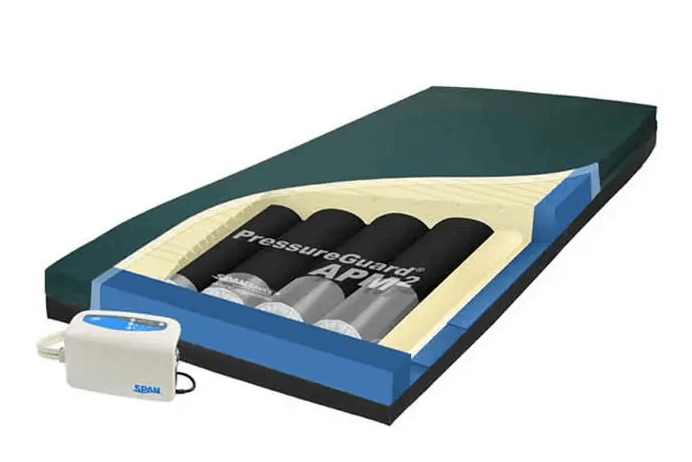 What is a low air loss mattress?
On the other hand, low air loss mattresses focus on addressing issues related to heat and moisture buildup during sleep. These mattresses are equipped with small air-filled cells that allow constantly circulating air flow. This helps maintain a cooler, drier sleep surface, and also prevents pressure sores by continually pumping air through the mattress.
While alternating pressure mattresses primarily address pressure relief and circulation, low air loss mattresses primarily address temperature and moisture levels (thought they do have pressure-relieving benefits as well). However, some mattresses incorporate both alternating pressure and low air loss technologies, offering the benefits of alternating pressure, circulation improvement, and temperature regulation in a single mattress.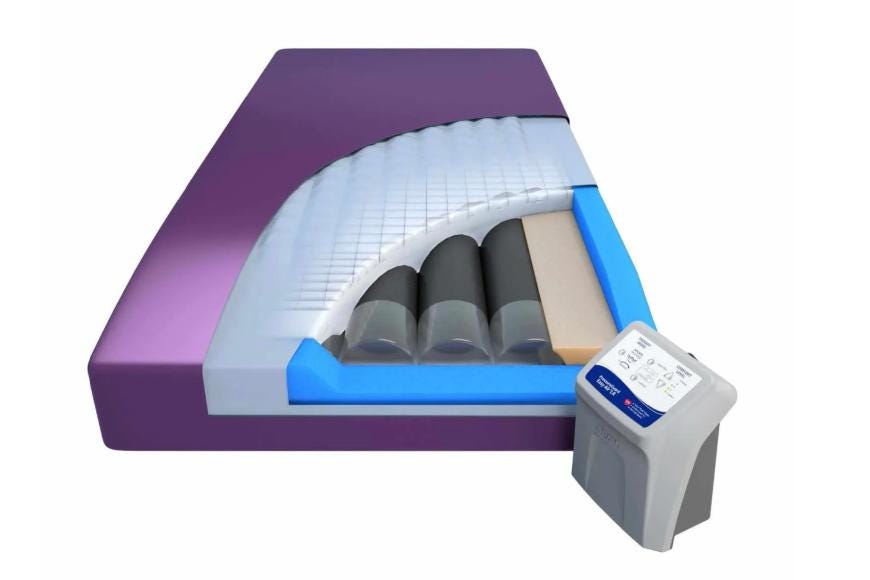 What are the main benefits?
Overall, these mattresses provide the following benefits:
Pressure ulcer and bedsore prevention
Relieve chronic pain caused by pressure points
Help maintain skin integrity by reducing friction
Prevent excessive moisture buildup or sweating during sleep
Promote blood flow and circulation
Who can benefit from a low air loss or pressure redistribution mattress?
These carefully designed mattresses can benefit many types of patients, but are a particularly good fit for loved ones at risk of developing pressure ulcers or bedsores. This typically includes patients who are bedridden, have limited mobility, or spend most of their time in bed. Those who struggle with excessive sweating can also benefit from the cooling technologies of a low air loss mattress.
Hybrid Mattresses
Why not have the best of both worlds? If you can't decide between a low air loss or pressure redistribution mattress, many mattresses offer both features at the same time. For example, the Deluxe Air LAL 2-1 Alternation Mattress is designed to provide both alternating pressure and air loss therapy. The mattress features 18 air cells that can create static and alternating pressure therapy.
When shopping for the perfect long term care bed for you or a loved one, it's important to carefully consider your mattress choice. Pressure redistribution and low air flow mattresses support the caregiving process and promote a healthier lifestyle overall.

Need some assistance finding the perfect mattress match for you? Our team of product specialists would love to help– Give us a call anytime and together we'll find the best fit for you or a loved one.