Triple Air 3-1 LAL Alternation Mattress
By MedPlus
SKU# MP-SALRDX / Item ID # 33729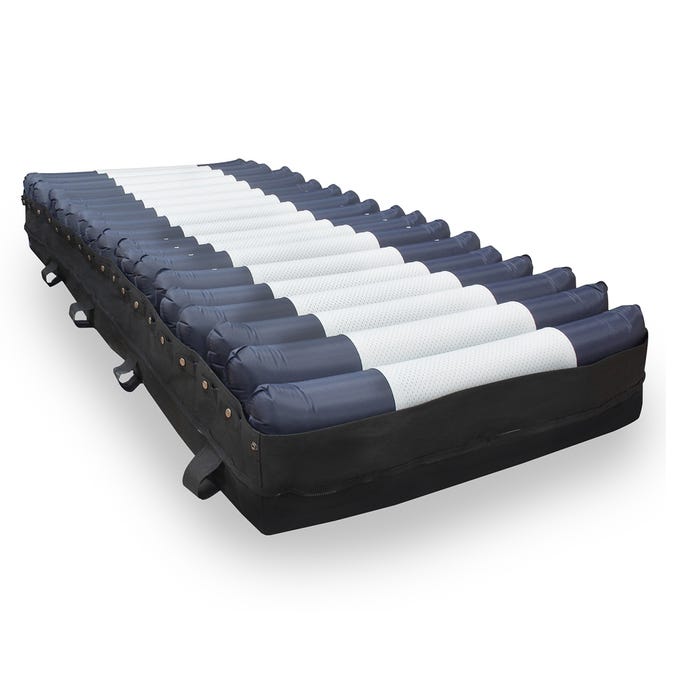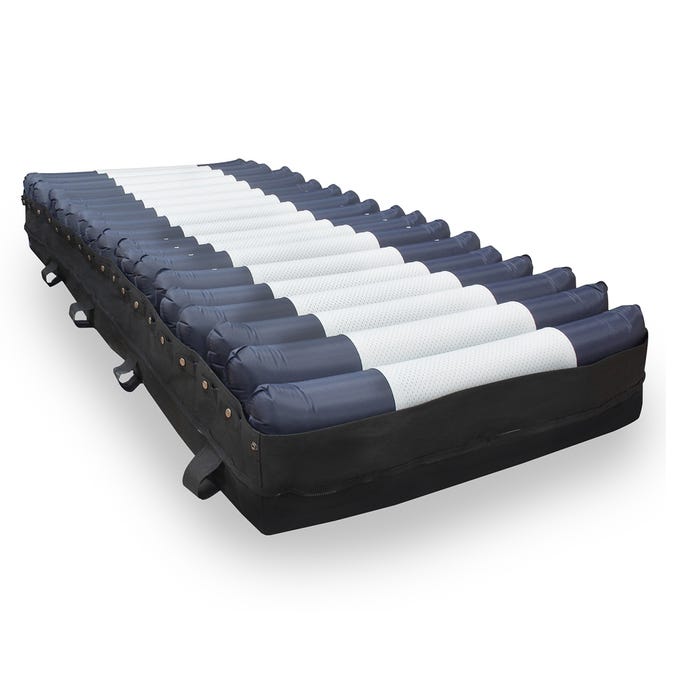 Ships by: Tue, Sep 26th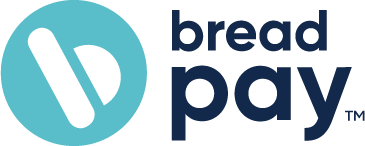 0% APR available for up to 18 Months*

No credit required. Pay over time. No late fees.
FREE Shipping over $50
Product Specialist
Lifetime Phone Support
Financing Options
Need Help?
Talk to one of our Experts!
Triple Air 3-1 Alternation Mattress by MedPlus is the best option for people who want to get better sleep at night. This medical mattress offers you a solution to several sleeping problems such as bedsores or backaches. The MedPlus has thoughtfully and strategically designed this mattress so that anyone over 500 lbs can benefit from it.
The mattress itself weighs 7.1lbs so that you can move it easily from one space to another. You can even travel in your bed so that you can get wonderful sleep on your incredible journey.
Additionally, patients with limited mobility also have a risk of pressure ulcers. MedPlus' mattress helps you heal and prevents further injury so that patients on long-term bed rest don't suffer. The Triple Air features eight-inch cell-in-cell floatation to help patients get relief from back and other joint pain. This mattress tries to flow dry air under the patient to prevent moisture and pressure ulcers from forming.
Triple Air 3-1 Alternation Mattress by MedPlus offers several settings to help patients find the most comfortable position. This feature is also important to facilitate every type of sleeper and patient. You also need to know that caregivers can change the setting of the mattress at any time they want.
Therefore, they can care for patients without making them feel uncomfortable. This medical mattress is only 8 inches high, which allows a caregiver to help the patient easily. Apart from all these features, Triple Air 3-1 Alternation Mattress provides you with comfort and replaces the footrest. This way, sensitive feet or heels stays relaxed and calm while lying down.
You never have to worry about power outages, as the cell-in-cell design continues to support your back, torso, and sacrum. When the power gets back, the mattress will take its original position and support your entire body. Unfortunately, this mattress is only available in one size, which is 80" length, 36" Width, and 8" depth. It's best to purchase a bed with the same dimensions to use this mattress. You can also simply place the mattress on the floor and use it for sleeping.
The Triple Air provides incredible control, which makes it easier to use this mattress. Most importantly, you can use this mattress for both hospital care and home care. Due to its easy and simple mechanism, a layman with little technical knowledge can use it without worrying about damaging it. Patients with a risk of pressure ulcers can use it. Anyone with back, hip, knee, foot, and other joint problems can also benefit from it.
If you are worried about damaging the mattress, it is important to note that you can claim the warranty. The Triple Air 3-1 hospital bed mattress offers you a 12-month warranty from the delivery date. You can repair or replace it without spending any money on extra fees and charges. However, damages due to low maintenance and excessive bad use don't count in this category. Lastly, as these mattresses come with an appealing look, you can even use them without bedsheets.
Triple Air 3-1 Alternation Mattress by MedPlus is a medical mattress that goes well with all types of hospital and home care settings. You can even use it for an individual that weighs 500 lbs without worrying about puncturing and damaging it. Due to its ideal design, thoughtful composition, and modern structure, you can prevent problems like bedsores and pressure ulcers.
This hospital bed mattress also allows you to dry and prevent sweat from forming so that you can wonderfully sleep every night. You also need to know that you can carry it from one place to another due to its lower weight. If you face any problem with it, you can claim the warranty at any time. This medical mattress is now offered at a great value.
Product Highlights
Happy Heel technology provides a soft and comfy footrest
3-1 alternation
"8 mattress height - low profile
Low-air-loss (LAL) technology enhances dry airflow beneath patient
Cell-in-cell design provides additional support to the upper torso and sacrum during a power outage
| | |
| --- | --- |
| Weight Capacity: | 500 lbs. |
| Weight: | 7.1 lbs |
| Dimensions: | 80" (L) x 36" (W) x 10" (D) |
| Min/Max Pressure: | 12-47 mmHg +/- 6 mmHg |
| Rating Voltage: | 110-120 volts |
| Max Current: | 0.2A max. |
| Air Flow Rate: | 6 liters per min |
| Rating Frequency: | 60Hz |
| Cycle Time: | 5, 10, 15, 20 mins |
| Cell Numbers: | 18 |
Prius Healthcare USA guarantees that its TSS equipment is free from defects in materials and workmanship. Our obligation under this warranty is limited to the repair of equipment returned to the place of purchase within 12 months of the delivery date.  We agree to service/adjust any equipment returned, and to replace or repair any part that is proven to be a warranty defect, at no charge.  This warranty excludes equipment damage through shipping, tampering, improper maintenance, carelessness, accident, negligence or misuse, or products that have been altered, repaired or dismantled other than with the manufacturer's written authorization and by its approved procedures and by properly qualified technicians.  In no event shall Prius Healthcare USA be liable for any direct, indirect or consequential damages or losses resulting from the use of equipment.
Frequently Bought Together:
Frequently Bought Together: