PressureGuard® Custom Care® Reactive Pressure Redistribution Surface
By Span America
SKU# NPGUARD / Item ID # 29066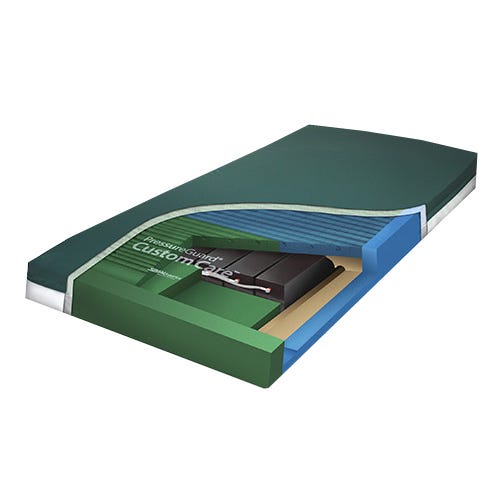 Ships by: Wed, Feb 1st
FREE Shipping over $50
Product Specialist
Lifetime Phone Support
Financing Options
Need Help?
Talk to one of our Experts!
The PressureGuard Custom Care surface provides effective, non-powered pressure redistribution, ideal for patients who must spend long periods of time in bed. This surface incorporates a zoned, shear-reducing outer shell which surrounds a reactive chamber support system. The design creates a comfortable surface capable of providing pressure management, shear reduction, comfort, and superior ease of operation.
This therapeutic surface's design reacts to changes in surface loading. A series of interconnected longitudinal support chambers within the surface react to pressure changes on the top of the surface. The support chambers deflate, transfer air, and vent as the user's weight and position change.
This interior design is paired with a cover and outer shell design which helps to promote patient health and comfort. The anti-microbial bi-directional stretch cover is made with extremely durable and cleanable fabric. The fabric is highly resistant to the chemical breakdown typically caused by bleach and other cleaners. Equipped with a polycarbonate-fortified coating, the cover is launderable and can be wiped clean or disinfected. Additionally, the cover is fluidproof but highly vapor permeable, which helps to decrease skin moisture buildup for a healthier skin environment.
The PressureGuard Custom Care delivers excellent patient comfort and skin protection, but without the operation of a powered system. The therapeutic surface is designed to naturally react to weight and pressure changes, with the interior support chambers reacting and adjusting with no need for human intervention. The durable cover helps to decrease skin moisture buildup but is highly durable, so it can be disinfected and cleaned as needed.
With its excellent ability to redistribute pressure while reducing heat and skin moisture buildup, the PressureGuard Custom Care is a comfortable surface which can help to avoid health issues, like skin shearing, common with extended time spent in bed.
Product Highlights
Documented superiority in moisture removal
Launderable coverlet can be wiped clean/disinfected
Outer coverlet is fluidproof but highly vapor permeable
Offers microclimate management & alternating pressure therapy
Helps reduces maceration
Continuous air current carries it away
Ensures uninterrupted path for air flow
Moisture vapor passes down through coverlet
More than 800 individually-articulating cells
2" deep topper reduces shear to underlying tissues
Heel Slope™ designed to further reduce heel pressure
Redistributes pressure, reduces heat and skin moisture buildup
| | |
| --- | --- |
| Weight Capacity: | 500 lbs |
| Weight: | 23 lbs |
| Width: | 32", 35", 39" |
| Length: | 75", 80", 84" |
| Height: | 7" |
5 years. All components. Non-prorated
For hygienic reasons, this item is No Return - No Exchange. Mattresses are No Return - No Exchange because they cannot be reused or sold as new.


Frequently Bought Together:
Frequently Bought Together: