Accora FloorBed® Ultra Low Bed
By Accora
SKU# ARA-NSB / Item ID # 34040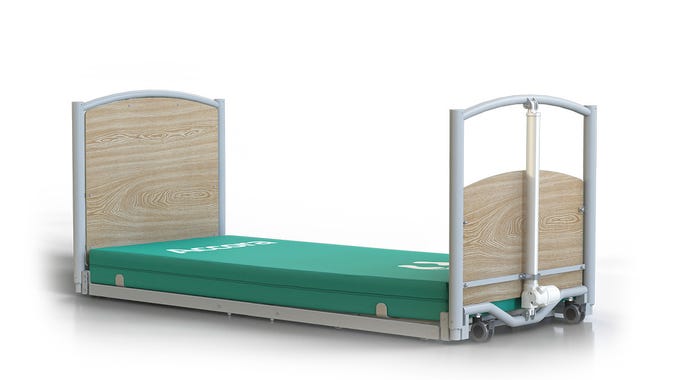 Ships by: Fri, Dec 9th
FREE Shipping over $50
Product Specialist
Lifetime Phone Support
Financing Options
Need Help?
Talk to one of our Experts!
Accora Floor Bed by Accora is an ideal option for people looking for comfort with functionality. This amazing bed has an elegant and classy look that makes it perfect for keeping in any setting. Not only this, but its unique features also make it look different and attractive from a standard floor bed. You also need to know that this comfortable floor bed comes with an oak footboard and oak headboard. You can also choose a cherry headboard instead of an oak one if you want other options. People who want to bring a natural wooden feel to their space can choose this bed.
Since it has 249 lbs weight capacity, this bed can facilitate anyone who is obese or underweight. When you completely lower this bed, it gives you 2.8 inches of height. Being close to the floor reduces the risk of falls during sleep. In fact, even if the patients fall, you don't have to worry about the injuries. Another excellent feature of this bed is that it compresses on the edges when the patient leans on that part. Thus, the patient is closer to the floor before they come out of the bed. Due to this feature, the user doesn't need an attendant all the time to care for them. They also don't need assistance to come in and out of bed.
Accora Floor Bed by Accora also comes with a safety mat that increases the bed surface to reduce the chance of the user rolling too far to one side. In other words, there is no chance that the patient gets injured while sleeping or using the bed. Additionally, this unique bed comes with a height-adjustable feature that allows you to raise it based on your preferences and needs. In fact, you can also set it according to the caregiver's height that makes the process more effective, feasible, and accessible. This feature also allows the caregivers to practice different care routines with ease.
Besides that, it also comes with a segmented frame. You can set this frame on different angles to make the caregiving process or sleeping time more comfortable and relaxing. The user can change the levels of floor and head segments. Users can either elevate or keep them straight while lying on the bed. People with specific concerns like foot pain or soreness can significantly benefit from this feature.
Accora Floor Bed by Accora also offers you the option to arrange the bed anti-Trendelenburg and Trendelenburg. The best part is that all these settings come with a user-friendly and simple handset that has locking settings, preventing patients from accidentally changing the bed's position. Most importantly, the reclining floor offers several accessories to help you personalize the bed according to your needs. It features a slighter wider bed deck to accommodate bariatric patients easily.
Furthermore, the adjustable mattress guide helps position the mattress on the frame, and concealed casters make transportation of the bed easy. You can also benefit from its detachable bed lever that offers assistance and helps patients get in and out of bed. Note that the bed allows you to choose between different mattresses. It's best to opt for the one that can cater to all your needs and preferences. This Accora height-adjustable floor bed gives you a warranty of 24 months after the date of delivery. So, if you notice any damages, the manufacturer will replace or repair the product. The best thing is this comfortable floor bed is now available at a great value.
Accora Floor Bed by Accora is an ideal comfortable floor bed for people who have the risk of falling while sleeping. This height-adjustable floor bed also makes the caregiving process easy and feasible for the helper or health provider. To give maximum comfort to the user, it comes with adjustable head and foot segments. The bed also features a soft and comfortable mattress, high weight capacity, and bed lever to provide optimal comfort and ease to the users. The best part is that it has a beautiful and classy design that improves the aesthetic ambiance of your space.
Product Highlights
Profiling functions: Backrest with Auto-regression, Kneebreak, Anti-Trendelenburg, Trendelenburg
Trendelenburg function: 15 deg
Lifting range (excl mattress): 2.8″ to 25.6″
Lowest possible bed frame on the market with a 2.8 clearance from floor to the top of the bed frame
Height-adjustable bed frame rises up to 26" height (without mattress)
Segmented frame for comfortable backrest elevation, foot elevation
Eliminates the need for side rails and features no trailing wires, reducing risks and injuries associated with both
| | | |
| --- | --- | --- |
| Bed Width | 36" Bed | 42" Width |
| Weight Capacity: | 408 lbs | 496 lbs |
| Weight: | 189 lbs | 249 lbs |
| Bed Height: | 2.8″ to 25.6″ | 3.1″ to 25.6″ |
| Overall Dimensions: | 36.4″ x 90.4″ | 42.3″ x 90.4″ |
| Trendelenburg: | 15° | 15° |
Manufacturer warrants to the original purchaser that this product will be free from defects in materials and workmanship for a period of 24 months from the date of delivery. During the warranty period, the manufacturer will replace at no charge, products or parts of a product which prove defective because of improper material or workmanship, under normal use and maintenance. This limited warranty does not cover any problem that is caused by conditions, malfunctions or damage not resulting from defects in material or workmanship. Parts under warranty will be covered at no cost. Any labor cost for service under warranty is not covered as per our terms of sale.
Standard Manufacturer Terms & Conditions are applicable for the Warranty of this product.
Beds that are delivered, are exempt from return. If defective or damaged, please send images to helpdesk@medmart.com so we can do a full replacement or a part replacement. Please contact the customer service number listed on your emailed order confirmation for assistance within 72 hours of delivery. Defects discovered more than 72 hours after the mattress or foundation has been delivered may be covered by the manufacturer's warranty, if any.
Frequently Bought Together:
Frequently Bought Together: