SelectCare Ultimate Homecare Bed
By Med-Mizer
SKU# SCMM / Item ID # 33813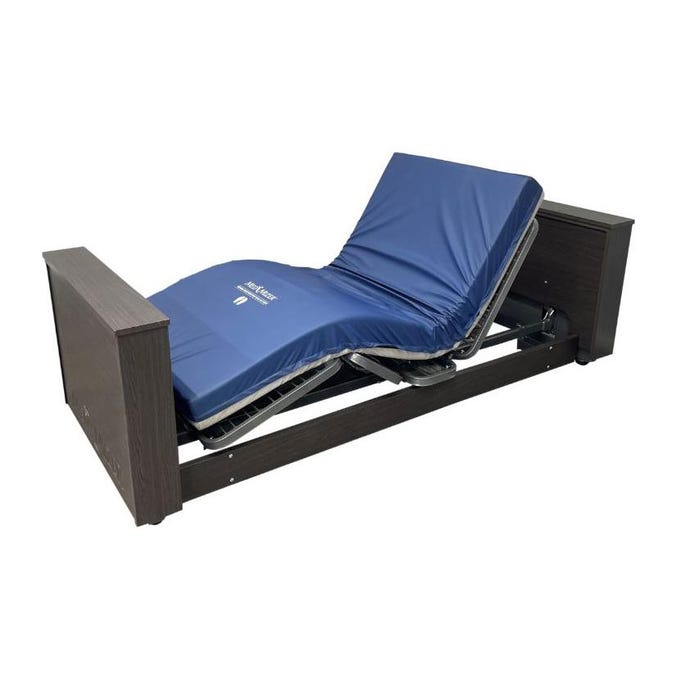 Ships by: Wed, Dec 14th
FREE Shipping over $50
Product Specialist
Lifetime Phone Support
Financing Options
Need Help?
Talk to one of our Experts!
SelectCare Ultimate Homecare Bed by Med-Mizer is one of the best hospital beds you can find in the market. This bed offers safe, secure, and comfortable sleep to the patients. Most importantly, you can use SelectCare Ultimate Homecare Bed for both hospital and home care settings. This company has designed the bed's structure, material to easily accommodate into any space. It is important to note that the manufacturer has developed its frame to make it look similar to any standard home bed. SelectCare Ultimate Homecare Bed is also the best bed for those who are looking for several options. This is because this electric hospital bed comes in various wood colors, such as natural walnut and obsidian oak. You also need to know that this is an adjustable hospital bed that can support users of all sizes and shapes.
Another thing to note is that the bed offers a supportive design and features 42 inch wide areas. Therefore, patients who habit of sleeping on bigger beds can enjoy a good night's sleep on Med-Mizer's bed. On top of that, the weight capacity of this bed is 600 pounds, which allows obese or overweight people to comfortably sit or lie on this bed. The primary reason for its popularity is the wide selection of adjustment options in the bed to ease and relax the different parts of the body. You can lower or raise behind-the-knee and upper body parts of the bed based on the patient's preferences and needs. These adjustments also offer you comfortable positions so you can give good care to patients. If your patient feels difficulty raising their back, head, or foot, you can adjust the angle of the footboards and frame head. Hence, you can either raise or lower them as necessary. Keep in mind this feature can help you perform common tasks such as feeding food, changing clothes, and changing the bandages of your patient. Unlike other adjustable hospital beds, this bed doesn't make your patient feel uncomfortable and restless when you raise the bed's parts. One more thing that the user will love is its noise-free adjustment, as the motor doesn't produce any sounds when you change the setting.
SelectCare Ultimate Homecare Bed by Med-Mizer also boosts the convenience and comfort of the patients by providing a range of railing options. These rails deliver safety to patients when their attendee is not around. You can use these railings to secure the head and leg section so that there will be no risk of falling. Furthermore, railings can also assist users while they are coming in and out of bed. The unique feature Med-Mizer provides is the under-bed light that illuminates the floor near the sides of the bed. Both the user and caregiver can benefit from it and reduce the risk of slipping and tripping when they walk around the bed at night. When it comes to mattresses, you need to order them based on the width you want. If you don't want to stand up every time to adjust the bed settings, then you can simply use its remote control to change the light and make other adjustments with it. You will be happy to know that this electric hospital bed gives you full access to the floor under the bed. This way, you can easily clean and reach the corners areas for creating a healthy environment for your patient. Lastly, you can always claim for its 15 years warranty of mechanical parts, five-year warranty of drive and Linak motor system, and a lifetime warranty of welds.
SelectCare Ultimate Homecare Bed by Med-Mizer is a safe and secure electric hospital bed for all types of patients and users- seniors, injured people, patients with chronic health, and bedridden individuals. This electrical adjustable hospital bed provides you with 600 lbs of weight capacity, so users with overweight can benefit from it. The product weight is also 386 lbs, allowing you to change its positions whenever you want. It is also easy to clean and maintain as well as allows you to clean the floor under the bed easily. This bed offers you a long list of features such as head and foot adjustments, wider surface, railings, different adjustable parts, and much more.
Product Highlights
Powered height, head and knee adjustments. Height will adjust from 10" to 25" (Floor to Top of Bed Deck).
Bed deck can be set at either 36", 39" or 42" wide. Mattress would need to be ordered for desired width.
Position your bed at a diagonal with the legs above the head to decrease swelling in the legs (Trendelenburg) or position the head above the legs to put the bed into more of a true chair position (Reverse Trendelenburg)
Remote controls the head, knee, height, trend/reverse trend, underbed lighting as well as One Button Chair Position.
Underbed Lighting: Helps illuminate under the bed for bathroom or caregiving needs.
Patient Lift Access: Full access underneath the frame allows for safe lifting equipment and easy cleaning underneath the bed.
Hidden Casters: Wheels extend with the push of a button so bed can easily move when needed.
Battery Backup: Allows for the bed to function during and power outage.
Bed Rail Options: Multiple rail options allows for use at the head or leg sections (as needed)
| | |
| --- | --- |
| Weight Capacity: | 600 lbs |
| Product Weight: | 385 lbs |
| Width: | 35" or 42" |
| Length: | 80" |
| Height Range: | 10" to 25" w/o mattress |
| Max Back Angle: | 70° |
| Bed Deck: | Grid |
Warranty – Made in the USA, lifetime welds, 15 years mechanical, 5 years Linak motor/drive system
Beds that are delivered, are exempt from return. If defective or damaged, please send images to helpdesk@medmart.com so we can do a full replacement or a part replacement. Please contact the customer service number listed on your emailed order confirmation for assistance within 72 hours of delivery. Defects discovered more than 72 hours after the mattress or foundation has been delivered may be covered by the manufacturer's warranty, if any.
Frequently Bought Together:
Frequently Bought Together: