By Liko (Hill-Rom)
SKU# M220/M230 / Item ID # 27477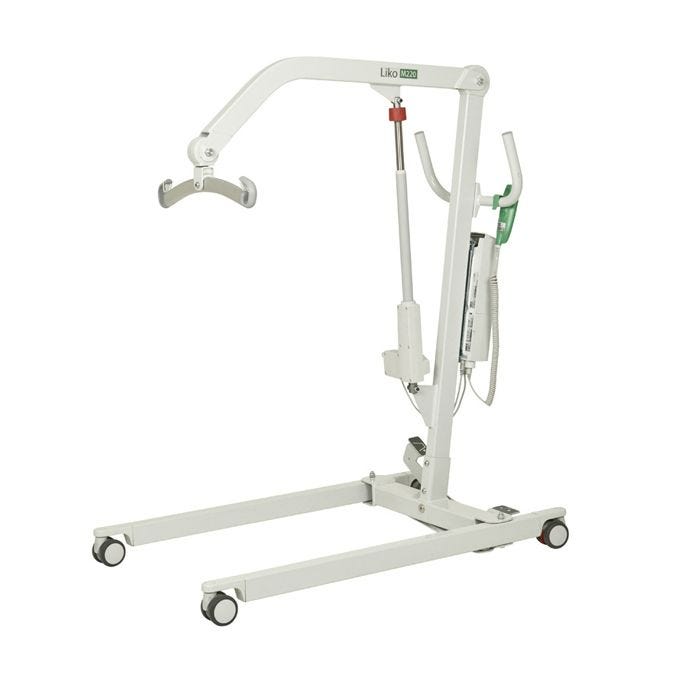 Ships by: Tue, Sep 21st
Earn 48 rewards points with this purchase
FREE Shipping over $50
Product Specialist
Lifetime Phone Support
Financing Options
Need Help?
Talk to one of our Experts!
The Liko M220 / M230 Mobile Lift is designed to be both easy and safe to use, making patient transfers smoother. This patient lift features a super low base profile of just 4.1", meaning that you can easily slide this lift beneath beds, chairs, and other furniture for easy transfers. Additionally, a hand control operates the lift motion without requiring any physical exertion from the caregiver.
This patient lift is available with a manual base, or you may choose to upgrade to a fully electric base. With the manual option, you can adjust the base width by the use of a foot pedal, so you don't have to bend down or struggle with the base width adjustment.
The M220 / M230 Mobile Lift features a 2-point sling bar so sling attachments are simplified but still stable and comfortable for the patient. The longer lift arm makes it easy to rotate patients and to lift them into the center of a bed.
This patient lift includes a "low battery" beep and light indicator which lets you know when it's time to charge the unit. There is also a manual emergency lowering option in case the battery life ever gets too low during a transfer. Charging the battery is also convenient – it can be charged while on the lift or it can be removed for wall charging.
The M220 / M230 Mobile Lift is a versatile lift which is easy to use. It offers a 400-pound weight capacity and a lifting range from 22.4" to 67.7", meaning that you can lift patients from a variety of surfaces, including the floor. This patient lift weighs in at a lightweight 90 pounds, making it easy to handle and maneuver. The M220 / M230 Mobile Lift has been designed with both patient and caregiver safety and ease of use in mind; you're sure to appreciate how functional and easy to use this lift is.
Product Highlights
Easy sling attachment
Longer lift arm
Hands-free adjustable base
Battery charge indicator
Low base clearance
M220
Manual Base
M230
Power Base
Weight:
90 lbs
Weight Capacity:
400 lbs
Lifting Range:
22.4" to 67.7"
Powered Base:
No
Base Width Open:
40"
Base Width Closed:
26.7"
Base Length:
45.7"
Base Height:
4.1"
Overall Height:
74.6"
Clearance:
4.1""
Ground Clearance:
1"
Caster Size:
3"
Sling Types:

4-Point Sling




6-Point Sling




Standing Sling

Battery:

2 x 12V 2.9AH
The following parts will be repaired or replaced at our discretion, free of charge, for the following allowable time periods from the date of purchase. 3 Year Warranty on lift 3 Month Warranty on Batteries
As stated in the full Return Policy, this item may be returned within 30 days of receipt for a refund as long as the following conditions are met:


The item must be returned at the customer's expense in the original packaging.
The item must be in new condition.
A Return Authorization must be requested from Med Mart within 30 days of delivery.
Once the Return Authorization has been received, the product must be returned within 14 days.
Frequently Bought Together: