Safepath EZ Edge ADA Transition Threshold Ramp
By SafePath Products
SKU# MRAEZ00 / Item ID # 34220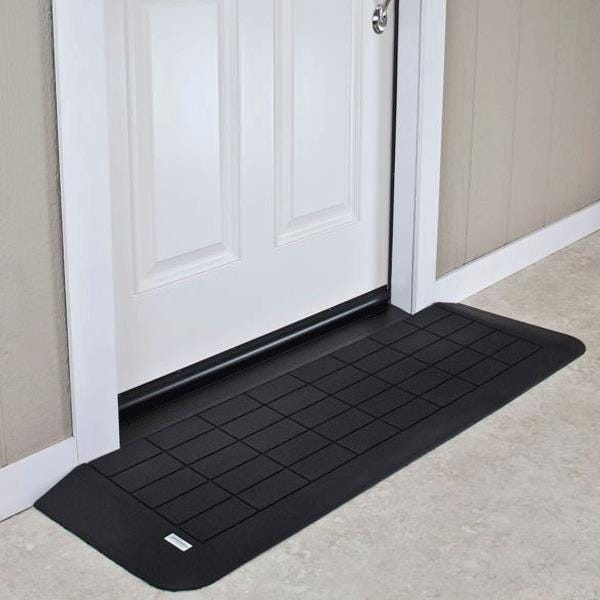 Ships by: Wed, Dec 7th
FREE Shipping over $50
Product Specialist
Lifetime Phone Support
Financing Options
Need Help?
Talk to one of our Experts!
Safepath EZEdge Transition Rubber Threshold Ramp is made of 100% recycled rubber which helps the user to effortlessly transit from one height to another. Safepath EZ Edge Threshold Ramps are designed for immediate and easily installation on concrete, asphalt, wood, tile, VCT and marble. It is most often used for door thresholds, sliding glass doors, entryways, or any other transitions that impede a free path of travel. Simply choose the model closest to the height and the necessary width required.
*** Please note the product design changes are based on the size of the product chosen. Review images and give us a call for more!
Benefits of Safepath EZEdge Threshold Ramp
Easily cut to fit inside door jambs, molding, etc.
Easy solution to solve threshold barriers
Ensured instant accessibility
3-sided approach
A wheelchair or scooter is over thresholds and through doorways
Safepath EZ Edge Transition Rubber Threshold Ramp Features
Quick installation of Safepath EZ Edge Portable Rubber Ramp significantly reduces labor costs
Threshold Ramp has superior slip resistance
Unlimited weight capacity
Versatile rubber design accommodates a step or door jamb from 1/2" to 2-3/4" high
Ideal for wheelchair access to homes or businesses
Used for interior and exterior applications
Door Ramp is durable and maintenance free
Easily washed with soap and water
UV stable
Product Highlights
Manufactured from durable rubber
Textured rubber surface for added traction
Ultra-durable design accommodates even the heaviest power chairs and scooters
Single piece design allows for easy placement
Beveled sides provide smooth transition from any side
Meets the Americans with Disabilities Act (ADA) requirements
| | | | | |
| --- | --- | --- | --- | --- |
| Item # | Maximum Rise | Depth | Width | Weight |
| MRAEZ0010 | 0.5" | 3.25" | 41.5" | 2 lbs. |
| MRAEZ0040 | 0.5" | 3.25" | 74.25" | 4 lbs. |
| MRAEZ0050 | 0.25" | 6.5" | 41.5" | 6 lbs. |
| MRAEZ0080 | 0.25" | 6.5" | 74.25" | 9 lbs. |
| MRAEZ0110 | 0.88" | 8" | 41.5" | 8 lbs. |
| MRAEZ0140 | 0.88" | 8" | 74.25" | 13 lbs. |
| MRAEZ1150 | 1" | 9.75" | 46" | 10 lbs. |
| MRAEZ1180 | 1" | 9.75" | 82" | 18 lbs |
| MRAEZ1110 | 1.25" | 14" | 46" | 20 lbs. |
| MRAEZ1140 | 1.25" | 14" | 82" | 35 lbs. |
| MRAEZ1310 | 1.5" | 17.75" | 45.75" | 26 lbs. |
| MRAEZ1340 | 1.5" | 17.75" | 81.25" | 42 lbs. |
| MRAEZ1510 | 1.75" | 22" | 45.75" | 37 lbs. |
| MRAEZ1540 | 1.75" | 22" | 81.25" | 62 lbs. |
| MRAEZ2100 | 2" | 23" | 46" | 51 lbs. |
| MRAEZ2130 | 2" | 23" | 82" | 84 lbs. |
| MRAEZ2150 | 2.25" | 29.25" | 46" | 61 lbs. |
| MRAEZ2160 | 2.25" | 29.25" | 82" | 122 lbs. |
| MRAEZ2170 | 2.5" | 30" | 46" | 81 lbs. |
| MRAEZ2180 | 2.5" | 30" | 82" | 148 lbs. |
| MRAEZ2190 | 2.75" | 34.25" | 46" | 90 lbs. |
| MRAEZ2195 | 2.75" | 34.25" | 82" | 160 lbs. |
Frequently Bought Together:
Frequently Bought Together: