Victory LX Sport Full-Size Scooter
By Pride
SKU# S710LXW / Item ID # 30911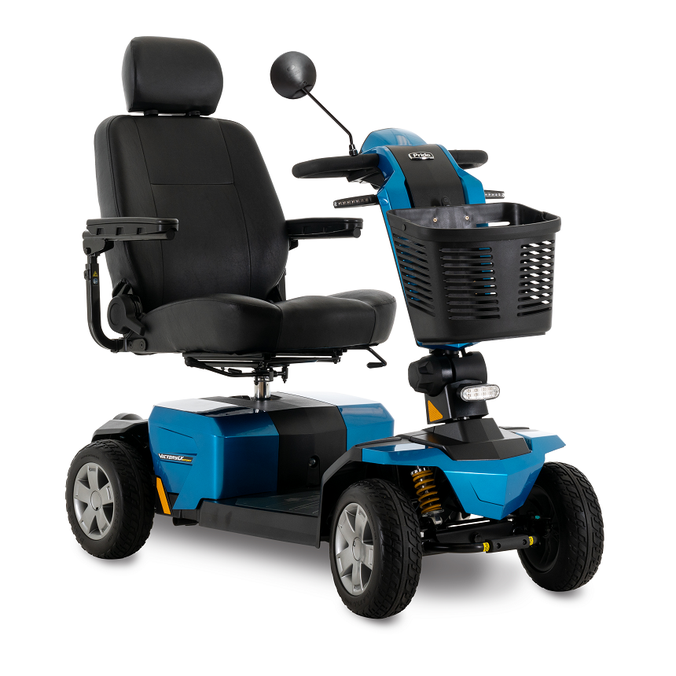 Ships by: Mon, Feb 6th
FREE Shipping over $50
Product Specialist
Lifetime Phone Support
Financing Options
Need Help?
Talk to one of our Experts!
The Victory LX Sport is a reliable and stylish full size scooter from Pride. This 4-wheel model features a Comfort-Trac Suspension system with adjustable shocks on both the front and rear wheels of the scooter. This system gives you the ability to travel over various terrain in complete comfort. The Victory LX Sport has a 400 pound weight capacity and a top travel speed of 5 ½ miles per hour. A 16 mile travel range lets you drive all day and the LED battery gage makes it easy to know when it's time for a charge. Non-skid, foam filled 3 ½" wide tires add extra stability for when you drive over grass or rough terrain. Ride in comfort in the high back black vinyl swivel seat. Sliders and a height-adjustable, plush headrest come standard with the 18" by 18" seat. Flip-up armrests are height, width, and tilt adjustable to allow your arms to rest in a natural position. The many adjustable features on this scooter make it easy to get comfortable for your ride. The Victory LX Sport can be quickly and easily disassembled for transport, but a vehicle lift may still be necessary as the largest piece weighs 78 pounds.
The tiller of the Victory LX Sport features an adjustable base, storage compartment, front storage basket, and ergonomic wraparound handles. These innovative handles allow you to easily control your scooter while keeping your wrist in a relaxed position. A full LED light system allows you to clearly see your path of travel, even at night or in low-light settings. The LED headlight, curb light, rear light, and directional signals can all be controlled from the tiller dashboard. A courtesy light is located just under the dashboard next to the convenient battery charger port. You can also find the battery gage, horn, high and low speed switch, and speed control dial on the tiller dashboard. The Victory LX Sport was designed with all of the best full size scooter features from Pride. The CTS suspension system, full LED light system, and infinitely adjustable positions on this mobility scooter will provide you with a safe and comfortable ride every time.
Experience complete comfort as you ride over all types of terrain thanks to the Victory LX Sport's CTS suspension system. Adjust the scooter to the perfect position for you using the adjustable seat, headrest, armrests, and tiller. Enjoy the full LED light system on the Victory LX Sport to safely drive at night and in low-light settings. Using the best of Pride's innovative technology, the Victory LX Sport is a top-quality full size scooter offered at an unbeatable price.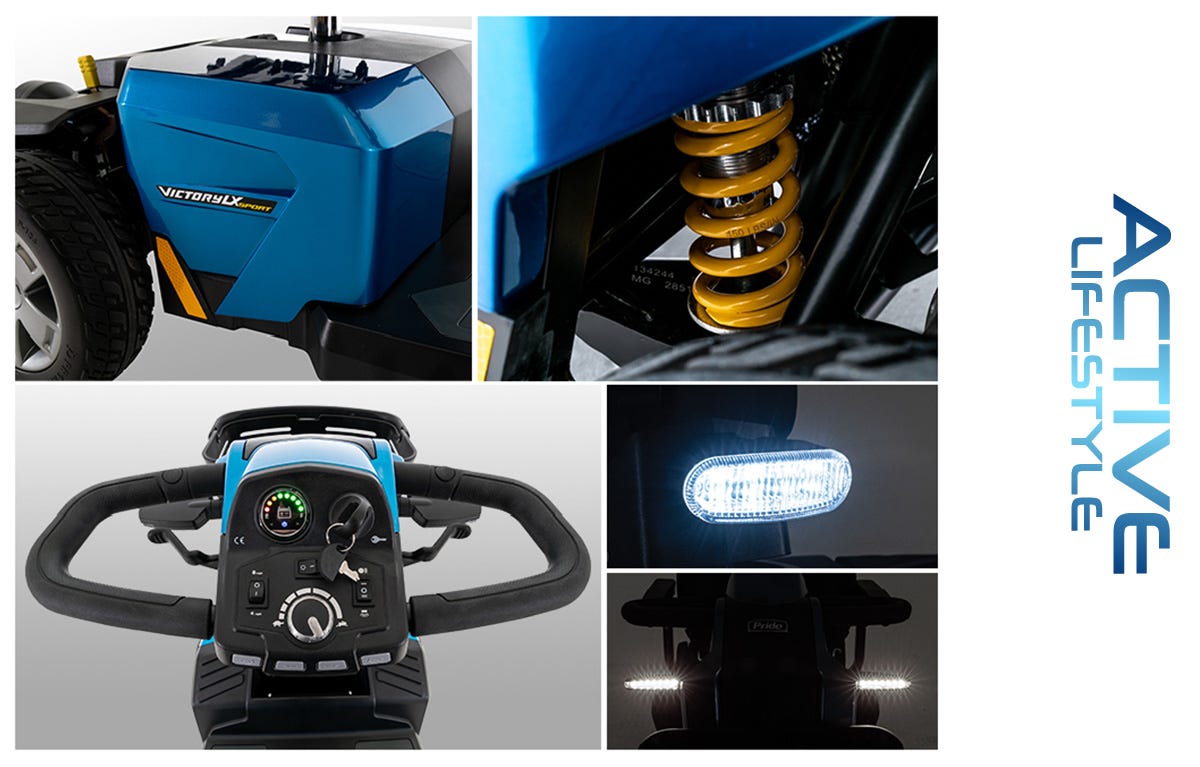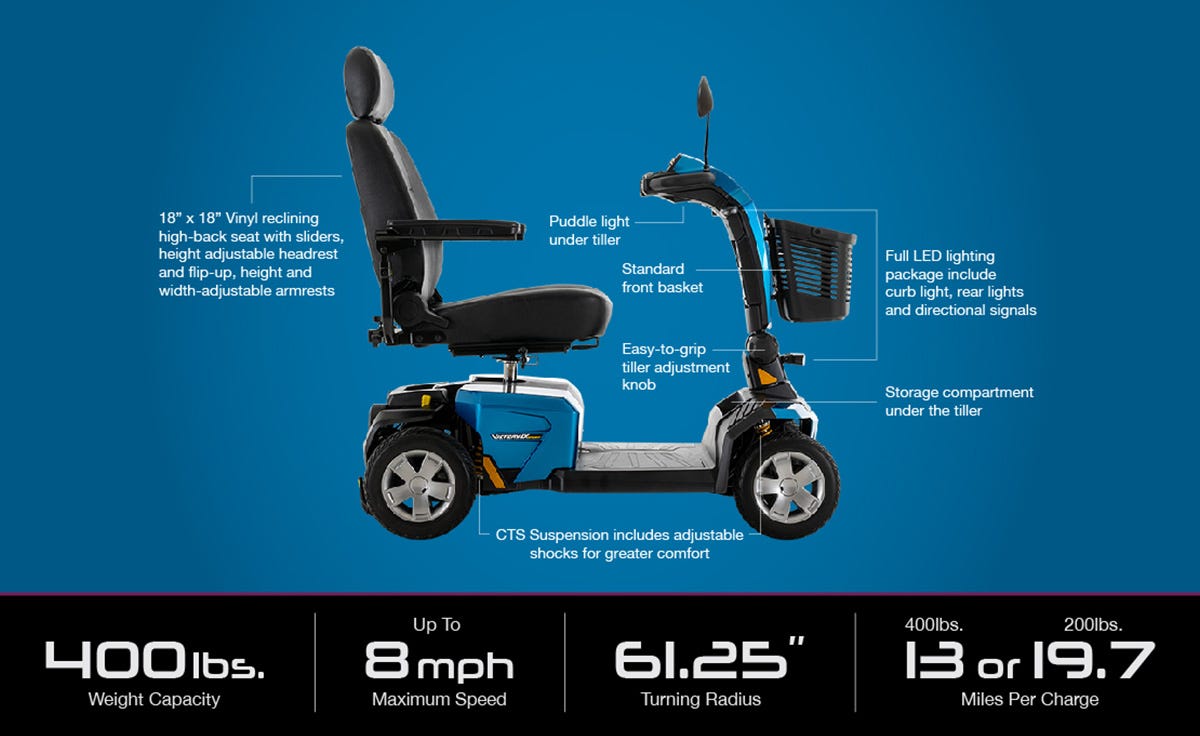 Product Highlights
Standard front basket
Easy-to-grip tiller adjustment knob
Storage compartment under the tiller
CTS Suspension includes adjustable shocks for greater support
Charger port easily located on the tiller lets you conveniently charge your scooter
Delta tiller with ergonomic wraparound handles let you operate the scooter with one hand and rest your wrist
Easy-to- read voltmeter
Rearview mirror
Full light package with LED headlight, rear lights and directional signals plus a under-tiller courtesy light
Easy-to-use console features low and high-speed setting switch, speed dial, light switches, horn and directional signal buttons
K0899 - POWER MOBILITY DEVICE, NOT CODED BY DME PDAC OR DOES NOT MEET CRITERIA
| | |
| --- | --- |
| Weight Capacity: | 400 lbs |
| Weight: | 220 lbs |
| Turning Radius: | 59.9" |
| Top Speed: | 8 MPH |
| Drive Range: | 19.7 miles |
| Heaviest Piece: | 77 lbs |
| Ground Clearance: | 2.2" |
| Max Incline Rating: | 8 ° |
| Disassembles: | Yes |
| Delta Tiller: | Yes |
| Seat Width: | 18", 20", 22" |
| Max Seat to Ground Height: | 25" |
| Multiple Seating Options: | No |
| High-Back Seat: | Yes |
| Wheel Type: | 4-Wheel |
| Front Wheel Size: | 10" |
| Rear Wheel Size: | 10" |
| Overall Width: | 25.62" |
| Overall Length: | 47" |
| Battery Type: | (2) 50AH |
| Batteries Included: | Yes |
| Battery Charger Type: | Off Board |
| Larger Battery Option: | No |
| Drive Type: | Rear-Wheel Drive |
| Suspension: | Yes |
| Braking System: | Electromechanical |
| Weight Without Batteries: | 160 lbs. |
| Battery Pack Weight: | 60 lbs |
LIFETIME LIMITED WARRANTY For the lifetime of your product from the date of purchase, Pride will repair or replace at our option to the original purchaser, free of charge, any of the following parts found upon examination by an authorized representative of Pride to be defective in material and/or workmanship: Structural Frame Components, including: •Main Frame - Fork - Seat Post - Tiller Frame TWO-YEAR LIMITED WARRANTY For two (2) years from the date of purchase, Pride will repair or replace at our option to the original purchaser, free of charge, any of the following parts found upon examination by an authorized representative of Pride to be defective in material and/or workmanship: •Transaxle •Brake •Bushings •Bearings •Motor Brake (electronic function ONLY) Also, electronic assemblies including: •Electronic Controllers •Chargers •Harnesses •Any Other Electrical Subassembly SIX-MONTH WARRANTY The battery is covered by a separate six-month warranty, provided by the battery manufacturer. The batteries are not warranted by Pride. RECONDITIONED UNITS WARRANTY All reconditioned units are covered by a six-month warranty from Pride effective from the date of purchase. WARRANTY EXCLUSIONS This warranty does not extend to those items which may require replacement due to normal wear and tear. •ABS Plastic Shrouds •Motor Brushes •Upholstery and Seating •Brake Pads •Tires and Tubes •Fuses/Bulbs •Circumstances beyond the control of Pride •Labor, service calls, shipping, and other charges incurred for repair of the product, unless specifically authorized, IN ADVANCE, by Pride Mobility Products •Repairs and/or modifications made to any part without specific consent from Pride Exclusions also include components with damage or failure caused by: •Contamination •Abuse, misuse, accident, or negligence •Battery fluid spillage or leakage •Use other than normal design specifications •Improper operation, maintenance, or storage NOTE: If there is an increase in the operational noise level in the transaxle, the warranty does not apply. An increase in operational noise level usually occurs due to abusive and excessive strain on the scooter. NOTE: Gradual deterioration in performance because the battery has been left in a discharged state, left in cold conditions for an extended period of time, or worn out through heavy use is not covered.
As stated in the full Return Policy, this item may be returned within 30 days of receipt for a refund as long as the following conditions are met:


The item must be returned at the customer's expense in the original packaging.
The item must be in new condition.
A Return Authorization must be requested from Med Mart within 30 days of delivery.
Once the Return Authorization has been received, the product must be returned within 14 days.