Molift Quattro Freestanding Lift System
By etac
SKU# N1600030 / Item ID # 33780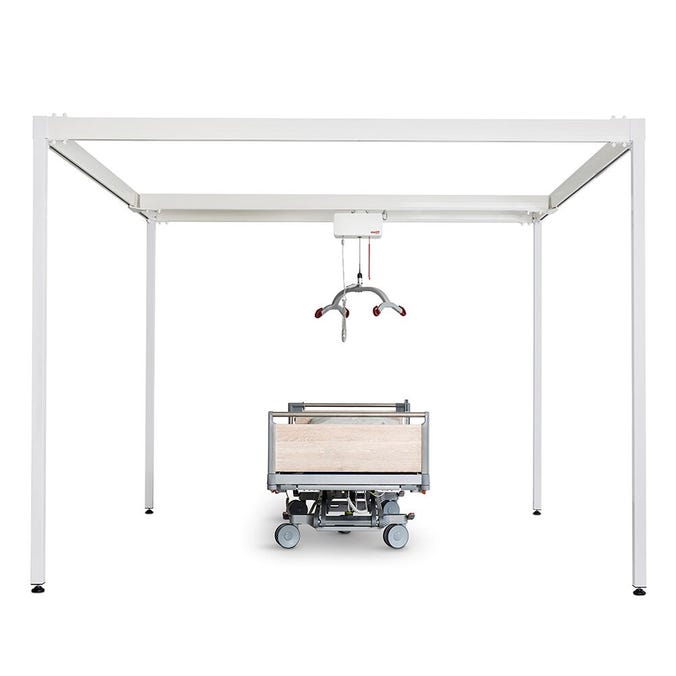 Ships by: Tue, Dec 6th
FREE Shipping over $50
Product Specialist
Lifetime Phone Support
Financing Options
Need Help?
Talk to one of our Experts!
Molift Quattro Freestanding Lift System by Etac is an ideal solution for hospitals and medical facilities to move patients. The best part is that this system doesn't make your space look cluttered. This is why it's also the best option for patients who are at home and need care.
This traverse gantry is a freestanding hoist, offering you a traverse system. Since you don't need to fix or install it permanently, it's the best option for the hospitals that prefer flexible options. The best part is that it is pretty easy to install- you don't need to mount anything on the ceiling or wall.
Once you invest in this convenient lift system, you don't need several nurses to handle a single patient. This traverse also comes with four steel posts and a lightweight aluminum frame that offers you excellent stability.
Weight Capacity
The Molift Quattro Freestanding Lift System by Etac solves all the overhead lifting problems by moving the patient with the Molift Nomad hoist motor. Note that it has a lifting capacity of more than 300 Kg, and allows you to lift an individual from or to the floor, bed, toilet, wheelchair, chair, etc.
Sizes
Depending on your preferences and needs, you can choose two sizes: 4X4 meters and 3X3 meters. On the other hand, the height of the post is around 2.46 meters. If you need Molift Nomad or Molift Air, you need to order these separately.
Impressive Build
It also has durable and well-designed construction that gives it an expected lifetime of ten years. On the other hand, Etac has used high-quality steel, plastic, and anodized aluminum for each part of the Molift Quattro.
This is because these elements together reduce the risk of rusting and damage. Another thing you need to understand is that this lift system is designed to give you control and access in all situations. Hence, this freestanding lifts system aims to make patient care easy and feasible.
Installation
When it comes to traversing gantry, the tricky part is finding the labor that can help you install this at whatever place you want. However, Molift Quattro Freestanding Lift System only requires one or two individuals to install it.
Moreover, anyone with experience installing hospital equipment can install it easily. Worried about how you can charge it? Well, it's simple. You can either use the in-rail or hand control chagrining option to fill up the battery. It also requires less time to charge than other traditional traverse gantries in the market.
Additionally, you can use it for several hours without worrying about running out of the battery. You have the option to choose between two weight capacities, i.e., 450 lbs and 660 lbs, which come with different Molift Air to facilitate you while lifting obese patients.
Warranty
If you notice any damages, malfunction, or any problem in the lift system, you have 60 days to replace or repair the problematic part. In a nutshell, whether you need a freestanding lift system for home use or a hospital, Molift Quattro is the best option for you.
Molift Quattro Freestanding Lift System by Etac is a traverse gantry that doesn't need any wall or roof to install. This freestanding lift system offers you exceptional features, making patient's life easy and simple. Healthcare staff can easily lift the patient from the bed, chair, wheelchair, or other place and transfer them without worrying about hurting or injuring patients.
Easy to Use
Since the design of this traverse gantry aims to provide safe and secure transportation, inexperienced individuals can also easily use it. The durable and high-quality construction and composition allow you to use this system for heavy-weight patients.
Product Highlights
A freestanding traverse gantry
Solves most overhead lifting situations
Can be delivered in two sizes: 3x3 meters and 4x4 meters.
Supreme stability and maneuverability
Easy to install
Easy to charge
Specifications
Expected lifetime
10 years
Material
Steel, anodized aluminum, plastic
External height with adjustable feet (mm)
2290
Safe working load (SWL) (kg)
300
Height (mm)
2330
 
 
 

 

Etac item number

 

Depth (mm)

 

Rail length (mm)

 

Weight (kg)

 

Width (mm)
Molift Quattro 3
1600030
3160
3000
111
3160
Molift Quattro 4
1600035
4160
4000
132
4160
Frequently Bought Together:
Frequently Bought Together: