ART Tilt Shower Commode Chair
By Raz
SKU# RDZART / Item ID # 35303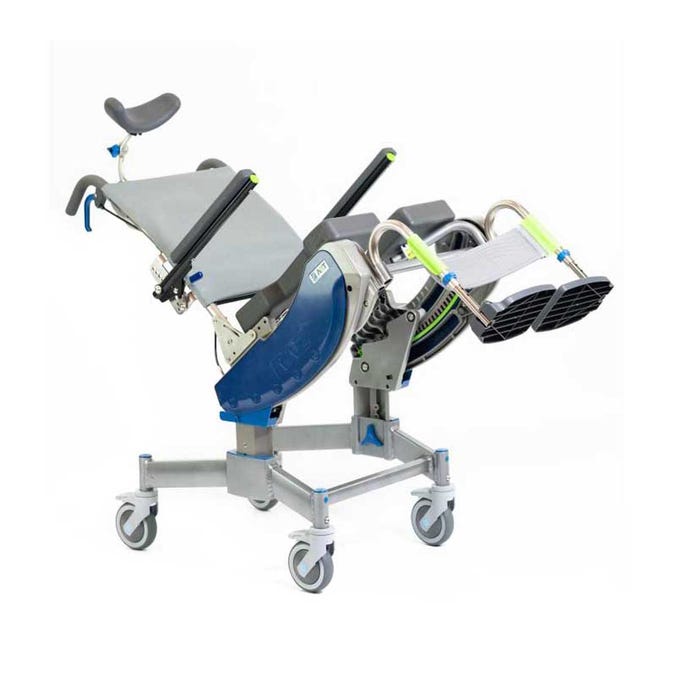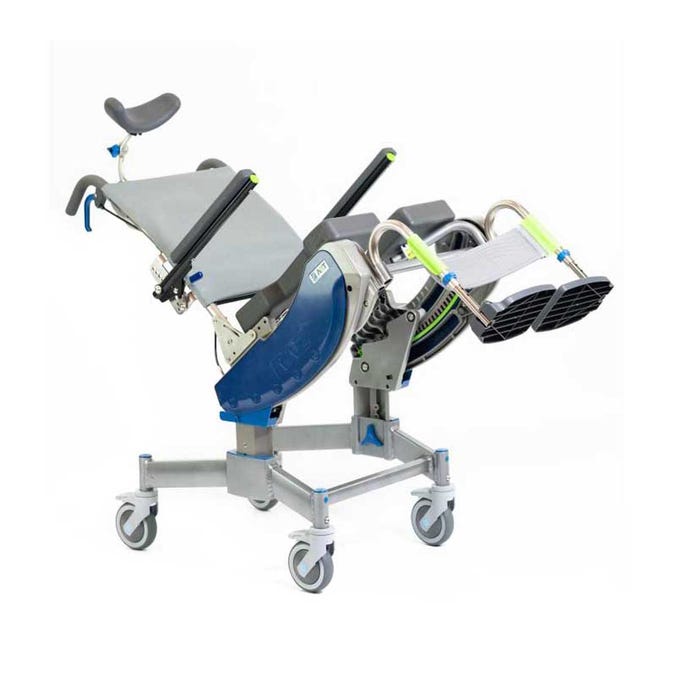 Ships by: Fri, Oct 6th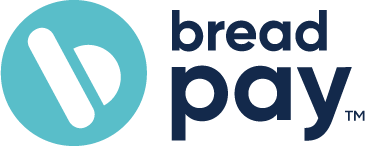 0% APR available for up to 18 Months*

No credit required. Pay over time. No late fees.
FREE Shipping over $50
Product Specialist
Lifetime Phone Support
Financing Options
Need Help?
Talk to one of our Experts!
Raz Design ART (Attendant Rotational Tilt) shower commode chair has a unique frame design that employs a patented, dual-arc, orbital tilt system that allows for the smallest footprint and the least amount of tilt effort of any chair on the market. Its unique aluminum frame design allows for two ranges of tool-free height adjustment (20"-23" and 24"-27"). The Raz-patent-pending ART's tilt-locking system eliminates cable "looping" which is common in other designs. The easy-to-clean aluminum frame fits over most toilets and is designed to allow the user or attendant easy side and front access. Attendant Rotational Tilt mobile shower commode chair tilts up to 40° for added pressure relief and comfort.
Tilt function:
The seat frame tilts for extra pressure reduction & comfort
Conveniently located tilt triggers provide smooth tilt control
Locking pneumatic springs provide infinite adjustment up to 40°
Pressurized springs also help lift the seat frame to an upright position
Moulded Seat:
Soft integral-skin foam for comfort and durability
Available with open or bridged front
Available sizes: 18"W x 16"D, 18"W x 19"D
Contoured for pressure reduction and pelvic stability
Ischial Pelvic Alignment System:
Removes easily for cleaning
Seat locks in place for transfers
Allows centering of the aperture (opening) around the users' ITs
Provides 2" of fore/aft adjustment so the seat can be aligned with the pelvis
Fixed Back:
Available in 18" back height
Includes flip-up, angle-adjustable arms
Locking armrest upgrade available [Z710]
Includes adjustable tension fabric back upholstery
Tension-Adjustable Back Support Fabric:
Available in 17", 20" & 24" back heights
Removable for machine washing
Vinyl-coated fabric for durability, comfort & better infection control
Provides individualized trunk support for optimal positioning & comfort
Adjustable Footrests:
Flip-up footplate
Swing in and out easily
Removable for transfers and cleaning
Adjust for leg length without tools
Available in regular length 16"-20½" and extended length 18"-22½"
Headrest (Small, standard):
Headrest size is approximately 10"W x 4" H
The headrest angle can be adjusted for comfort
Integral skin foam headrest is easy to clean
The headrest is shaped to cradle the head and can be adjusted to fit looser or tighter
Headrest support can be adjusted infinitely forward and backward within a 5½" range, and vertically within an 11½" range
Commode Pan:
Includes a lid for splash and odor control
An injection-molded pan is designed for function
Wide handle angled at 45° provide better ergonomics
Fits in a standard autoclave and Arjo Tornado Washer
Sloped front of pan moves contents toward the handle to reduce offset load, thereby making it easier to carry
Receiver brackets under the seat are visible from the rear of the chair, making it easier to slide the pan into place
Product Highlights
Fixed back
40° tilt range
Foot supports
Commode pan
Four dual-locking 5" casters
Flip-up padded arm supports
Patent-pending tilt locking system
Head support fixture with a small pad
Tool-less height-adjustable aluminum frame \Patented dual-arc tilt geometry for the lowest possible tilt effort
Weight Capacity:
350 lbs.
Product Weight:
69 lbs.
Frame Width (seat and back frame):
18"
Overall Width:
22.5"
Overall Length (with foot supports and headrest adjusted to middle positions):
Upright: 35" (89cm) / Tilted to 40°: 50.5" (128cm)
Seat Depth:
16" or 21" depending on seat / cushion length
Clearance Height (under seat):
with pan brackets (Lower Range: 15" - 18", Higher Range: 19" - 22")

without pan brackets (Lower Range: 15.5" - 18.5", Higher Range: 19.5" - 22.5")
Fixed Back - standard:
18"W x 18"H
Armrest Height for 18"H fixed back:
8.5"
Armrest Height for 15"H adjusta-back:
5.5" - 8.5" (1/2" increments)
Armrest Height for 17"H adjusta-back:
6.5" - 9.5" (1/2" increments)
Armrest Height for 20"H adjusta-back:
7.5" - 10.5" (1/2" increments)
Armrest Height for 24"H adjusta-back:
7.5" - 10.5" (1/2" increments)
Seat-to-Floor Height (with molded seat)
 
Lower Range:
20" - 23" in 1 increments
Upper Range:
24" - 27" in 1 increments
 
 
**Special notes and considerations for options
Regarding Fixed Back Frames (18"W only)  
This is called a "Fixed" Back because the arm supports are not adjustable in height. Includes molded, vinyl back support,
fixed-height flip-up padded arm supports, back angle adjustment (85°/90°/95°) with cane-style posts. Back height is measured from
top of molded seat to top of back upholstery. Hip Adductors [Z7HP1/2] are not compatible with Fixed Back. 

Regarding Trigger Placement – Must choose one
Dual Tilt Triggers option positions both triggers on one side, allowing for single-handed activation. Available for all back widths.

Regarding Custom Back Frame Widths Different From Seat Frames
Z5NB1816 Custom Back – 2" Narrower than Seat Frame Compatible with all 18"W seats but with reduced seat depth range. Also compatible with Custom or modified Visco-Foam Interface seats

Regarding Back Support Options
Symphony and Harmony Back Do not fit 15" back heights

Regarding Arm Supports and Accessories
Z7FLL, Z7FLR, Z7FSL, Z7FSR May require Z718 / Z719 for Arm Support to flip up, depending on medial / lateral positioning of Flat Arm Pads
Z7FLL, Z7FLR May require Z7PAM for Arm Support to flip up and for Lateral Supports to swing away
Z7TRL, Z7TRR, Requires Z7PAM for Arm Support to flip up and/or for Lateral to swing away
Z7APS, Z7APS20 Not available with Z7FS / Z7FL / Z7TR

Regarding Foot and Leg Supports
Z7FET2 Foot Support Extension Tubes – 2" longer (pr) Not compatible with Z7ADM / Z7VS / Z7FBT / Z7MFX8
Z7ADM Adj Angle/Depth Molded Footplates (pr) Not available for Z7MFX8 / Z7VS
Z7ELROFL/R compatible with seat depths ≥ 19"
Z7ELRL/R compatible with seat depths ≤ 18"
Regarding Positioning Pads
Pad Sizes: Small – 5.5"x 3.5" / Large – 6.75" x 4.3". Lateral Pads can be adjusted medially up to 3" per side. Adductor Pads can be adjusted
medially up to 2.5" per side. For additional medial offset, specify Z742 extension plate.
**Z7HP1L, Z7HP1R, Z7HP2L, Z7HP2R  Fits Adjusta-Back only
Regarding Pelvic and Chest Belts – **A CHEST BELT MUST NEVER BE USED WITHOUT A PELVIC BELT!
Non-absorbent belts – recommended for infection-control environments
Tension-Adjustable Upholstery includes loops to retain a chest belt (ZCBM/ZCBL/ZCBXL). When the chair is supplied with a Harmony
 or Symphony Back, Chest Belt loops are provided.
*Recommended sizes for Bodypoint belts
| | | | |
| --- | --- | --- | --- |
| Chest Belt  | ZCBBPS 14"-16"W back frame  | ZCBBPM 16"-18"W back frame  | ZCBBPL 18"-20"W back frame |
| Pelvic Belt | Not Available in this size | ZPBBPM 16"-18"W seat frame | ZPBBPL 18"-20"W seat frame |

Regarding Commode Pan Spacer Kits
Commode Pan Spacer Kits provide extra clearance for perianal care with pan in place. Reduces toilet bowl clearance height. 
Whizard – Winged Urine Deflector Has patent-pending lateral wings that are positioned under the medial aspect of the thighs to keep the Whizard in place.

Frequently Bought Together:
Frequently Bought Together: