ROHO Quadtro Select LOW Profile Cushion
By ROHO
SKU# QUAD-LP / Item ID # 34442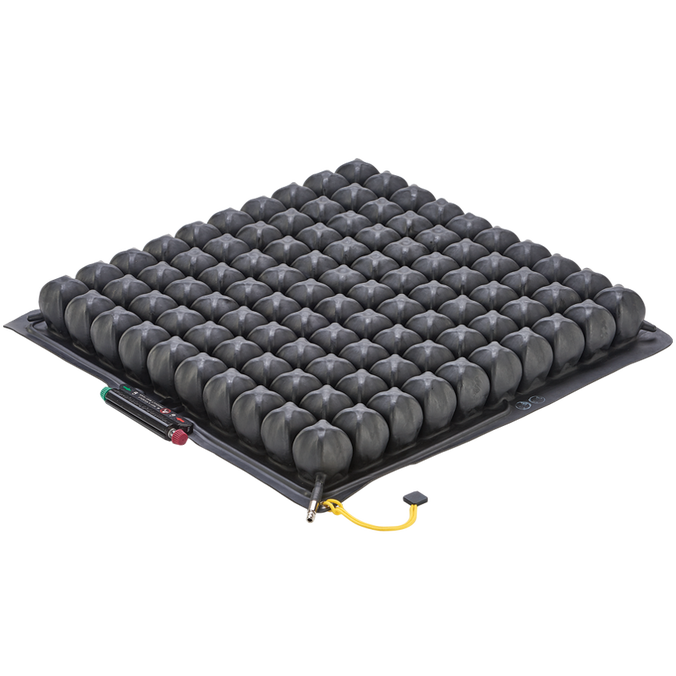 Ships by: Tue, Dec 20th
FREE Shipping over $50
Product Specialist
Lifetime Phone Support
Financing Options
Need Help?
Talk to one of our Experts!
The ROHO Quadtro Select Low Profile®, with air in place progressive positioning, promotes lateral, anterior, and posterior stability. With the help of the ISOFLO Memory Control users are able to create a fully customized fit that locks air into place in each of the four compartments, minimizing side-to-side or front-to-back motion. The Quadtro Select Mid Profile® features the ISOFLO Memory Control Unit that is great for quick and easy on-demand adjustments. More specifically, it is a knob that can be pushed open to adjusting the level of inflation and then closed to lock in and maintain the desired level. With ISOFLO stability is enhanced and side-to-side and front-to-back motions are reduced by locking air into place in each of the four quadrants. The Quadtro Select Low Profile® also features 2.5 inch cells that offer active users protection against skin breakdown and are great for users needing a moderate amount of posture support. We also like that the multiple air cells provide circulation which contributes to a cooler environment. ***Inches approximate based on cell count needed.
Product Highlights
Provides protection from skin breakdown
Great for those requiring a moderate amount of postural support
Available in 20 sizes
ISOFLO MEMORY offers shape fitting capabilities while seated
| | |
| --- | --- |
| Weight Capacity: | 500 lbs |
| Weight: | 2.5 lbs |
| Cushion Type: | Air |
| Skin Breakdown Risk: | Moderate |
| Positioning Properties: | No |
| Cushion Cover Type: | Standard |
| Height: | 2.5" |
| Width: | 12", 14", 15", 16", 18", 20" |
| Depth: | 12", 13", 15", 16", 18", 20" |
| ***Please note: | Inches approximate based on cell count needed |
WHAT IS COVERED?
The ROHO Group covers any defects in materials or workmanship of the entire line of QUADTRO® and CONTOUR® Select products.


FOR HOW LONG?
3 Years from the date the product was originally purchased as new, no matter who is the present owner.


WHAT WE WILL DO.
Within a reasonable amount of time after you return the product to us, we will repair any defect in material and workmanship and ship it back to you, all free of charge during the warranty period.


WHAT WE WILL NOT DO.
We will not repair a product free of charge if it has been misused, damaged by an accident or if the product is not under warranty. This also includes damages stemming from acts of God, e.g., flood, tornado, earthquake or other catastrophic event, e.g. fire. Please note that any alteration to the product, unauthorized by The ROHO Group, Inc., will void the warranty.


WHAT THE CUSTOMER MUST DO.
Contact a customer service representative from Spinlife.com at 1.800.850.8335. Instructions will be provided for authorized return of the product to the manufacturer. Customer is responsible for shipping fees.


DISCLAIMER
Any implied warranties, including those of MERCHANTABILITY and FITNESS FOR A PARTICULAR PURPOSE are also limited to 36 Months from the date of original purchase and any action for a breach of such warranties or any express warranties herein must be commenced within this time. The ROHO Group, Inc. shall not be responsible for any incidental or consequential damages with respect to economic loss or injuries to property, whether as a result of a breach of express or implied warranties or otherwise. The ROHO Group, Inc. will not be responsible for the results of careless handling, unreasonable or improper use of this product.
Hygiene products which relate to personal hygiene and self-care are No Return - No Exchange. No hygiene product can be returned if the package has been opened per Public Health Policy and per Med Mart Policy.


As stated in the full Return Policy, this item may not be returned. If you have a No Return - No Exchange item that arrived damaged or defective please contact at 1-888-260-4430 ext. 2