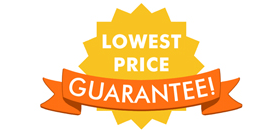 Our Price Match Guarantee
Med Mart will gladly match the price on a new identical item sold by any retailer who sells products in both retail stores and online under the same brand name. We will also match prices on items that are sold and shipped by Amazon.com and Reliable.com; provided, however that Marketplace products (i.e, products sold or shipped by a third party) sold through any eligible retailer are excluded. Please see below for more details on how it works.
What Is Included in Our Price Match Guarantee?
We include nearly all new items that are identical and in stock. Meaning, we will honor items with the same model number, features, and warranty that are in stock and available at the advertised price. For items sold with a service plan, such as extended warranty, the plan, provider, and associated terms must all be identical.
Our price is the final price you pay after any discounts, coupons, instant savings and mail-in savings are applied. We will match the other store's point-of-sale price after deducting their instant savings/rebates and coupons. We will not match the other store's mail-in rebates nor will we deduct the value of any gift with purchase.
How Does Our Price Match Guarantee Work?
In order to determine your item's price match eligibility, we will need the price and model number of your item and confirmation by one of the following methods: printed advertisement, printed in-store signage, receipt of item purchased, picture of in-store signage or online offer from mobile device or simply fill out the below form providing a a link to the price to match.

Save the URL
If you find a qualifying lower price from a designated online retailer, save their Web page URL.

Submit Request
Submit a price match request by clicking the Price Match button that is on each product page.

Save Money
If item qualfies you will be email back with a coupon code matching the requested price match.