It's time to prepare for winter! The colder months are perfect for cozying up indoors, but it's important to be ready for the outdoors in case you need to leave your home. Read our top 5 Tips for Winter, plus some extra advice from the Med Mart team to keep you safe and mobile all winter long.
Top 5 Tips for Winter
Always bundle up! Be sure to wear plenty of layers and dress appropriately for the weather to stay healthy all winter long

Have a backup power source or another mobility option if you are using a power wheelchair or scooter outdoors - the cold weather will drain batteries much faster than in the warmer months

Stay visible outdoors - wear bright-colored clothing that will allow drivers and others to see you, even in inclement weather

Always carry a cell phone with you when you go outdoors, and let a friend or family member know when you are leaving the house and when you expect to return

Invest in an all-weather ramp if you currently use a ramp to enter and exit your home
Battery Care in the Wintertime
Taking great care of batteries is one way that you can help your batteries run more efficiently and last longer. If you decide to store your mobility device for the harshest winter months, we suggest following these steps for safe and efficient battery storage:
Remove the battery from your scooter or power wheelchair

Fully charge the battery (be careful to not leave it in the charger once it's reached a full charge - this may harm the battery)

Store the battery in a dry, room temperature place like a closet once it's charged

Once you're ready to use your mobility device again, simply charge your battery (unused batteries will lose some charge over time) and reconnect it to your scooter or power chair
Watch the video below for more tips on extending the life of your mobility device's batteries:
---
Extra Tips from the Team
Keep the electronics on your power chair or scooter safe and dry from snow and rain with a tiller or joystick cover. You may be able to protect your device by just using a plastic bag, but make sure the electronic elements are not exposed while you drive outside. The Clear Tiller Cover by Diestco is a perfect solution for keeping their mobility scooter safe during use in the winter months.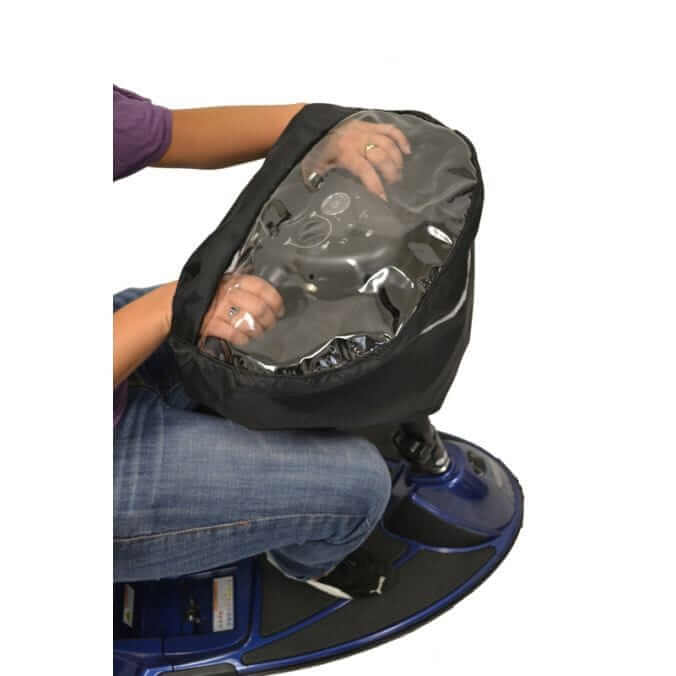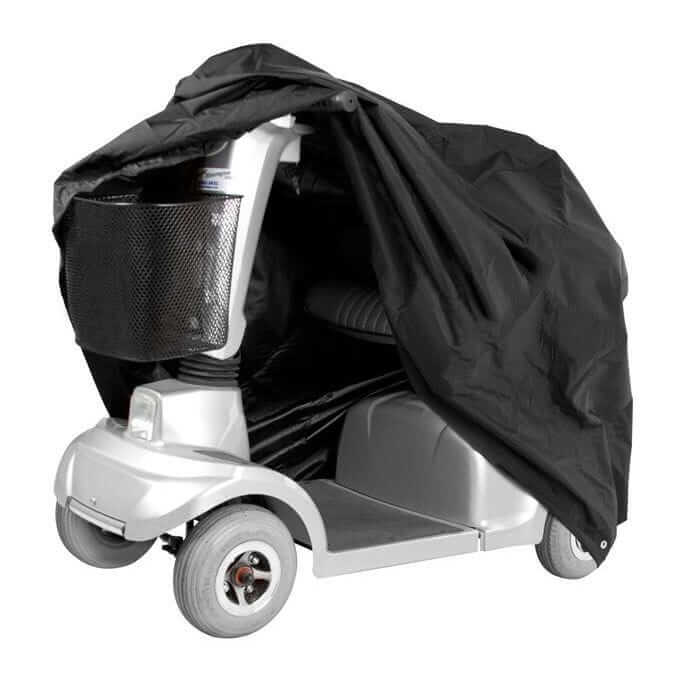 If you choose to store your scooter over the winter months, keep it free from dust and moisture. We recommend storing your power scooter indoors if possible to prevent damage from the elements, but several of our scooter covers are able to protect your device from moisture if it must be kept outside. Make sure to remove the batteries if storing your device outside, as freezing temperatures will make the batteries unusable. The WeatherBee Scooter Cover will keep your scooter safe and secure while it's stored for the winter. *Please note that only the heavy-duty model is weather resistant.
Stay safe and out of the wind by using a power wheelchair canopy. The WeatherBreaker Canopy will keep you warm and dry in winter weather. This canopy is not for use in extreme weather, but we recommend it for improving your comfort while using your power wheelchair in a light rain or snow shower. Make sure your joystick is still covered, as exposure to moisture may prevent you from maneuvering your device.
If you have any questions about any of the products listed in this blog post please feel free to reach out to our product experts at 1-888-260-4430.
Do you enjoy reading the Med Mart blog? Follow us on Facebook to see all of our latest blogs, newest products, and exclusive promotions!