By ChairSpeaker
SKU# LHSOTP / Item ID # 31388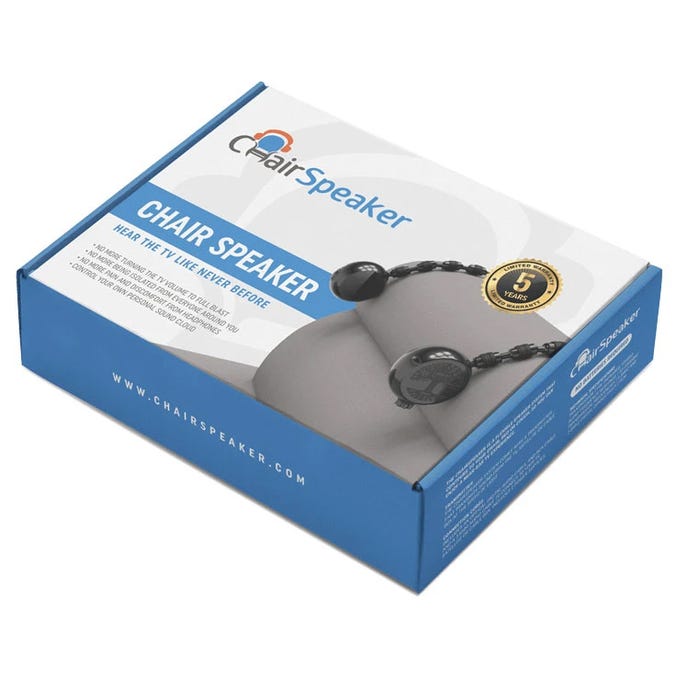 Ships by: Mon, Jan 30th
FREE Shipping over $50
Product Specialist
Lifetime Phone Support
Financing Options
Need Help?
Talk to one of our Experts!
When you struggle with listening to the television because you're hard of hearing, it can be embarrassing to turn the sound way up just to enjoy your program; especially if you have family members or guests in the room who find everything too loud.
That's why we created the Chair Speaker, a smart and adjustable speaker system that lets you experience television with voice-enhancing sound in a whole new way. Designed to rest over the top of your couch, chair, recliner, or even headboard, these small but powerful speakers produce crisp, clear sound around you to delivery clarity you can enjoy.
More importantly, they boast voice-enhancing sound, an adjustable volume knob, and the ability to put you in a small "sound cloud" that only you can enjoy; and all without missing out on the world around you.
These armchair wireless TV speakers are designed with "Near-Ear", a speaker system that keeps sound focused directly in front of where they're facing by using sound reflectors. What this means for users is that you can easily adjust the volume of what you're listening to without having to turn up the TV, disrupt others in the room, or miss out on important conversations around you. It's a personal and highly-immersive listening design that can turn any movie or show into a more enjoyable and engaging experience.
The best part of the Chair Speaker is that it doesn't just turn up the overall volume of what you're listening to and bring it closer to your ears, it actually works by decreasing background sounds while amplifying and clarifying human voices. This means you can watch more action shows, intense movies, or other favorites without having to turn up the volume just to hear people talking and instead just focus on the overall story without the deafening bass or thumping sounds that drown-out what matters most.
One of the hardest things to do for those who aren't technically inclined is set up a complicated Bluetooth or wireless speaker system. That's why we created wireless TV speakers with transmitters for a much smarter, much simpler listening solution. The Chair Speaker is designed to not only work with any standard TV with RCA or optical outlets (digital or analog), it doesn't require you to connect to the internet or Bluetooth/wireless systems. We've even included analog RCA, Optical Digital, and 3.5mm headphone jack cables to cover all your bases.
When you've got tons of Wi-Fi or Bluetooth signals bouncing around your home it can mean that sound quality can suffer, especially if you're streaming content from Netflix, Hulu, Amazon Prime, or other common viewing apps. That's why our advanced personal wireless TV speakers use infrared (IR) technology. This allows for a direct line of sight up to 33' away and reduces the interference caused by other wireless connections, cordless phones, microwaves, or radio transmissions. In other words, we help cut down on the distortion to improve your television's sound and clarity.
Along with providing better (and easier) connection options, our high-speed system transfers sound 40x faster than Bluetooth and 10x faster than radio. We do that by using a safe infrared light that not only creates a more stereo-like surround sound but enhances speech clarity. The speed is designed to be faster to ensure that speech recognition and visual cues on the TV align properly and don't have the slow after-effects of wireless system
Product Highlights
Allow you to still listen to the natural sounds or communication around you
Eliminate ear fatigue, sweat, moisture or uncomfortable feeling of headphones
Adjustable volume control that works independently of your TV
Immersive stereo sound with enhanced voice clarity
No expensive batteries, wireless connections, or complicated recharging
Ultimate freedom to get up, move, or sit down without being stuck in once place
| | |
| --- | --- |
| Weight: | 1 lbs |
| Weight Capacity: | 1 lbs |
Our 5-year limited warranty covers product failures due to manufacturer's defects for a period of 5 year after the original purchase. The warranty is only valid if the product is purchased from KARE, LLC or one of KARE, LLC's Authorized Resellers. If the product fails within 5-years of the original purchase it will be replaced at no charge with the same or newer model of equal value.
Frequently Bought Together:
Frequently Bought Together: