By Rio Mobility
SKU# 200-F-G-S / Item ID # 27374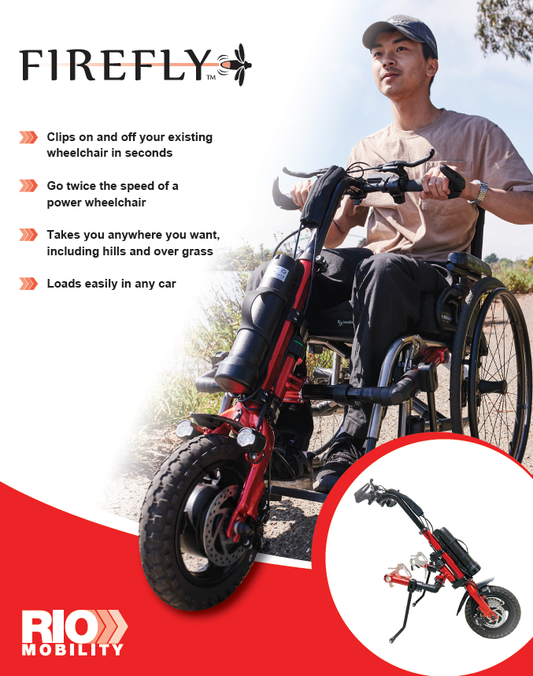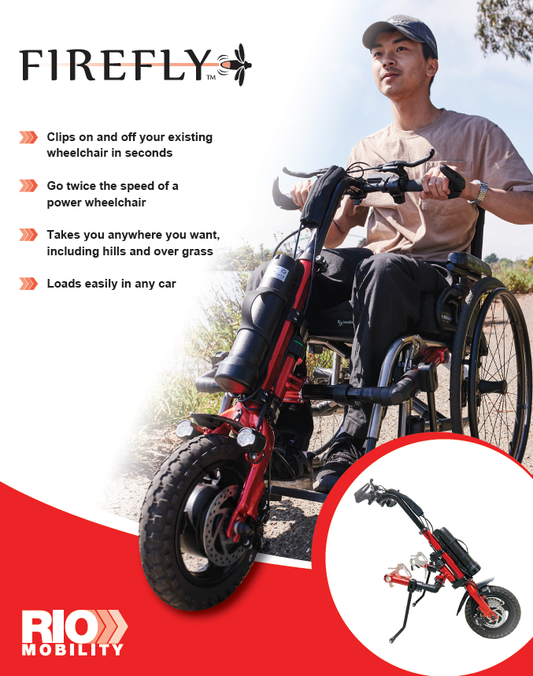 Ships by: Fri, Jun 16th
FREE Shipping over $50
Product Specialist
Lifetime Phone Support
Financing Options
Need Help?
Talk to one of our Experts!
About the Firefly Power Handcycle
The Firefly Power Handcycle has the ability to turn almost any wheelchair into an electric-powered chair. This power handcycle attachment is lightweight and fully based on electric power. It can generate speeds which are up to twice as fast as those of a power wheelchair. Simply snap the attachment onto a wheelchair using the patented attachment system, and you're ready to go. The handcycle can take you wherever you want to go, including over rough terrain or up steep gradients. It's a great way to get extra power to your wheelchair, and to give your arms a break when you're tired of wheeling yourself.
The Firefly Power Handcycle is both powerful and compact. It features a quiet brushless electric hub motor which works softly in the background. Its high-capacity lithium battery has an extra-long life, giving this unit a long range. All of the controls that you need are within easy reach on the digital control center, and you can choose from five power levels. This handcycle's steering turns a full 90 degrees, allowing you to turn in place when navigating tight spaces indoors.
The Firefly Power Handcycle is fully adjustable, designed to fit most folding/rigid, adult, and pediatric chairs. It is easily portable and can be stored in a vehicle's trunk, meaning that you won't need an expensive vehicle lift.
Why the Firefly Power Handcycle Is Right for You
The Firefly Power Handcycle provides the advantages of a power wheelchair, but without the bulk and weight that comes along with a true power chair. With the Firefly Power Handcycle, you can decide when you need and want extra power. It's a great tool for navigating challenging terrain, or for when you know you're heading out for a long trip. Because the Firefly Power Handcycle is easy to attach and detach from your wheelchair, it's super portable and you won't have to worry about expensive and cumbersome vehicle lifts.

The Firefly Power Handcycle ships free, and financing is available so that you can start enjoying it right away. Thanks to MedMart's Low Price Guarantee, you'll know that you will be getting this handcycle for the lowest price anywhere.
**Firefly is set up as standard for right handed users. Left handed users can reconfigure the twist grip throttle by switching it to the left side handle bar. This will mean that instead of twisting towards you to go forward and away from you to reverse, the opposite will apply which may take lefties a while to get used to.
Product Highlights
Wider 3 inch tire added traction
Full Color Display TFT color display w/ haptic touch feedback
Dual Lights One to see, one to be seen, point either up or down
Dual Disc brakes Easy adjustment more stopping power
Dual Kickstands double kickstands to make for easier transfers
Locking headset for parking & transfers
New frame dock fast & reliable
New thumb throttles color coded for forward and reverse
Lighter weight battery with increased range
Custom frame tubing shape Absorbs shock and vibration
2 New exciting colors chrome red and metallic dark grey
Handelbar grip ends makes sure your hands stay put
Weight Capacity:
280 lbs
Product Weight:
25 lbs
Top Speed:
12 mph
Drive Range:
15 miles/24 km
Tire:
Tire 12.5" X 3.0" (76-203)
Wheel:

Aluminum rim with stainless steel spokes

Hub Motor:

350W, 36V geared brushless hub motor, reinforced steel gears

Battery:
Lithium ion 36V, 7AH, 252 Wh
Charger:

36V, 2A input voltage 100~240V

Dual Disk Brakes:

140mm disc brakes with cooling fin brake pads

Charging Time:

3 hours *If battery is fully discharged

Frame:
Frame Aluminum 6061
Paint:

Durable silver powder coat

chrome red or metallic dark grey
Shipping Weight:

40" x 17.5" x 8"

Shipping Dimensions:
42 lbs
The manufacturer warrants that the product will be free of defects in material and workmanship according to the given schedule. All parts (excluding tires and tubes): for 90 days from date of purchase. The handcycle structural frame is: for 1 year from date of purchase.
As stated in the full Return Policy, this item may be returned within 30 days of receipt for a refund as long as the following conditions are met:


The item must be returned at the customer's expense in the original packaging.
The item must be in new condition.
A Return Authorization must be requested from Med Mart within 30 days of delivery.
Once the Return Authorization has been received, the product must be returned within 14 days.
A 15% Restocking Fee is required to return this item.