This product has been discontinued.
We have discontinued this product permanently. Please find alternative products from below section. If you need help please call us at 1-888-260-4430.
Deluna Eirene Power Lift Recliner
By Golden
SKU# PR-202 / Item ID # 33415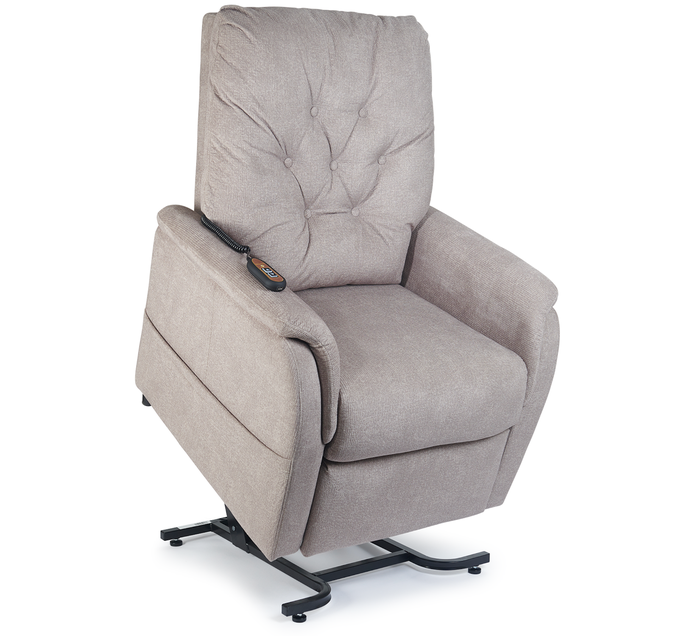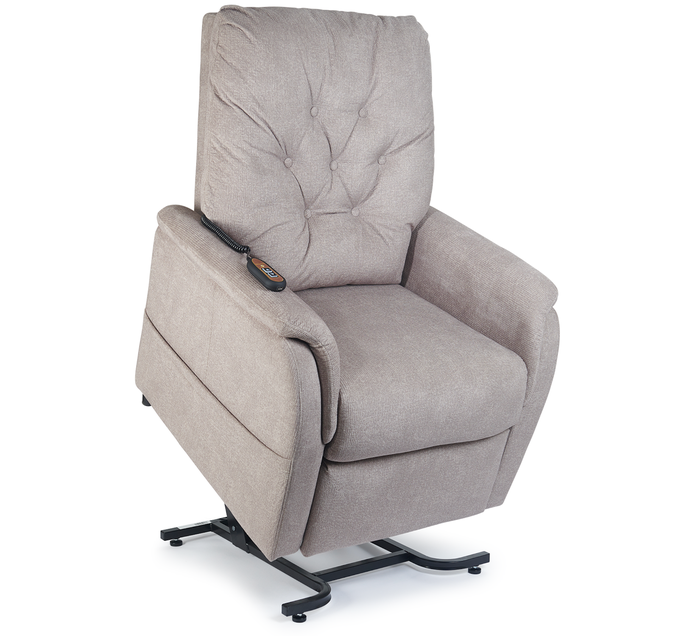 Ships by: Mon, Sep 25th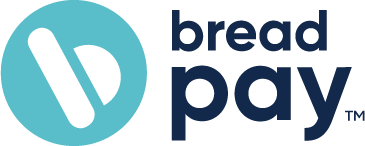 0% APR available for up to 18 Months*

No credit required. Pay over time. No late fees.
FREE Shipping over $50
Product Specialist
Lifetime Phone Support
Financing Options
Need Help?
Talk to one of our Experts!
The Golden brand presents you with one of the best, most comfortable, and durable power lift recliners, i.e., Deluna Eirene. This electric recliner chair is a perfect addition to your bedroom, livening room, or guest room. These chairs have an appealing and elegant look that makes them ideal for your contemporary style house. It goes exceptionally well with the contemporary furniture in your personal space. If you have a color theme in your house, you can choose between different colors like antler, chestnut, Lake Front, etc.
Besides that, it has an amazing, durable construction, making it aesthetically pleasing. The shape and structure of this chair allow you to place it in small areas in your house, like the side of your bed. Not only this, but the electric recliner chair offers a weight capacity of 375 lbs. Because of the high weight capacity, you don't have to worry about damage. The chair offers you the right height so that older adults, injured people, or individuals with chronic health conditions can easily get in and out of the chair. Plus, due to its perfect height, you will never complain about the soreness and pain in your feet, as they will touch the ground.
Deluna Eirene by Golden offers you exceptional reclining and comfort features to offer you relaxation and restore your sleep. This chair comes with a comfy back that allows you to calm and relax while sitting in it.
The best part is that this chair has elegant detailing with a buttoned design that makes it look even more beautiful. Additionally, a supportive seating pad prevents pain, soreness, and irritations in your body. The easy grip and soft armrest design allow you to position your hands in whatever way you like.
You can also benefit from the USB port present on the hand control that you can use for your tablet and phone. This electric recliner chair also offers three reclining chairs. Whether you want to lie completely, lie back slightly, or sit straight, you can adjust the chair based on your needs. Apart from this, users also have the option to benefit from their comfort zone level. It is important to note that there are no limitations- adults, children, or patients- anyone can use it if they want comfort.
Deluna Eirene by Golden also comes with the headrest cover. This way, when you place your head for longer hours, you will not feel pain like in a standard power lift recliner. Not to mention, the users can also enjoy its straight lift feature. With the help of this feature, the user can easily get up from the lifting chair without any assistance.
You also need to note that the Golden offers you an excellent warranty with this reclining lift chair. There is a 3-year warranty for mechanical labor, a 1-year warranty on electric labor, and a 3-year warranty on electric parts. Though this chair is extremely durable and unlikely to experience any damage, you can always claim a warranty to fix every type of problem. The place of origin of the Deluna Eirene is China. Lastly, this elegant, durable, and high-quality electric recliner chair is now available at a great price.
Deluna Eirene by Golden offers you all the features you are looking for in a reclining lift chair. The chair comes with high-quality fabric that coves the back, armrest, and entire body of the chair. Moreover, the fabric and modern-day technologies reduce the risk of wear and tear. On top of that, this power lift recliner has an extremely durable construction that gives it longevity. Of course, you need to care for it and keep up with the maintenance. With some precautions, you never have to complain about wear and tear.
This amazing chair is available in different pleasing colors like Lake Front and chestnut. You also need to know that this chair offers many reclining levels so that you can personalize the settings to get maximum comfort. Note that if you are looking for comfort, function, and looks, no chair in the market is better for you than Deluna Eirene. You can also benefit from its USB port, warranty, and armrest. Plus, its higher weight capacity allows different types of users to use it.
Product Highlights
Easy Grip Armrest
Headrest Cover
USB Charging Port
| | |
| --- | --- |
| Weight capacity: | 375 lbs. |
| User Height: | 5' 4" to 5' 10" |
| Comfort Zone(s): | 1 |
| Positioning: | 3 |
| Back Type: | Button |
| Overall Width: | 32" |
| Overall Height: | 43" |
| Width Between Arms: | 21" |
| Floor to Top of Seat: | 20.5" |
| Seat Depth: | 19.5" |
| Floor to Top of Back: | 28" |
| Floor to Top of Arm: | 6.5" |
| Distance Required from Wall: | 20" |
CONSUMER LIMITED LIFETIME AND SEVEN-YEAR WARRANTY MAXICOMFORT MODELS
GOLDEN, through its authorized distributor/service organization, warrants this chair to the original consumer only, against defects in material or workmanship as follows:
LIFETIME WARRANTY
• GOLDEN, warrants for the lifetime of the chair by the original consumer to repair or replace at their option the Lift Mechanism, Chair Frame and Recline Mechanism.
• GOLDEN, shall not be responsible or obligated to pay for any cost or expense for examination of any warranted parts nor is Golden to pay for costs for transportation, handling, and packaging of the parts or components.
THREE YEAR PARTS WARRANTY
• GOLDEN, warrants the electrical parts of this chair against defects to the original consumer only, for a period of three years from the date of original purchase by a consumer.
• GOLDEN, shall not be responsible or obligated to pay for any costs or expenses for examination of any Warranted parts nor is Golden to pay the cost for transportation, handling, and packaging of the parts or components.
LIMITED WARRANTY FOURTH THROUGH SEVENTH YEAR
During the period beginning with the expiration of the full three-year parts warranty offered above and continuing through the seventh year after the date of original purchase by a consumer, GOLDEN will warrant the electrical parts on the following pro-rated basis. • Year 4 earns a 35% discount off the suggested retail price
• Year 5 earns a 25% discount off the suggested retail price
• Year 6 earns a 15% discount off the suggested retail price
• Year 7 earns a 5% discount off the suggested retail price
By way of example, a part costing $100.00 that needs replacement in year 4 would cost $65.00. GOLDEN shall not be responsible or obligated to pay for any costs or expense for examination and/or service of any warranted part or to pay for costs of transportation, handling, and packaging of the chair and/or parts or components.
TERMS APPLICABLE TO WARRANTY
GOLDEN will, at its option, repair and/or replace the defective parts and/or components provided that the warranty parts have not been subject to misuse, abuse, or improper service by the consumer, have not been damaged in transit or handling, and/or have not been altered or repaired by unauthorized representatives.
This warranty does not include costs for unnecessary service calls, i.e., in-home service calls solely for the purpose of educating the consumer about the product, or finding an unsatisfactory power connection, etc.
Exceeding the weight capacity of the chair will void the warranty.
PR505 Petite or Small.............................. 300 lbs.
PR506 Medium......................................... 375 lbs.
505 Medium or Large................................ 375 lbs.
PR756MC Medium or Large..................... 375 lbs.
In the event that the product does not conform to this warranty at any time while this warranty is in effect, Golden
will correct the defect in conformity with the Consumer Limited Lifetime and Seven Year Warranty.
THE LIMITED LIFETIME AND SEVEN-YEAR WARRANTY SET FORTH ABOVE IS THE SOLE AND ENTIRE WARRANTY PERTAINING TO THE PRODUCT AND IS IN LIEU OF AND EXCLUDES ALL OTHER WARRANTIES OF ANY NATURE WHATSOEVER, WHETHER EXPRESSED, IMPLIED, OR ARISING BY OPERATION OF LAW INCLUDING, BUT NOT LIMITED TO ANY IMPLIED WARRANTIES OF MERCHANTABILITY OR FITNESS FOR A PARTICULAR PURPOSE. THIS WARRANTY DOES NOT COVER OR PROVIDE FOR THE REIMBURSEMENT OR PAYMENT OF INCIDENTAL OR CONSEQUENTIAL DAMAGES.
Some states do not allow this exclusion or limitation of incidental damages so the above limitation or exclusion may not apply to you.
GOLDEN shall not be liable for any incidental or consequential damage or loss not contained in this Warranty.
This warranty gives you specific legal rights, and you may also have other rights, which may vary from state to state.
All warranty claims must be approved by Golden Technologies before any service is performed.
Warranty is valid in all 50 states, Canadian Provinces, and Puerto Rico.
"Lifetime Warranty" on Brisa fabrics by UltraFabrics
The most common kind of warranty on goods is a warranty that the product is free from defects in materials and workmanship. This simply promises that Ultrafabrics properly constructed the product, out of proper materials, and implies the products will perform as well as such products customarily do.
Frequently Bought Together:
Frequently Bought Together: