Deluxe Air LAL 2-1 Alternation Mattress
By MedPlus
SKU# MP-DLXA / Item ID # 33726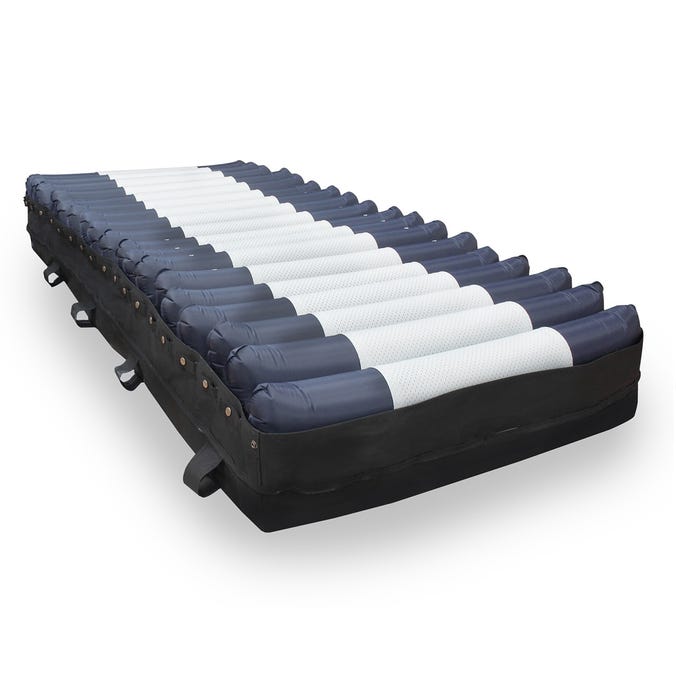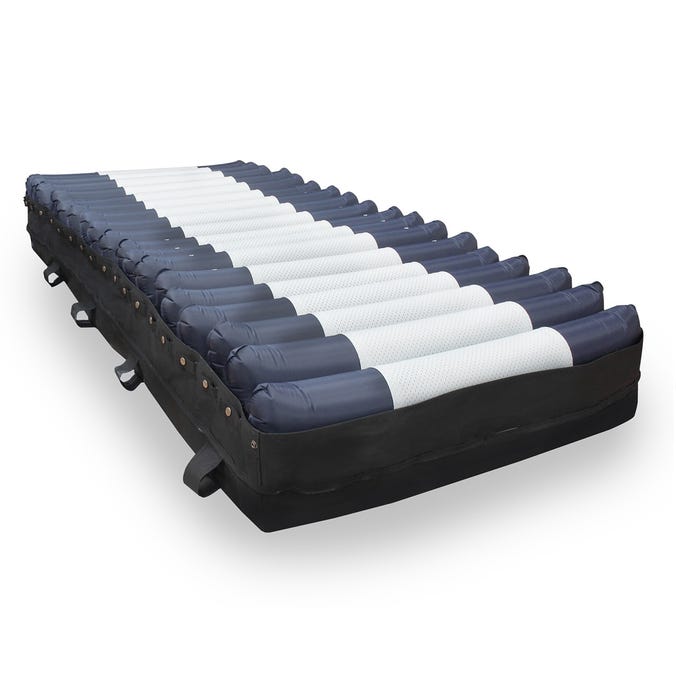 Ships by: Wed, Mar 29th
FREE Shipping over $50
Product Specialist
Lifetime Phone Support
Financing Options
Need Help?
Talk to one of our Experts!
Deluxe Air 2-1 Alternation Mattress by MedPlus is ideal for patients, seniors, and injured people who want to avoid experiencing back pain and other problems while they sleep. This medical mattress is perfect for both hospital and home care use. Its strategic and thoughtful design and composition allow users to place in to standard beds. Hence, you don't need to purchase a new bed to use this mattress. Most importantly, Deluxe offers you a weight capacity of more than 350 lbs, allowing a wide range of patients to use it- even patients suffering from obesity.
This hospital bed mattress provides comfort and safety to patients and seniors with mobility problems. Deluxe Air 2-1 Alternation Mattress by MedPlus prevents the adverse impact of prolonged bed rest. Since the objective of this mattress is to help reduce the risk of chronic health conditions, it comes with low air loss and alternating pressure technology. These technologies help patients feel relaxed and comfortable, even if they are completely bedridden. Besides that, the alternating pressure system helps distribute the user's weight on the mattress. This also prevents the development of pressure sores and bedsores.
Deluxe Air 2-1 Alternation Mattress by MedPlus itself comes with 20 lbs of weight. Due to its lower weight, you can easily move it from one place to another. Not to mention, you can even deflate the mattress and take it with you on vacation trips. Since it deflates into a compact shape, you can place it in the back of the car trunk, keep it in the storeroom, or carry it on an airplane. This mattress also features 18 air cells- designed with the help of cell technology. These cells come with 4.5" adjustable space, which equips the mattress with a therapy system. Plus, its 3.5" static space stays inflated even during power outages so that the patient doesn't have to suffer in the meanwhile.
You also need to know that this hospital bed mattress has a durable and long-lasting battery system so that you can use it without worrying about repairs and replacements. Healthcare specialists can give good care with ease by adjusting the mattress to a suitable weight level. This allows the caretaker to change patients' clothes or transfer them from or to bed. In fact, you can also use this feature to set the mattresses according to the patients' comfort levels so that they feel relaxed and calm while resting.
This Deluxe mattress comes with woven polyester, which is easy to clean and highly durable. The company has also incorporated a PVC lining to prevent infections from spreading. You can benefit from its low-slip base cover that prevents the mattress from slipping or moving while the patient moves in and out of bed. Its CPR quick release system allows you to deflate your mattress in seconds, while its cable organizing system enables you to keep cables out of the way.
This hospital bed mattress also provides you with low friction and low sheer cover that makes sleeping and lying easy and accessible. Some people may find it challenging to inflate the mattress. However, you only need to use its motor system to inflate it quickly and place it on the bed. It comes with an amazing high voltage battery, i.e., 110-120 volts, that makes both inflating and deflating process simple. Lastly, you can also claim the warranty and repair your mattress within 12 months of purchase. So, if you find any damages and problems with your mattress, you can get it repaired for free.
The Deluxe Air 2-1 Alternation Mattress is a mattress system that offers ease and comfort to both patients and caregivers. This hospital bed mattress allows patients or seniors weighing up to 500 pounds to easily use it without any problem. You also need to know that this medical bed is designed to limit the risk of bedsores, backache, hip pain, and other joint pains for bedridden patients. Its excellent eight comfort levels provide you full control on your mattress so that you can set it according to your needs and requirements.
Product Highlights
Easy to clean and maintain
Slimline pump can be set to either static or alternating pressure
2 in 1 alternation
Pressure mapping
8" air bladders with cell in cell design (4.5" of therapy, 3.5" of static air)
Durable woven polyester bottom cover with PVC lining for infection control
The Enhance DX replacement mattress can accommodate patient weights up to 350 lbs
Low friction, low shear cover.
| | |
| --- | --- |
| Weight Capacity: | 350 lbs |
| Product Weight: | 20 lbs |
| Min/Max Pressure: | 12~47 mmHg +/- 5 mmHg |
| Dimensions: | (L)10.1" x (W)4.5" x (H)8.3" |
| Flow Rate: | ≥ 5 l/min |
| Cycle Time: | 10 mins |
| Rating Voltage: | 110-120 volts |
| Max Current: | 0.1A max. |
| Protection Type: | Class I, Type BF |
| Rating Frequency: | 60Hz |
| Cell Numbers: | 18 |
Our obligation under this warranty is limited to the repair of equipment returned to the place of purchase within 12 months of the delivery date. • We agree to service/adjust any equipment returned, and to replace or repair any part that is proven to be a warranty defect, at no charge. • This warranty excludes equipment damage through shipping, tampering, improper maintenance, carelessness, accident, negligence or misuse, or products that have been altered, repaired or dismantled other than with the manufacturer's written authorization and by its approved procedures and by properly qualified technicians. In no event shall MedPlus be liable for any direct, indirect or consequential damages or losses resulting from the use of equipment.
This item is non-returnable. For hygienic safety and per FDA regulations this item is non-returnable, even if unused. Please inspect your product upon delivery. If the product is damaged or not correct, please refuse the delivery. If your item was delivered without a signature and is damaged or incorrect please call our Customer Service.
Frequently Bought Together:
Frequently Bought Together: