CoZy Zoned Low Air Loss Mattress
By Prius Healthcare
SKU# PHR-COZY / Item ID # 31143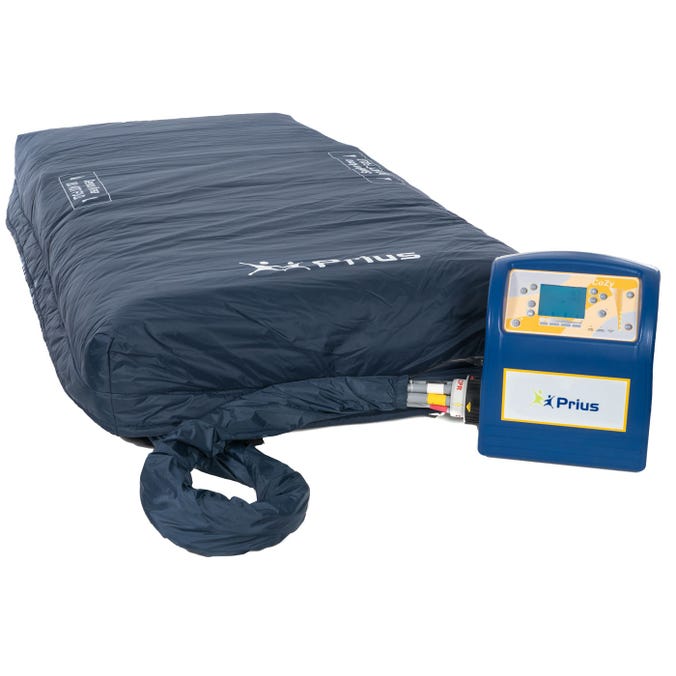 Ships by: Thu, Feb 2nd
FREE Shipping over $50
Product Specialist
Lifetime Phone Support
Financing Options
Need Help?
Talk to one of our Experts!
About the Prius CoZy Zoned Low Air Loss Mattress
The Prius CoZy Zoned Low Air Loss Mattress was created to minimize patient risk of pressure ulcers and bedsores. The CoZy features four pressure zones that can be independently controlled for managing wounds and ensuring patient comfort. The Low Air Loss function of the mattress will even manage patient temperature and moisture to ensure the highest quality care. The modular design makes for easy maintenance and operation, and the CoZy's impressive 600 pound weight capacity allows it to be used for a wide range of patients. This Fowler-compatible mattress can be used with an adjustable hospital bed and will continue to provide patients with therapeutic benefits in a variety of positions. 10 comfort settings allow you to customize the mattress pressure and provide each and every patient with superior comfort. Use the large LCD control panel to access all of the functions of the CoZy mattress system, including Static and Pulsation therapy functions.
The CoZy comes standard with several safety features. Visual and audio alarms will deploy in case of power failure, unexpected pressure loss, or if a patient leaves the bed. The Quick Release CPR function will deflate the mattress in 20 seconds in the case of an emergency. The CoZy's convoluted foam base provides support, comfort, and additional safety for the patient. The CoZy Zoned Low Air Mattress also comes standard with a quilted top cover to further prevent friction and shear by minimizing exposure to moisture.


Why the Prius CoZy Zoned Low Air Loss Mattress is Right for You
The Prius CoZy Zoned Low Air Loss Mattress minimizes the risk of patients developing pressure ulcers and bedsores by managing temperature, moisture, and pressure. Four zones can be independently controlled using the large, user-friendly LCD control panel. Safety functions include audio and visual alarms, CPR Quick Release, and a sturdy foam base. With a weight capacity of 600 pounds and the ability to provide therapeutic benefits in multiple positions, the CoZy Zoned Low Air Loss Mattress by Prius Healthcare is perfect for a wide range of patients.


The Prius CoZy Zoned Low Air Loss Mattress ships free, and financing is available so that you can start enjoying it right away. Thanks to MedMart's Low Price Guarantee, you'll know that you will be getting this hospital bed for the lowest price anywhere.
Product Highlights
Static / Pulsation Function
Bottom Out Alarm: Visual / Audio
Leaving Bed Alarm: Visual / Audio
Power Failure Alarm: Visual / Audio
User-Friendly LCD Control Panel
Fowler Function
Auto Function
Multi-zone Therapy
Pulsation
10 Digital Adjustable Comfort Control
| | |
| --- | --- |
| Weight Capacity: | 600 lbs. |
| Weight: | 32.6 lbs |
| Dimensions: | 80" (L) x 36" (W) x 10" (D) |
| Min/Max Pressure: | 15-40 mmHg +/- 5 mmHg |
| Rating Voltage: | 110-120 volts |
| Max Current: | 5A max. |
| Rating Frequency: | 60Hz |
| Zone Numbers: | 4 |
Prius Healthcare USA guarantees that its TSS equipment is free from defects in materials and workmanship. Our obligation under this warranty is limited to the repair of equipment returned to the place of purchase within 12 months of the delivery date.  We agree to service/adjust any equipment returned, and to replace or repair any part that is proven to be a warranty defect, at no charge.  This warranty excludes equipment damage through shipping, tampering, improper maintenance, carelessness, accident, negligence or misuse, or products that have been altered, repaired or dismantled other than with the manufacturer's written authorization and by its approved procedures and by properly qualified technicians.  In no event shall Prius Healthcare USA be liable for any direct, indirect or consequential damages or losses resulting from the use of equipment.
For hygienic reasons, this item is No Return - No Exchange. Mattresses are No Return - No Exchange because they cannot be reused or sold as new.