Galaxy Lite Lightweight Folding Wheelchair
By Future Mobility
SKU# GALAXY / Item ID # 33926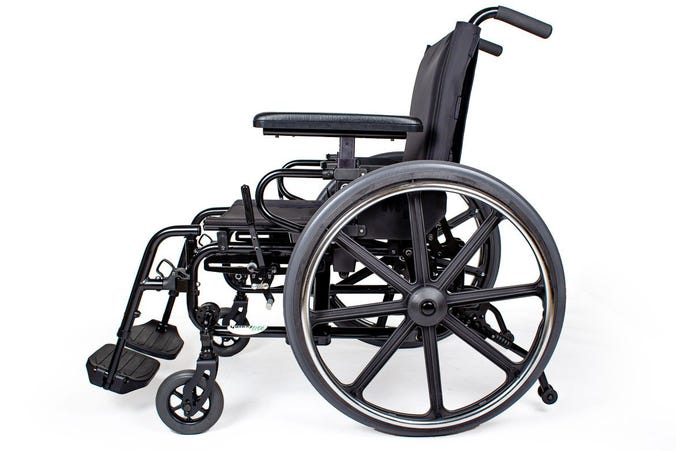 Ships by: Wed, Dec 14th
FREE Shipping over $50
Product Specialist
Lifetime Phone Support
Financing Options
Need Help?
Talk to one of our Experts!
QUICK FLIP ANTI TIPPERS
Easy to use and move out of the way when required, while providing safety. This fall proof prevention system is designed to protect you and your loved ones from harm.
LIGHT WEIGHT, EASILY FOLDABLE
A Cross frame is the main component of a Folding Wheelchair, onto which wheels and other components are fitted. The modern and most common frame design for an upright wheelchair is based on the safety wheelchair, and consists of two triangles, a main triangle and a paired rear triangle. This is known as the diamond frame. Frames are required to be strong, stiff and light. We do this by combining different materials and shapes. The Galaxy Lite Wheelchair uses a single aluminum cross-brace for optimum rigidity and ease of folding.
DUAL SWING AWAY LEG SUPPORT
Choosing the right leg support is very important. That is why we introduced the Dual swing away leg rest, designed to be removable and swing away to the side to make transfers easier. They provide easy access for users to use their feet in order to move their wheelchair. Our Dual swing system also helps the user to easily climb in and out of the wheelchair.
ADJUSTABLE AXLE PLATE DESIGN
A Standard feature on the Galaxy Lite wheelchair, the axle plate ensures you are getting the maximum adjustment range of seat top to floor height that you need without changing parts or adding unnecessary weight.
QUICK RELEASE
Allows for quicker and easier changing or removing of wheelchair tires. This option is of value to those who use the folding chair for transport and want to reduce chair's weight when loading it into a vehicle.
WHEEL LOCK
Our push/pull to lock style system is designed to keep your wheelchair in 'park mode' while transferring to and from your wheelchair, or while performing daily tasks. We also offer wheel lock extensions for users with limited reach or strength.
PIN RELEASE ARM
You can set the height of the arm with this feature of the Galaxy Lite Wheelchair. The Pin release arm allows easy height adjustment of the T-arm. Galaxy Lite has some standard height options. You can set your arm according to your body height.
ADJUSTABLE CASTERS
Adjustable caster forks stem angle, which ensures that the caster stems are always perpendicular to the floor. There are different type of caster height-to-floor options available. Select the right height according to your needs.
Product Highlights
Lightweight durable folding frame
Elliptical heavy duty cross brace tubing
Pneumatic wheels with spokes
Slip-on seat upholstery
Quick flip anti-tip wheels
Wheel lock options: push or pull to lock
Angle-adjustable back (84degree to 120degree
Back cane options: low ( 20 3/4"), high (24 3/4)
Angle adjustable caster journal
Standard and short caster forks
Aluminum or composite foot plates
Camber
Easily removable tubular sports arm
Seat to floor

13"-16.5" Small Frame

17"-19.5" Large Frame

Back Cane Height

20-3/4 Low

24-3/4 Height

Overall Width
9.5"
Product Weight
32 lbs. (14.5 kg) 
Weight Capacity
250 lbs. (113kg)
Rear Wheel 

20",22", or 24"

Airless or Pneumatic 
Frequently Bought Together:
Frequently Bought Together: