525DS 5 Liter Oxygen Concentrator
By Drive Medical
SKU# 525DS / Item ID # 29140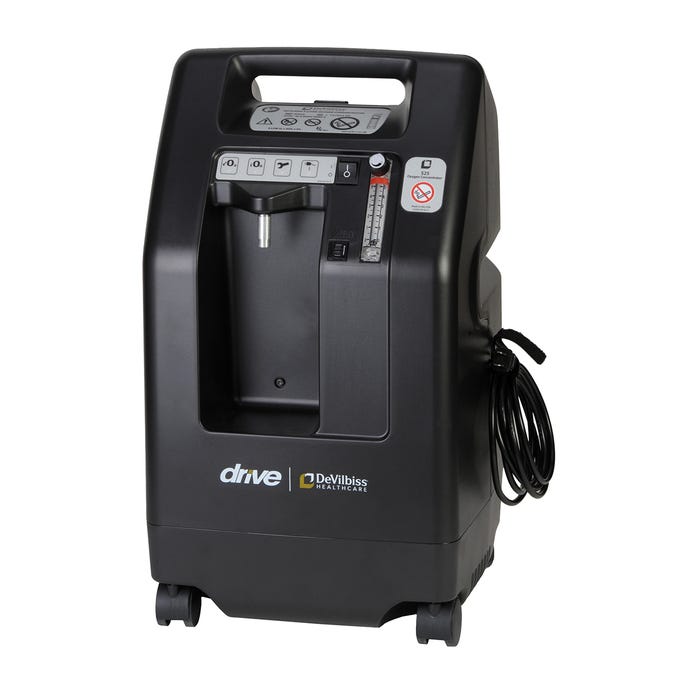 Same Day Shipping
FREE Shipping over $50
Product Specialist
Lifetime Phone Support
Financing Options
Need Help?
Talk to one of our Experts!
Introducing the Drive DeVilbiss 5 Liter Oxygen Concentrator
The 525DS 5 Liter Oxygen Concentrator represents the most recent entry in the Devilbiss line of oxygen concentrators. This relatively compact stationary model boasts impressive performance and safety features seen on all of Drive DeVilbiss' devices.
With recent improvements to unit cooling and noise control, this oxygen concentrator is an excellent choice for anyone looking for a quiet and unobtrusive unit for use in the home or in a clinical space. Other cost-saving features including patented energy-saving technology and a 3-year warranty make this offering from Drive DeVilbiss worth investigating.
DeVilbiss 5 Liter Oxygen Concentrator Features
Building on their history of delivering highly dependable, field-ready machines, DeVilbiss designed their newest model with enhanced quality, durability, and simplicity as goals. To that end, there are a whole host of notable features that make this model unique.
Things To Consider
In order to obtain an oxygen concentrator, users will need to have a prescription from their doctor or medical care team. A provider can determine the proper concentration level for each user depending on their specific needs.
It is also worth noting that although this concentrator is relatively compact, it should not be confused with a portable unit. For use on the go, a portable model is necessary. Similarly, larger capacity models are also available if a higher volume of oxygen therapy is recommended.
Product Highlights
Oxygen Sensing Device - All DeVilbiss oxygen concentrators come equipped with an exclusive Oxygen Sensing Device (OSD). These high-tech sensors ensure device accuracy and patient safety -- with an added bonus of increased reliability for longer times between equipment servicing.
Turn-Down Technology - DeVilbiss' patented technology allows the concentrator to automatically adjust its flow cycle below 2.5 LPM. The resulting 35% reduction in internal pressure can increase the overall lifespan of the unit by reducing wear and tear. Additionally, this low-power feature can provide huge savings in electricity costs-- an average of $100 per year!
Thoughtful Design - More compact than other devices available in the 5L class, the 525DS weighs 36lbs and has top and side handles for transportation. The streamlined two-piece cabinet is designed with noise reduction in mind and has the added bonus of simple assembly and disassembly for maintenance purposes.
Stress Tested and Ready - DeVilbiss tests their concentrators in high humidity and high temperatures for long intervals to guarantee performance even under demanding conditions.
Attachments - This model is compatible with oxygen tubing up to 50-feet and an additional 7-foot cannula. It includes a lockable flow meter (also available in a low output model).
Electrical Safety - Features include double insulation on the unit, a flame retardant cabinet, and a two-pronged plug. The model also includes a pressure relief valve and thermal protection.
Battery-Free Alarms - The unit has alarms to indicate power failure, high or low pressure, low oxygen, or service required. Alarms do not require battery power -- eliminating the risk of an issue going unnoticed.
| | |
| --- | --- |
| Weight: | 36 lbs |
| Dimensions: | 24.5" (H) x 13.5" (W) x 12" (D) |
| Power Consumption: | 310 Watt Average, 275 Watts @ 2.5 LPM and Below |
| Oxygen Percentage: | 1-5 LPM, 93% +/- 3% |
| Outlet Pressure: | 8.5 psig |
| Delivery Rate: | 0.5 to 5 LPM |
Hygiene products which relate to personal hygiene and self-care are No Return - No Exchange. No hygiene product can be returned if the package has been opened per Public Health Policy and per Med Mart Policy.


As stated in the full Return Policy, this item may not be returned. If you have a No Return - No Exchange item that arrived damaged or defective please contact at 1-888-260-4430 ext. 2