For those wanting to maintain their independence and a busy lifestyle, mobility scooters can make a world of difference. Built for users who struggle to walk long distances, scooters can drive across dozens of miles on a single charge.
One of the most important considerations when purchasing a mobility scooter is determining where you want the scooter to take you. For most individuals, a scooter will be used indoors, in shopping centers, or in other day-to-day environments.
However, some users may be looking for a little more adventure. Do you often travel on dirt paths, gravel, grass, or sand? Don't want to miss the family camping trip or beach day? It may be time to consider an all-terrain scooter.
Designed to withstand rugged, uneven terrain, these heavy-duty scooters are capable of traveling almost anywhere.
While individual models may vary, most all-terrain scooters have the following features:
Shock absorption systems for a smooth ride on uneven ground
Large tires with anti-slip tread
LED Headlights and reflectors to safely travel off-road and into less-lit areas
High ground clearance to glide over small obstacles
All-terrain models are larger and more powerful than typical mobility scooters. They're not designed to be easily folded up and packed away, but are sturdy enough to keep up on off-road adventures.
Here, we've put together a list of four of our best-selling all-terrain scooters in the United States. Each of these options is highly-rated and well-designed. If you're looking for a lifestyle that's off the beaten path, this is a great place to start.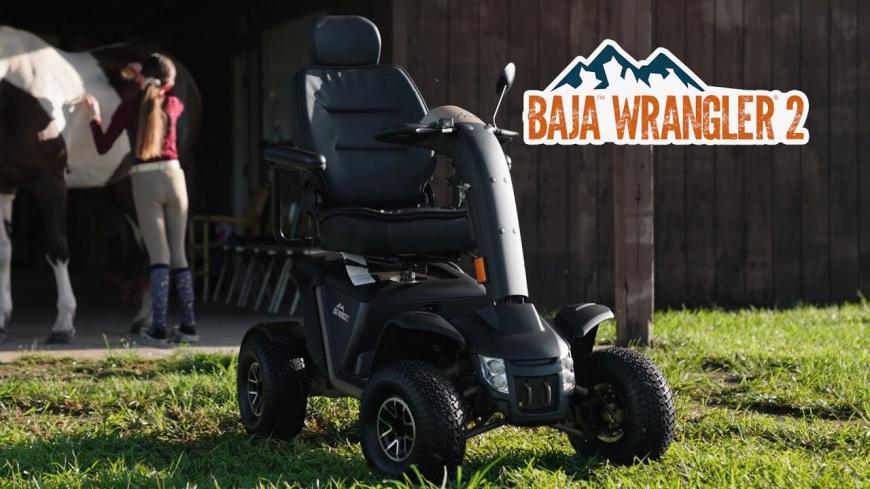 Fully-loaded with features, the Baja Wrangler's industry-leading CTS suspension ensures a smooth ride over rugged terrain.
A powerful LED console display shows the current temperature, time, miles driven, past trips taken, and other helpful information. The scooter travels an impressive 29 miles on a single battery life, limiting the need to stop and recharge. Adjust the tiller to your comfort while you charge your phone via the built-in USB charger. The Baja Wrangler makes it simple: write a list of your next epic adventures, and this scooter can take you there.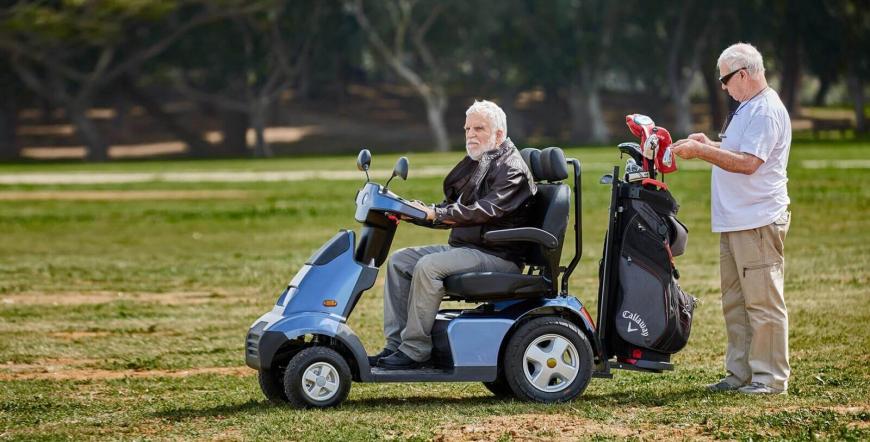 A highly versatile personal mobility vehicle with a 450lb weight limit, this scooter is perfect for all kinds of terrain. The Afiscooter was manufactured to adhere to rigorous European safety standards, and includes protective features like a panic sensor that halts operation if the accelerator is over-squeezed. Drive over obstacles and rough paths with ease due to high ground clearance, shock absorbers, and dual suspension.
Travel up to 31 miles on a single charge, driving at a surprisingly quick 9.3mph. Additional features include a front lock box, built-in cup holder, ergonomic captain's seat, and elegant stitching. A detailed LED control panel displays the current speed, miles traveled, and more.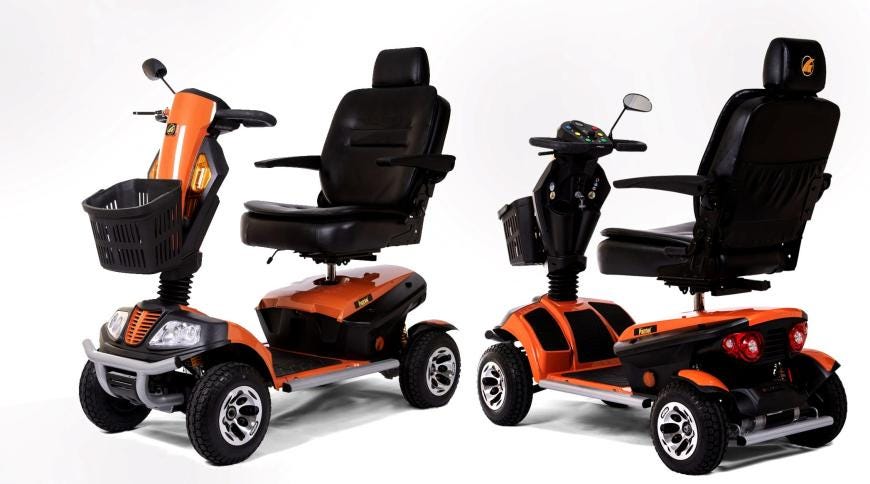 If you're looking for a more affordable option, the Patriot Off-Road Scooter is a great choice to make outdoor travel practical and comfortable. Cruise around town or your property at a top speed of 8mph, traveling 18 miles on a single battery charge. 13" low profile, non-marking solid tires mean you'll never have to worry about changing a flat tire, and a 3.5" ground clearance glides over most small obstacles.
Golden hasn't forgotten about the details, either: store your belongings in the front basket or water bottle compartments, then relax in the cushioned captain's seat as you head to your next destination.
With an all-terrain mobility scooter, you can create a world without limits. Browse our online selection of scooters, or enlist the help of one of our product specialists. With over 30 years of experience helping our customers find the perfect mobility solutions, we'd love to help you find the best fit for your needs.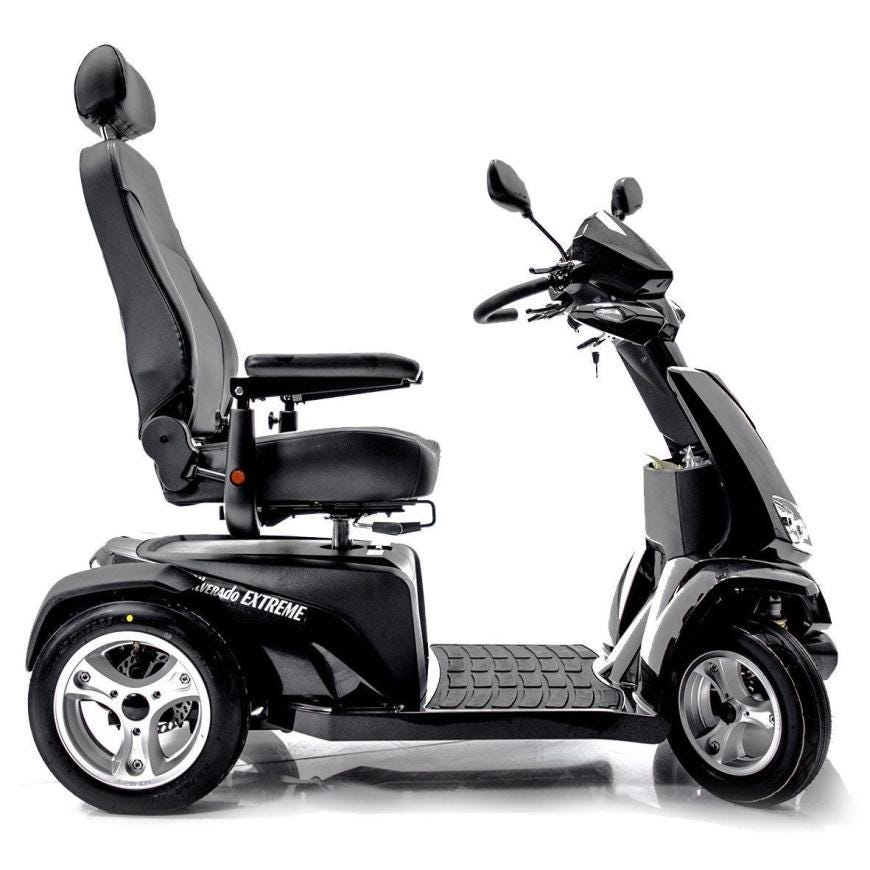 A sleek, modern design that packs a punch: the Silverado Extreme is the best of both worlds when it comes to an all-terrain mobility solution. The scooter features full suspension, extra storage space beneath the tiller, a modern LED dashboard display, and even safety mechanisms that slow speed when turns are detected.
The Silverado sports the longest battery range from the options listed in this guide: travel up to 55 miles without needing to recharge! Relax in a generously-sized seat, adjust the armrests, and cruise around at up to 9.6mph.