Have you seen our Top 25 Products? Take a look to see our customers' favorite products from their favorite brands, including Pride, Golden, Med-Mizer, ArjoHuntleigh, and more! If you are looking for a power wheelchair, adjustable bed, patient lift, or another mobility device, this is a great place to start your search. Every product in our Top 25 collection has either a 5 or 4.5 star rating from our customers, so you can be sure that these mobility solutions are top-quality. We've highlighted 5 of our favorite products below to show why they've made it to the Top 25!
Power Wheelchair: LiteRider Envy
Enjoy the great outdoors in the LiteRider Envy Power Wheelchair from Golden Technologies. This compact power wheelchair provides you with the full accessibility of a heavy duty chair. The unique design allows you to travel comfortably over uneven terrain and easily maneuver around tight corners and through narrow doorways. The best part about this durable power wheelchair is that it can be easily disassembled into pieces weighing no more than 35 pounds! You can take the LiteRider Envy wherever you go – the disassembled chair will easily fit into the trunk or back seat of any vehicle. Other features include a 15.5 mile travel range per battery charge, a weight capacity of 300 pounds, and top speed of 3.5 mph. See more about this versatile power wheelchair in the video below:
Adjustable Bed: Pivot Stand-Assist Bed
Med-Mizer created this hybrid between an adjustable bed and a stand assist lift to optimize patient mobility. The Pivot Stand Assist Bed allows you to separate the head and foot sections of the frame and pivot the top half to easily exit the bed. You can access every function of this fully electrically adjustable bed with just the push of a button on the handheld remote. The frame of both sections of the bed were created in a way that will keep your weight evenly distributed, even while in a seated position. Increase blood flow and reduce the likelihood of contracting bedsores with the ability to adjust the bed in seconds. Med-Mizer's pivot design eliminates the need to swing your legs over the side of the bed, thus helping to eliminate unnecessary falls and injuries. The Pivot Stand Assist Bed can be operated by a single caregiver and is a practical, comfortable solution for long-term care. See the video below for more information on this one-of-a-kind adjustable bed:
Lift Chair: Viva Elegance
Pride Mobility's VivaLift collection includes modern and functional power recliners that provide you with custom comfort. The Viva Elegance is one of the first and has remained a staple in the VivaLift collection. This stylish design comes standard with power recline, power headrest and lumbar adjustment, and power lift functions, allowing you to find the perfect position. A footrest extension comes standard with this lift chair to ensure your legs are fully supported while reclining. The included handheld remote is programmable, so you can save your favorite positions and access them later with just the push of a button. The remote also includes a USB charger for you to charge your devices while you relax. A lithium battery backup will kick in during a power outage so you will always be able to safely return the chair to an upright position. The Viva Elegance is available in three designer leather upholstery options that will look fantastic in any living room. See the Viva Elegance in action in the video below:
Power Scooter: Go-Go Elite Traveller
Pride Mobility combined some of the best features of their mobility scooter collection when they designed the Go-Go Elite Traveller Scooter. Available in 3 or 4-wheel models, this lightweight scooter is perfect for everyday use. The affordable, compact design allows you to enjoy optimum mobility, indoors and out. Enjoy a tight turning radius and smooth maneuverability on your Go-Go Elite Traveller, no matter the terrain. You can quickly disassemble the scooter into five easy-to-carry pieces by simply folding down the back of the seat and pressing the auto-latching lockup mechanism. Once disassembled, this scooter will fit comfortably in the trunk of most vehicles. The Go-Go Elite Traveller is an affordable mobility solution that is perfect for going on vacation, getting around the house, or going out on the town!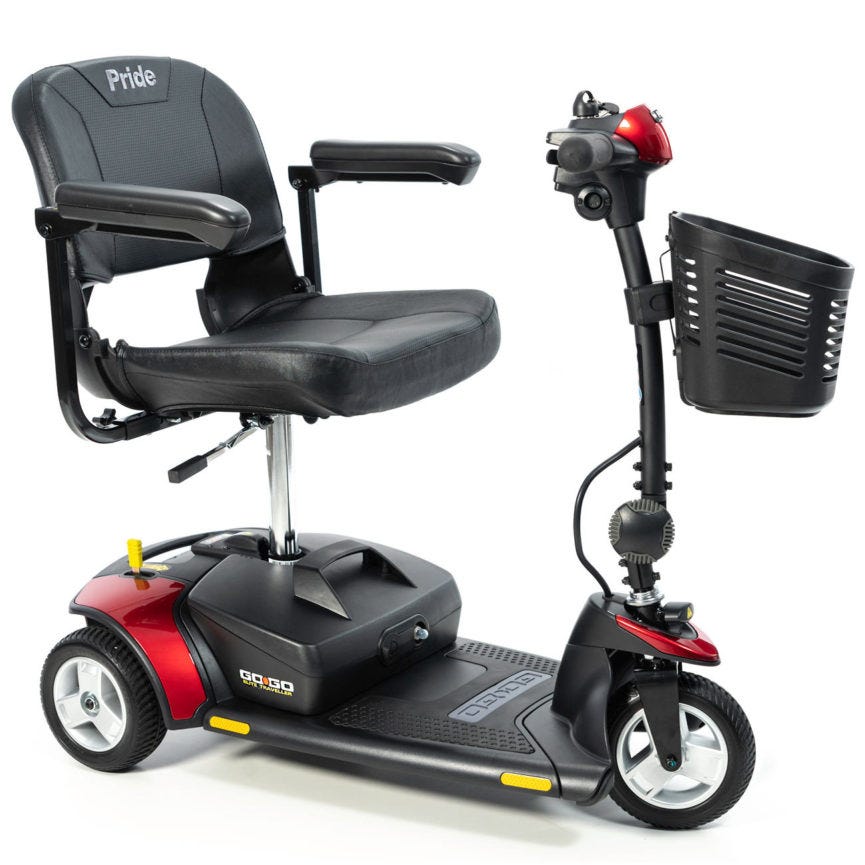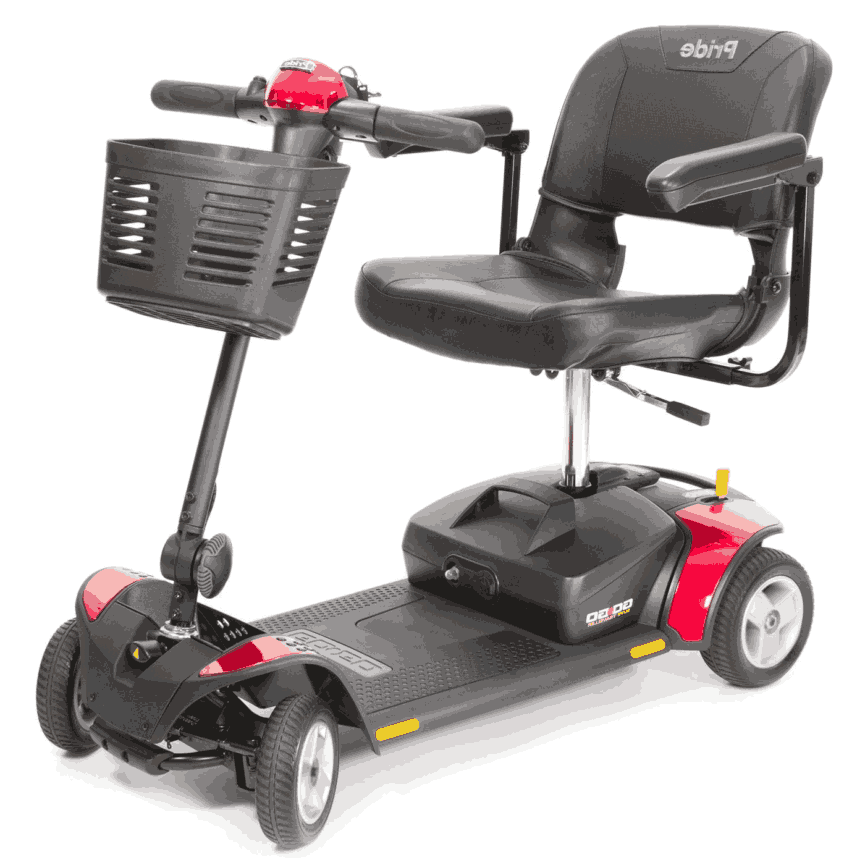 Patient Lift: Sara Stedy
Most patient lifts require the use of slings and are operated electronically. The Sara Stedy Patient Lift is a manual lift that was created for use without slings by a single caregiver. The innovative and straightforward design makes this patient lift incredibly easy to use, and it's compact frame allows for optimal access around your home, even through narrow doorways. This lift does require the patient to use a small amount of strength to maneuver into the flip-down seat, but with the help of a single caregiver, the Sara Stedy makes transfers quick and comfortable. See the video below for more details on this practical and affordable patient lift solution:
Call one of our experts at 1-888-260-4430 for more information on any of our Top 25 Products. Do you enjoy reading the Med Mart blog? Follow us on Facebook to see all of our latest blogs, newest products, and exclusive promotions!