Molift® Duo Rail Portable Gantry (Motor Not Included)
By etac
SKU# 1600013 / Item ID # 36093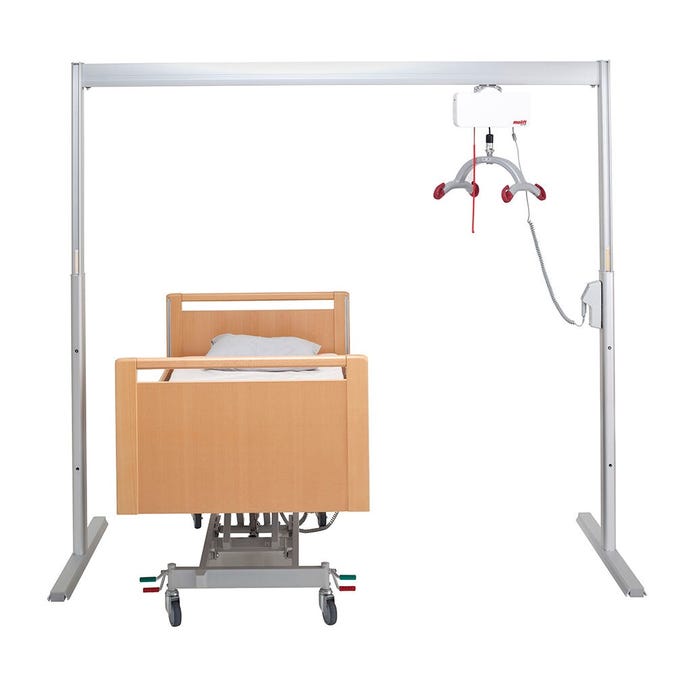 Ships by: Thu, Feb 9th
FREE Shipping over $50
Product Specialist
Lifetime Phone Support
Financing Options
Need Help?
Talk to one of our Experts!
Molift Duo Rails System by Etac offers a comprehensive solution to many problems that you face while caring for your patients. This is a perfect freestanding lift system that works best for almost all types of hospital settings.
It also has a well-designed structure, allowing you to use it for both hospital and home care. Additionally, the designers have incorporated the right colors and materials so that it does not look strange. Due to its compact and sleek design, you can easily store it anywhere.
Molift Duo is an excellent system that is extremely easy to install- you don't need extra fixtures on your walls or ceiling. So, if you plan to remove it in the future, you will not have to deal with unsightly marks and scratches on your walls. Not only this, but its easy and quick installation process saves labor or installation cost.
Molift Duo Rails System comes with an extremely lightweight aluminum composition. This material allows users to enjoy durability and a longer lifespan. On top of that, it also has a fantastic functional design, which eases installation and dismantling.
The hospital staff may need to transfer it from one bed to another, and this is where this lift system truly shines. This is because you can easily move it anywhere. The Molift Duo Rail System also offers you a durable and strong lifting system so that medical experts can use it for every type of environment. Unlike most freestanding lift systems, you can use this traverse gantry for patients weighing up to 660 lbs. It will not break even if you use it for heavier patients.
The best part of this lift system is that you can lift patients from or to the floor, bed, chair, toilet, and wheelchair. This equipment gives you full control over the transferring process so that your patient feels safe. You also need to know that this rail-based lifting system offers you two post freestanding systems. You can adjust the rail length from 78" to 137" based on the size of your room. To make it more adjustable for your space, you can adjust its height to more than 88". Not to mention, its quick-release pin helps you adjust the settings in a minute.
When it comes to Molift Duo Rails System, it's vital to note that you can use it for any type of bed- no matter its size and shape. This freestanding lift system comes with a chargeable motor that operates the system. You will also get hand control with this system to charge the motor batteries when they die. As many patients feel uncomfortable because of the choice of material, the Molift comes with a safe and secure lifting system that locks the patient so that they don't fall.
Besides securing your patients, it still doesn't make them feel uncomfortable and irritated. If you find any damages or face trouble with the system, you can simply claim the warranty. Yes, you will get two years warranty, and that offers peace of mind.
Molift Duo Rails System by Etac is the best and safest transferring solution for patients with mobility problems. You can use it for both older adults and people with chronic health problems and injuries. This traverse gantry comes with a motor that offers ease. You can also charge it easily with its hand control.
Its thoughtful and strategic design and composition provide you with easy transport from or to the bed, wheelchair, chair, etc. This freestanding lift system has a weight capacity of 660lbs. Hence, you don't need to worry if your patients are obese. Its comfortable and soft material makes the patient feel safe and relaxed. Plus, it offers gentle and slow movements so that your patient doesn't worry when you lift them. If you are worried about whether it will look good in your space or not, you should not be. This unique lift system boasts a compact and sleek size so that you can accommodate it in every hospital and home setting.
Product Highlights
Due to the lightweight system, it is easy to install the gantry and move it to a new location
The gantry system has supreme stability and a functional design
Adjust the height with the quick release pin
Molift hoist motors can easily be charged thorough the hand contro
| | | | | |
| --- | --- | --- | --- | --- |
|   | Molift Duo 2000 | Molift Duo 2500 | Molift Duo 3000 | Molift Duo 3500 |
| Max. Internal Width: | 78.74" | 98.43" | 118.11" | 137.80" |
| Rail Length | 78.74" | 98.43" | 118.11" | 137.80" |
| Weight (lbs) | 83.78 | 88.18 | 92.59 | 97 |
| Width | 84.65" | 104.33" | 124.02" | 143.70" |
| Safe Working Load | 661.39lbs | 661.39lbs | 661.39lbs | 661.39lbs |
| Depth | 3.94 ft | 3.94 ft | 3.94 ft | 3.94 ft |
| Height | 7.38ft- 8.37ft | 7.38ft- 8.37ft | 7.38ft- 8.37ft | 7.38ft- 8.37ft |
| Transport Height | 5.58ft | 5.58ft | 5.58ft | 5.58ft |
Frequently Bought Together:
Frequently Bought Together: