Deluxe Air 2-1 Alternation Mattress
By MedPlus
SKU# MP-DLXA / Item ID # 33726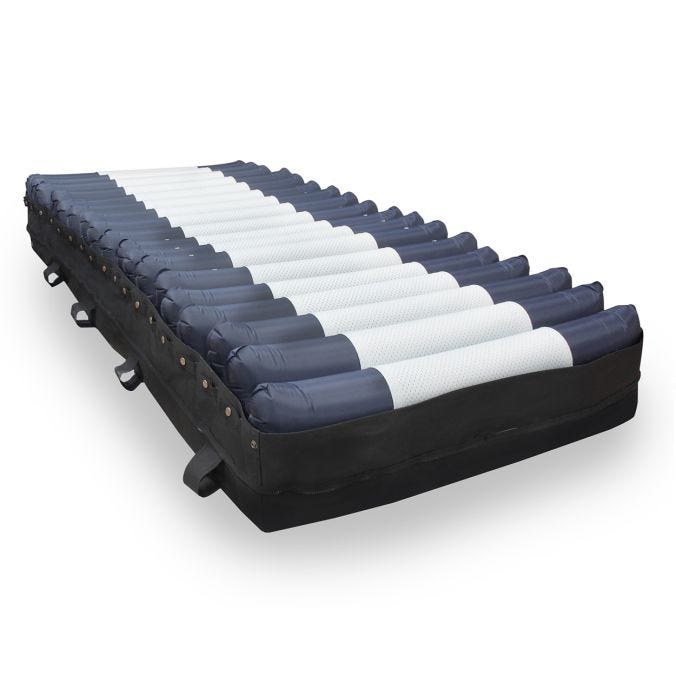 Ships by: Thu, Nov 25th
Earn 15 rewards points with this purchase
FREE Shipping over $50
Product Specialist
Lifetime Phone Support
Financing Options
Need Help?
Talk to one of our Experts!
The Deluxe Air 2-1 Alternation Mattress by MedPlus provides safety and comfort to patients with limited mobility. This mattress system prevents patients from experiencing the common adverse effects of extended bedrest. Two main functions presure minimize or eliminate the possibility of bedsores: alternating pressure and low air loss technology. The alternating pressure system redistributes the patient's weight over a greater area than a standard mattress and provides constant low. Patients with limited mobility can rest comfortably on the Deluxe Air's 18 air cells, each designed with cell in cell technology. These air cells feature a 4.5" adjustable space for the therapy function of the bed, as well as a 3.5" static space that will remain inflated if a power loss occurs. The system has a weight capacity of 500 pounds so it can accommodate a wide range of patients. Caretakers can use the electronic control to easily adjust the mattress system to one of the eight levels of comfort, depending on the patient's needs. The control comes with hanging brackets that will fit on all types of beds.
The bottom cover is made of woven polyester, which is both durable and easy to clean. A PVC lining is included to lower the risk of spreading infection. A low-slip base cover comes standard to hold the mattress system in place. Extra features include a CPR quick release system that deflates the entire mattress system in seconds and a cable management system to keep all electrical cables organized and out of the way. The Deluxe Air 2-1 Alternation Mattress was designed for ultimate patient comfort and caregiver convenience.
The Deluxe Air 2-1 Alternation Mattress by MedPlus is a well-designed and easy to use mattress system. The alternating pressure system and low air loss technology promote health and comfort for patients during periods of extended bedrest. This mattress system works for a wide range of patients with multiple comfort settings and a weight capacity of 500 pounds.
Product Highlights
Easy to clean and maintain
Slimline pump can be set to either static or alternating pressure
2 in 1 alternation
Pressure mapping
8" air bladders with cell in cell design (4.5" of therapy, 3.5" of static air)
Durable woven polyester bottom cover with PVC lining for infection control
The Enhance DX replacement mattress can accommodate patient weights up to 500 lbs
Low friction, low shear cover.
| | |
| --- | --- |
| Weight Capacity: | 500 lbs |
| Product Weight: | 20 lbs |
| Min/Max Pressure: | 12~47 mmHg +/- 5 mmHg |
| Dimensions: | (L)10.1" x (W)4.5" x (H)8.3" |
| Flow Rate: | ≥ 5 l/min |
| Cycle Time: | 10 mins |
| Rating Voltage: | 110-120 volts |
| Max Current: | 0.1A max. |
| Protection Type: | Class I, Type BF |
| Rating Frequency: | 60Hz |
| Cell Numbers: | 18 |
Our obligation under this warranty is limited to the repair of equipment returned to the place of purchase within 12 months of the delivery date. • We agree to service/adjust any equipment returned, and to replace or repair any part that is proven to be a warranty defect, at no charge. • This warranty excludes equipment damage through shipping, tampering, improper maintenance, carelessness, accident, negligence or misuse, or products that have been altered, repaired or dismantled other than with the manufacturer's written authorization and by its approved procedures and by properly qualified technicians. In no event shall MedPlus be liable for any direct, indirect or consequential damages or losses resulting from the use of equipment.
For hygienic reasons, this item is non-returnable. Mattresses are non-returnable because they cannot be reused or sold as new.


Frequently Bought Together: