One G4 Portable Concentrator
By Inogen
SKU# IS-400 / Item ID # 30520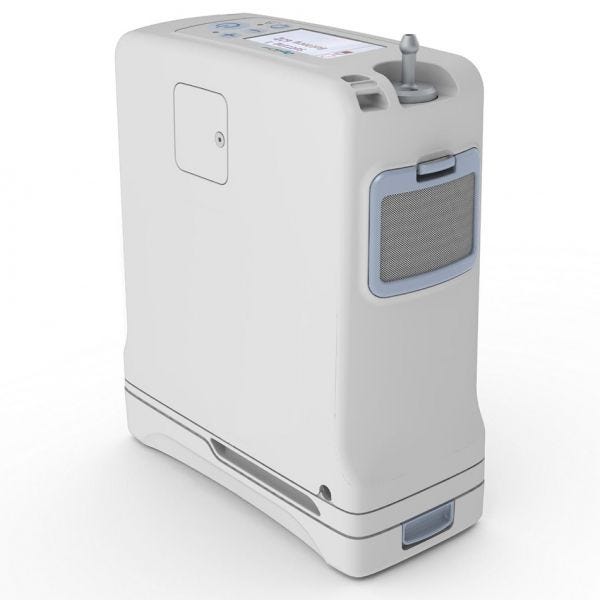 Ships by: Fri, May 19th
FREE Shipping over $50
Product Specialist
Lifetime Phone Support
Financing Options
Need Help?
Talk to one of our Experts!
Introducing the smallest portable oxygen concentrator from the most popular brand, Inogen. The Inogen One G4 is capable of providing oxygen delivery in an unbelievable small and quiet package. With flow settings from 1-3, the Inogen One G4 is designed to increase independence for most users 24/7. It can be charged at home or on the go - giving you the freedom you deserve.

The Inogen One G4 provides you with three separate oxygen flow settings. It also includes Inogen's Intelligent Delivery technology, which sets it apart from the competition. This innovative system rapidly detects a breath and delivers oxygen in the first 400 milliseconds. This is critical because this period is when the most gas exchange occurs in the lungs. Delivering oxygen at the start of a breath ensures that the oxygen is used more efficiently by your body.

At only 40 decibels, the G4 produces less noise than a normal indoor conversation. This means you won't disturb others when you use your oxygen concentrator and will feel more comfortable in social settings. It's also great in quiet environments when you want to be unobtrusive.

Furthermore, Intelligent Delivery accurately detects your breathing rate and adjusts the oxygen level provided accordingly. If you're exercising or physically active, the unit will provide smaller, quick bursts of oxygen to satisfy your energy needs. However, during rest or sleep, the system provides larger oxygen boluses more slowly to correspond with your decreased rate of respiration. This means the G4 can effectively be used during sleep at night, an area where many other portable oxygen concentrators fall short. With the G4, you won't need separate oxygen systems for the day and night.

The Inogen One G4 comes with a 3-year warranty covering the concentrator. There's also a 1-year warranty that covers the sieve beds and accessories, so your entire system is protected. The starter package comes with the Inogen G4 unit, single battery, AC power supply, DC power cable, carrying bag, cannula, and manual. Please ask about our Inogen G4 packages if you require more batteries or accessories.
Product Highlights
Pulse Dose
2.8 Pounds (with Single Battery)
1/2 the Size of the G3
Up to 4.3 Hour Battery Life (8 Cell Battery, Setting of 2)
Includes the G4 unit, single battery, AC power supply, DC power cable, carry strap, carry bag, cannula and manual.
Dimensions:
5.9" x 2.6" x 7.2"
Weight:
2.8 lbs
FAA Approved:
Yes
Flow Settings:

Pulse Dose Delivery: Three flow settings - 1, 2, 3

Noise Level:

40 decibels at a 3.0 pulse dose setting

Power Consumption:

AC Power Supply 100-240V, 50-60Hz (auto sensing to allow worldwide use)




DC Power Cable: for mobile use in car

Battery Duration:

Depends on setting

Setting of 1
4 Cell Battery: 2 hours 40 minutes, average
8 Cell Battery: 5 hours, average

Setting of 2
4 Cell Battery: 2 hours 15 minutes, average
8 Cell Battery: 4 hours 30 minutes, average

Setting of 3
4 Cell Battery: 1 hours 20 minutes, average
8 Cell Battery: 2 hours 30 minutes, average
Three Year Standard Warranty** - Warranty: machine - 3 years, 1 year - sieve beds and accessories.
Hygiene products which relate to personal hygiene and self-care are No Return - No Exchange. No hygiene product can be returned if the package has been opened per Public Health Policy and per Med Mart Policy.


As stated in the full Return Policy, this item may not be returned. If you have a No Return - No Exchange item that arrived damaged or defective please contact at 1-888-260-4430 ext. 2