Maxicomforter 535 HD Extra Wide Lift Recliner
By Golden
SKU# PR-535HD / Item ID # 31442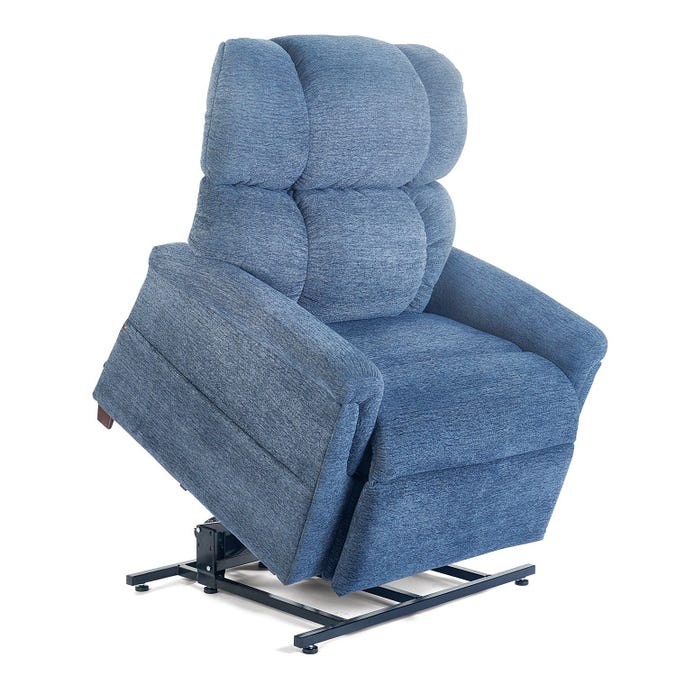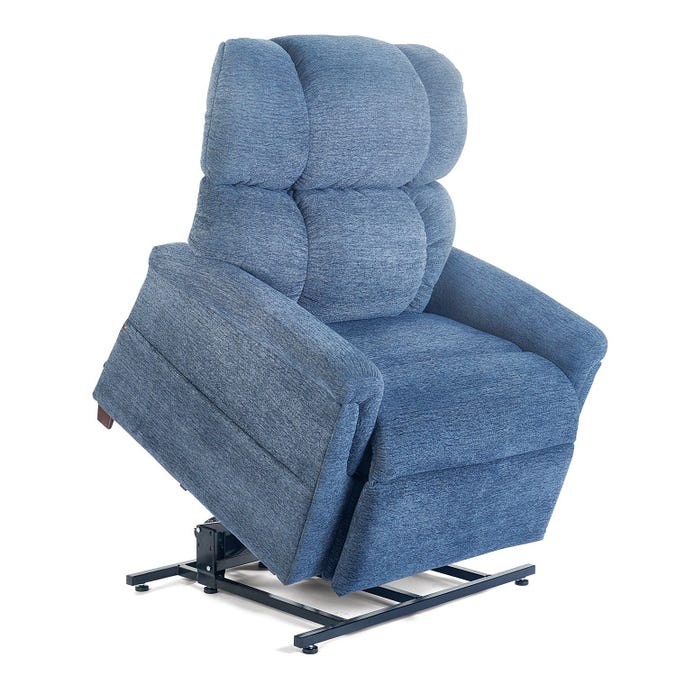 Ships by: Wed, Jul 19th
FREE Shipping over $50
Product Specialist
Lifetime Phone Support
Financing Options
Need Help?
Talk to one of our Experts!
The MaxiComfort PR-535 was modeled after our best selling Comforter PR-505 with several aesthetic updates that offer improved functionality and user comfort. The newly redesigned Maxicomfort PR-535 features an ultra padded arm style for more comfort and value, extended armrests to provide better ease of use while entering or exiting the chair while lifted, a new ultra plush back style for maximum comfort, and a tasteful new seam design.
When it's time to relax and unwind, allow Golden Technologies' patent-pending MaxiComfort Zero-Gravity Positioning Technology to offer you more positioning comfort than any other lift and recline chair available today. MaxiComfort allows you to recline in the zero gravity-like position developed by NASA, reducing lower back pain and relieving muscle tension. You can also elevate the hips to relieve lower back pain or recline with your feet above your heart to relieve swelling in your legs, ankles and feet.
Golden Technologies re-imagined the structure of this recliner's backrest by strategically placing its seams away from load bearing areas of your back. The seams were designed to support an ultra plush head and lumber area that flows down the middle of the backrest to relieve spinal pressure. This newly designed support allows the PR-535's padding to naturally form to the shape of your back, bringing you one step closer to cloud-like comfort. Golden Technologies extended the length of the arms and added additional padding for more comfortable entry and exit from the chair.
One of the buttons on the hand control places you into the Trendelenburg position if you wish. Named for the German physician Friederich Trendelenburg, this position raises one's feet higher than the head and heart which helps relieve swelling to the feet and legs. All MaxiComfort chairs from Golden feature pre- programmed recline settings for TV watching and Zero-Gravity, plus programmable buttons that let you save your favorite position for later! This feature is available on chair sizes: Petite/Small, Medium, Large, and Tall.
Product Highlights
Additional Plush Padding for More Comfort & Value
Extended Arms Provide Better Utility to Enter/Exit the Chair When Lifted
Refreshed Back Style Providing Maximum Comfort & Tasteful New Seam Design
No Change to the One of Golden's Most Sought-after Signature Seats, Which Provide the Utmost in Support & Comfort
Maxi-Comfort Zero Gravity Positioning
Seat size ranges from 19-23W x 18.5-22D
Available in Junior Petite, Small, Medium and Large
Full chaise pad support for total body comfort
Exceptional lumbar support
Full Sleeper position
Advanced Zero-gravity design
| | |
| --- | --- |
| User Height: | 5' 4" to 5' 10" |
| Weight Capacity: | 500 lbs |
| Seat Width: | 27" |
| Seat Depth: | 20" |
| Seat to Floor Height: | 20" |
| Seat Back Height: | 30" |
| Overall Width: | 37" |
| Overall Height: | 44" |
| Back Style: | Split/Seam |
| Wall Hugger Model: | No |
| Distance from Wall Needed: | 25" |
| Fully Padded Chaise: | Yes |
| Extended Footrest Available: | No |
| Arm Covers Included: | No |
| Headrest Cover Included: | No |
CONSUMER LIMITED LIFETIME AND SEVEN-YEAR WARRANTY MAXICOMFORT MODELS
GOLDEN, through its authorized distributor/service organization, warrants this chair to the original consumer only, against defects in material or workmanship as follows:
LIFETIME WARRANTY
• GOLDEN, warrants for the lifetime of the chair by the original consumer to repair or replace at their option the Lift Mechanism, Chair Frame and Recline Mechanism.
• GOLDEN, shall not be responsible or obligated to pay for any cost or expense for examination of any warranted parts nor is Golden to pay for costs for transportation, handling, and packaging of the parts or components.
THREE YEAR PARTS WARRANTY
• GOLDEN, warrants the electrical parts of this chair against defects to the original consumer only, for a period of three years from the date of original purchase by a consumer.
• GOLDEN, shall not be responsible or obligated to pay for any costs or expenses for examination of any Warranted parts nor is Golden to pay the cost for transportation, handling, and packaging of the parts or components.
LIMITED WARRANTY FOURTH THROUGH SEVENTH YEAR
During the period beginning with the expiration of the full three-year parts warranty offered above and continuing through the seventh year after the date of original purchase by a consumer, GOLDEN will warrant the electrical parts on the following pro-rated basis. • Year 4 earns a 35% discount off the suggested retail price
• Year 5 earns a 25% discount off the suggested retail price
• Year 6 earns a 15% discount off the suggested retail price
• Year 7 earns a 5% discount off the suggested retail price
By way of example, a part costing $100.00 that needs replacement in year 4 would cost $65.00. GOLDEN shall not be responsible or obligated to pay for any costs or expense for examination and/or service of any warranted part or to pay for costs of transportation, handling, and packaging of the chair and/or parts or components.
TERMS APPLICABLE TO WARRANTY
GOLDEN will, at its option, repair and/or replace the defective parts and/or components provided that the warranty parts have not been subject to misuse, abuse, or improper service by the consumer, have not been damaged in transit or handling, and/or have not been altered or repaired by unauthorized representatives.
This warranty does not include costs for unnecessary service calls, i.e., in-home service calls solely for the purpose of educating the consumer about the product, or finding an unsatisfactory power connection, etc.
Exceeding the weight capacity of the chair will void the warranty.
PR505 Petite or Small.............................. 300 lbs.
PR506 Medium......................................... 375 lbs.
505 Medium or Large................................ 375 lbs.
PR756MC Medium or Large..................... 375 lbs.
In the event that the product does not conform to this warranty at any time while this warranty is in effect, Golden
will correct the defect in conformity with the Consumer Limited Lifetime and Seven Year Warranty.
THE LIMITED LIFETIME AND SEVEN-YEAR WARRANTY SET FORTH ABOVE IS THE SOLE AND ENTIRE WARRANTY PERTAINING TO THE PRODUCT AND IS IN LIEU OF AND EXCLUDES ALL OTHER WARRANTIES OF ANY NATURE WHATSOEVER, WHETHER EXPRESSED, IMPLIED, OR ARISING BY OPERATION OF LAW INCLUDING, BUT NOT LIMITED TO ANY IMPLIED WARRANTIES OF MERCHANTABILITY OR FITNESS FOR A PARTICULAR PURPOSE. THIS WARRANTY DOES NOT COVER OR PROVIDE FOR THE REIMBURSEMENT OR PAYMENT OF INCIDENTAL OR CONSEQUENTIAL DAMAGES.
Some states do not allow this exclusion or limitation of incidental damages so the above limitation or exclusion may not apply to you.
GOLDEN shall not be liable for any incidental or consequential damage or loss not contained in this Warranty.
This warranty gives you specific legal rights, and you may also have other rights, which may vary from state to state.
All warranty claims must be approved by Golden Technologies before any service is performed.
Warranty is valid in all 50 states, Canadian Provinces, and Puerto Rico.
"Lifetime Warranty" on Brisa fabrics by UltraFabrics
The most common kind of warranty on goods is a warranty that the product is free from defects in materials and workmanship. This simply promises that Ultrafabrics properly constructed the product, out of proper materials, and implies the products will perform as well as such products customarily do.
Frequently Bought Together:
Frequently Bought Together: