SafePath One-Sided EntryLevel Landing Ramp
By SafePath Products
SKU# EL1 .5 6048 B / Item ID # 34221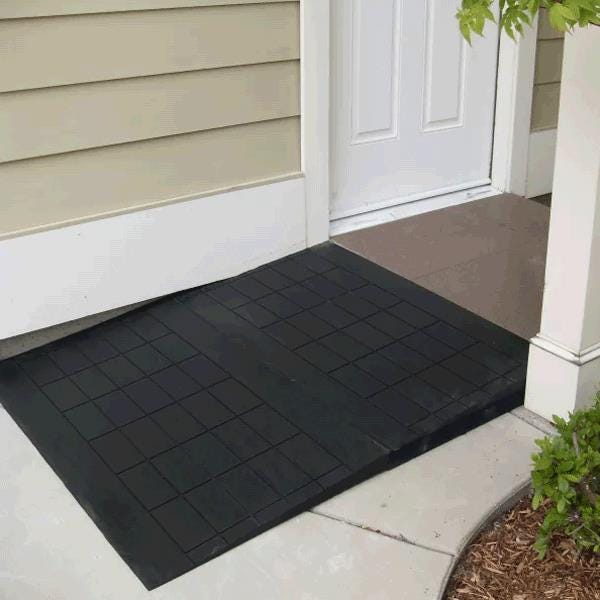 Ships by: Wed, Dec 7th
FREE Shipping over $50
Product Specialist
Lifetime Phone Support
Financing Options
Need Help?
Talk to one of our Experts!
SafePath One-Sided EntryLevel Landing Ramp - 1/2 Inch Height provide a safe, flat area where wheelchair users can remain stable and open a door. Great for making the building entrance ADA compliant, the threshold landing has a slip-resistant surface with a sloped end (threshold ramp) for an easy transition through the doorway. Using EntryLevel Landings also alleviates the hassle of schedule changes and detouring walk-in traffic due to extended concrete cure times.
Why to buy SafePath One-Sided EntryLevel Landing Ramp?
Slip resistant, durable and UV stable
Comes pre-assembled and dry-fitted
ADA Compliant
Has no load weight limitations
Designed for immediate and simple installation
No saw-cutting, no jackhammer necessary
Made of 100% Recycled rubber
Made in the USA
SafePath EntryLevel Landing Ramp Features
Prefabricated for quick and easy installation and are available in many heights, dimensions and colors
In many commercial and public main entrances, it is required that there is a level maneuverable clearance area.
Typically, the landing can be installed and used within 24 hours or less
EntryLevel Landings are available with ramped access from a single-side to a three-sided "path-of-travel" approach
Prefabrication process allows for the strike-side clearance which is necessary for compliance with access building code laws and regulations
Designed to ensure a perfect fit every time, alleviating the hassle of schedule changes and detouring walking traffic due to extended concrete cure times
Landings offer the only sensible solution for accessible door modification projects
SafePath Ramp is prefabricated product designed to assure compliance with ADA regulations and access code laws at most door entrances
Made from 100% green sustainable materials
StoneCap Color Coating Technology
SafePath Products has developed exclusive StoneCap Color Coating technology for the application of rubber and composite materials that provides one of the most slip-resistant, color stable surfaces ever offered for the recycled rubber and composite plastic industry
StoneCap Color Coatings are specifically designed for durability and attractiveness that other rubber color technology can only attempt to accomplish Designed for the harshest conditions, StoneCap Color Coatings are available in multiple color sets
Where to Use EntryLevel Landing Ramps?
Commercial
- Commercial entrances are compliant in minutes Available in various heights, for almost any door configuration.
Residential
- Residential landings are often required where entrances do not allow for running lengths of ramp and where maneuverability at the entrance is required.
Transit
- Transportation facilities including bus stations and subway entrances require access adjacent to the approach area that includes a detectable warning built into the landing area.
Schools
- Classroom entrances are easily made accessible with EntryLevel Landing products that can pick cross slope up to 4% Easily and quickly installed making compliance fast, affordable and attractive.
Multi-family
- Multi-family residences often require interior and exterior access modification that is quick and affordable Whether new or retro-fit construction there are various product options available for this need.
Stadiums
- EntryLevel Landings are durable while providing safe, soundless slip resistant access to expansive facilities that experience heavy traffic.
Product Highlights
Prefabricated for quick and easy installation and are available in many heights, dimensions and colors
In many commercial and public main entrances, it is required that there is a level maneuverable clearance area.
Typically, the landing can be installed and used within 24 hours or less
EntryLevel Landings are available with ramped access from a single-side to a three-sided "path-of-travel" approach
Prefabrication process allows for the strike-side clearance which is necessary for compliance with access building code laws and regulations
Designed to ensure a perfect fit every time, alleviating the hassle of schedule changes and detouring walking traffic due to extended concrete cure times
Landings offer the only sensible solution for accessible door modification projects
SafePath Ramp is prefabricated product designed to assure compliance with ADA
regulations and access code laws at most door entrances
Made from 100% green sustainable materials
Frequently Bought Together:
Frequently Bought Together: