Duet Alternating LAL Mattress with Rotation
By Prius Healthcare
SKU# PHR-DUET / Item ID # 31190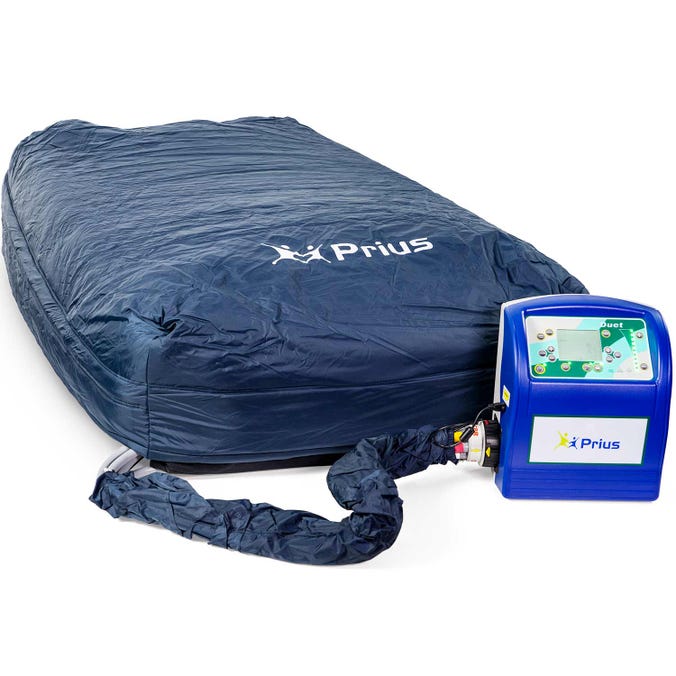 Ships by: Thu, Feb 2nd
FREE Shipping over $50
Product Specialist
Lifetime Phone Support
Financing Options
Need Help?
Talk to one of our Experts!
The Duet Alternating System by Prius Healthcare was designed to lower patients' risk of developing pressure ulcers. The Duet is formed with a 2" convoluted foam base and polythermal cells that provide comfort and reduce pressure. The 600 pound weight capacity makes this mattress replacement an accessible solution for most patients. The Duet will automatically set the optimal pressure based on a patient's weight, height, and position. 10 comfort settings allow you to customize the pressure of the Duet to each patient's needs and are accessible through the large LCD display. The Fowler Mode function will detect the pressure of the patient's buttocks and adjust accordingly to redistribute the pressure over a greater area during medical procedures or patient transfers. The Pulsation Therapy function will simulate a massage and increase blood flow to the patient's body. 3-1 Alteration, Low Air Loss, Static, and Rotation Therapy functions are also accessible through the LCD display.
Visual and audio alarms come standard on the Duet Alternating System for pressure loss, power outage, or the patient exiting the bed. These alarms may be muted if desired. The Duet's CPR Quick Release function deflates the mattress system in 20 seconds in case of an emergency situation. Additional features include a low slip base cover to keep the mattress in place on the bed and a cable management system for added safety. The Duet Alternating System by Prius Healthcare provides patients with superior comfort and reduced pressure.
The Duet Alternating System by Prius Healthcare is an effective mattress replacement system designed to reduce the risk of pressure ulcers and bedsores on patients. With a multitude of functions and 10 comfort settings, this mattress system will provide your patients with superior comfort in any position. With a 600 pound weight capacity and a wide range of adjustments, the Duet Alternating System by Prius Healthcare is an excellent solution for facilities of all sizes.
Product Highlights
8" air cell mattress replacement
3-1 alternation and static
Low air loss therapy
Pulsation therapy
40 degree lateral rotation therapy
Fowler – no loss of therapeutic benefits in upright positioning
Auto – automatically sets optimal pressure based on weight/height and position
Large LCD display
Patient Care provides immediate firm surface
High vapor permeable and quilted nylon cover
2" convoluted foam base
Visual and audio alarms for power failure, bed exit and bottoming out with alarm mute function
Keypad lock out function
10 Digital comfort setting
Modularized design for air mattress
Integrated power cable retainer
Integrated glide sheet to base cover for easy transferring
Weight Capacity:
600 lbs
Weight:
38 lbs
Width:

36", 42", 48"

Length:

80"

Height:

10"

Cell Numbers:

18

Cycle:

Alternation: 3~95 min




Hold and Turning: 3 ~ 95min

Min Operating Pressure:

15 +/- 4mmHg

Max Operating Pressure:

52 +/- 4mmHg

Flow-rate:

n/a

Rated Voltage:

AC 110-120V

Rated Frequency:

60 Hz

Fuse Rating:

5A 250V

Max Current:

5A

Operation Temperature:

15°C (59°F) ~ 35°C (95°F)

Operation Humidity:

30% ~ 75%

Mode of Operation:

Continuous
Prius Healthcare USA guarantees that its TSS equipment is free from defects in materials and workmanship. Our obligation under this warranty is limited to the repair of equipment returned to the place of purchase within 12 months of the delivery date.  We agree to service/adjust any equipment returned, and to replace or repair any part that is proven to be a warranty defect, at no charge.  This warranty excludes equipment damage through shipping, tampering, improper maintenance, carelessness, accident, negligence or misuse, or products that have been altered, repaired or dismantled other than with the manufacturer's written authorization and by its approved procedures and by properly qualified technicians.  In no event shall Prius Healthcare USA be liable for any direct, indirect or consequential damages or losses resulting from the use of equipment.
For hygienic reasons, this item is No Return - No Exchange. Mattresses are No Return - No Exchange because they cannot be reused or sold as new.


Frequently Bought Together:
Frequently Bought Together: