Carroll CS3 Hi-Low Hospital Bed
By Invacare
SKU# CS3SET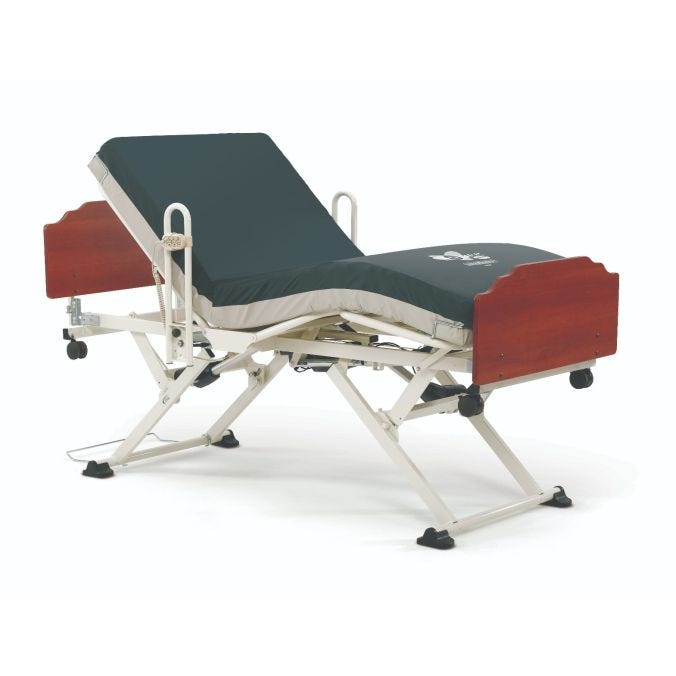 Ships by: Tue, Dec 8th
Earn 44 rewards points with this purchase
FREE Shipping over $50
Product Specialist
Lifetime Phone Support
Financing Options
Product Details
About the Carroll CS3 Hi-Low Hospital Bed
The innovative Carroll CS3 Hi-Low Hospital Bed is a step above other hospital beds, making this bed the industry standard for long-term care beds. The Carroll CS3 Hi-Low Hospital Bed's Auto Contour feature helps to ensure both patient comfort and health. The Auto Contour feature raises both the head and the knees simultaneously, helping the patient to stay securely positioned, rather than sliding during the position change. This results in a more comfortable position change, but also helps to prevent painful skin shearing.
This hospital bed features a slat deck, rather than a grid deck. The slat deck better supports the mattress and allows for improved airflow for a healthier, more comfortable patient experience and improved infection control. Additionally, this bed drops to a height of 8.5" and raises to 27", making it one of the lowest beds available for improved caregiving and patient access.
The Carroll CS3 Hi-Low Hospital Bed is equipped with a rugged hand control which features universal symbols. The control is simple and easy to operate. The Maxi-Lock floor lock system helps to keep the bed securely in place, and rapid tool-free assembly ensures that you can put this bed right to work.
Why the Carroll CS3 Hi-Low Hospital Bed Is Right for You
The Carroll CS3 Hi-Low Hospital Bed is a top-quality long-term care bed which allows for improved care and patient comfort. Caregivers are sure to love the fact that this bed lowers to 8.5", and its slat deck allows for improved infection control. The Auto Contour feature makes position changes easy and safe for the patient, creating an improved care experience.
The Carroll CS3 Hi-Low Hospital Bed ships free, and financing is available so that you can start enjoying it right away. Thanks to MedMart's Low Price Guarantee, you'll know that you will be getting this hospital bed for the lowest price anywhere.

ThinkSoft Half Rails (Pair)


The ThinkSoft Positoning Device can make life easier for residents and improve the quality of care

Assist Bars (Pair)


Simple in design, this assist bar is there to support a resident as they transfer out of bed, and quickly folds down out of the way.




Assist Rails (Pair)


1/2 rail that attaches to midsection of the bed. Offers three positions that provide safety while the resident is in the bed.

Full Side Rails (Pair)
Traditional rail that extends the length of the bed. Telescopes to adjust to movement of head and foot end.

Product Highlights
Hi Low Bed drops to 8.5" height making it one of the lowest beds on the market and raises to 27"
Auto Contour simultaneously raises both the head and the knees, residents stay comfortably in place while being better positioned for reading, watching TV or talking to family members. The simultaneous movement also helps prevent painful skin shearing that might otherwise occur during repositioning
Rapid tool free assembly minimizes delivery set-up time and makes maintenance easier
Exclusive arched slat deck design allows for improved infection control
Carroll CS beds feature a rugged Hand Control, with bright, universal symbols, allowing residents and staff to easily operate the comfort controls of the bed
Maxi-Lock floor lock system securing the bed to the floor in all elevated positions
Wall Bumper is included to ensure the bed is the proper distance from the wall for safe operation
Weight Capacity:
450 lbs
Product Weight:
190 lbs
Width:
36", 39", 42"
Length:
76", 80"
Bed Height:
8.5" to 27"
Max Back Angle:
70

°

Massage:
No
Wheels:
Swivel
Input Voltage:
3.5A max
Frame: 10 years, Mechanical: 5 years, Electrical: 2 years. This warranty is not extended to any other person or entity and is not transferable or assignable to any subsequent purchaser or owner. Coverage under this warranty will end upon any such subsequent sale or other transfer of title to any other person. This warranty gives you specific legal rights and you may also have other legal rights which vary from state to state.
All our beds fall under the same return policy except if the bed has been used for any period of time. If you feel the bed does not fit your needs upon opening please request an RMA but if you find out the bed is not working after sleeping in the bed for a period of time we cannot accept the product back for hygienic reasons. Mattresses and Foundations may only be returned if delivered damaged or later found to be defective. If your mattress or foundation is delivered damaged, contact the customer service number listed on your emailed order confirmation for assistance within 72 hours of delivery. Defects discovered more than 72 hours after the mattress or foundation was delivered may be covered by the manufacturer's warranty, if any.
Frequently Bought Together: