VivaLift!® Radiance Lift Recliner
By Pride
SKU# PLR3955-RETAIL / Item ID # 36033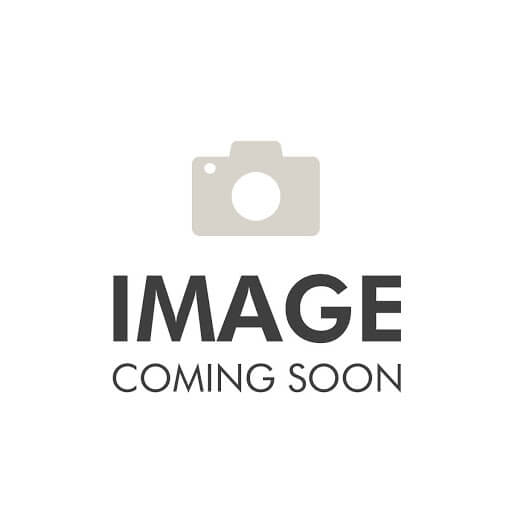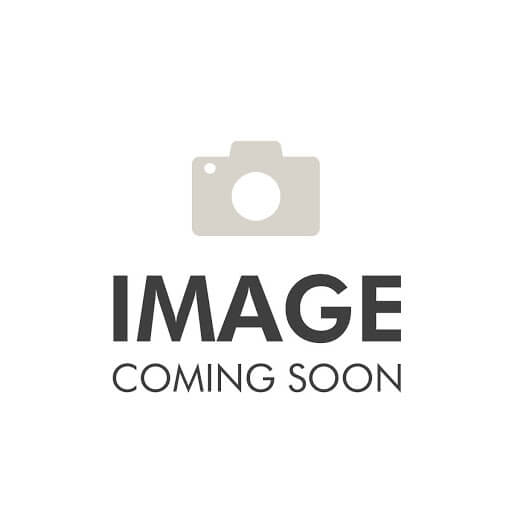 Ships by: Wed, Mar 29th
FREE Shipping over $50
Product Specialist
Lifetime Phone Support
Financing Options
Need Help?
Talk to one of our Experts!
Viva Radiance by Pride is a thoughtfully and strategically designed chair that has an elegant and contemporary look. The design, color, and style of this reclining chair are perfect to compliment any interior design. Plus, its sleek structure and construction allow you to place it in relatively small spaces. This Viva Radiance comes with an incredible heat system that offers three heat pads in the lumbar, shoulder, and seat region of the chair. Hence, it delivers heat to your muscles to resolve muscle tightness in your body. In addition to it, this ergonomically designed reclining chair provides you with many position settings. Hence, you can lie down according to your preferences and comfort. You can either go for zero gravity and Trendelenburg or set your own position combinations.
This Viva Radiance by Pride gives you the best and relaxing experience through its list of features. It includes a wireless phone charger, present in the armrests, and a cup holder. Due to its amazing features, anyone of any age and health condition can benefit from it. Besides that, Viva Radiance contains a power headrest, lumbar support, and footrest extension. To make the reclining process easy, simple, and accessible, this chair includes standard lithium battery backup. This way, you can use your chair when you need relaxation and comfort.
The best part of this chair is that it can endure the weight of 400lbs or more. So, if you find it challenging to find the right chair that has optimal features and specs, then you need to try this one. Note that you can also choose between four size options: small, medium, petite wide, and larger/tall. Since it is an ergonomic chair, you feel relief from pain and soreness in your entire body. Its power headrest, power backrest, power lumbar, and footrest extension provide maximum support to your body. If you are looking for a recliner that makes getting in and out of the chair accessible and feasible, then this chair is ideal for you. Its power lumbar assists patients while they use minimum energy to stand and sit on the chair. Older adults don't need the help of anyone, as Viva Radiance's remote contains an easy-to-use toggle. Lastly, you can also enjoy its lifetime warranty for lift and chair frame and recline mechanism, whereas you will get three years of warranty on electrical parts. On top of that, you will also be able to repair things that come in the electrical labor category for one year.
The Viva Radiance by Pride is a durable, adjustable, elegant, and high comfortable reclining chair that works for every individual or patients looking to soothe their muscles. This ergonomically designed chair helps you relieve pain. On top of that, it comes with a remote control that allows you to change that position easily by only using a toggle. You also have the option to use its two programmable memory position buttons. Hence, if you want a certain position instantly, then all you need to do is to save the position. Viva Radiance is an ideal option for interior design enthusiasts, as it offers you four insanely beautiful colors that you can pick according to your space/ambiance. Not only this, but this reclining chair has a durable construction. If you are worried about your investment, then don't be. This recliner chair of Pride offers you a warranty as a solution to fix problems and damages in the future. Hence, you can use it for years without any worry. Most importantly, this reclining chair with a footrest is now offered at a great value.


*Pride FDA Class II Medical Devices are designed to aid individuals with mobility impairments.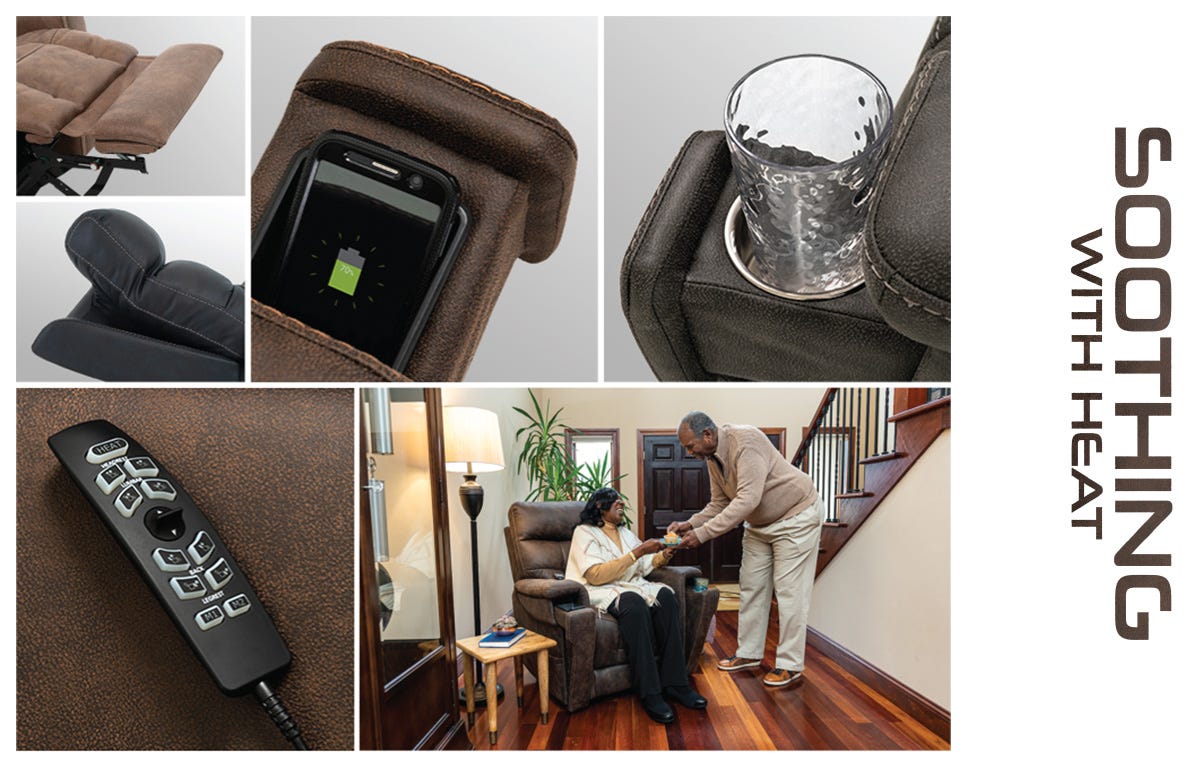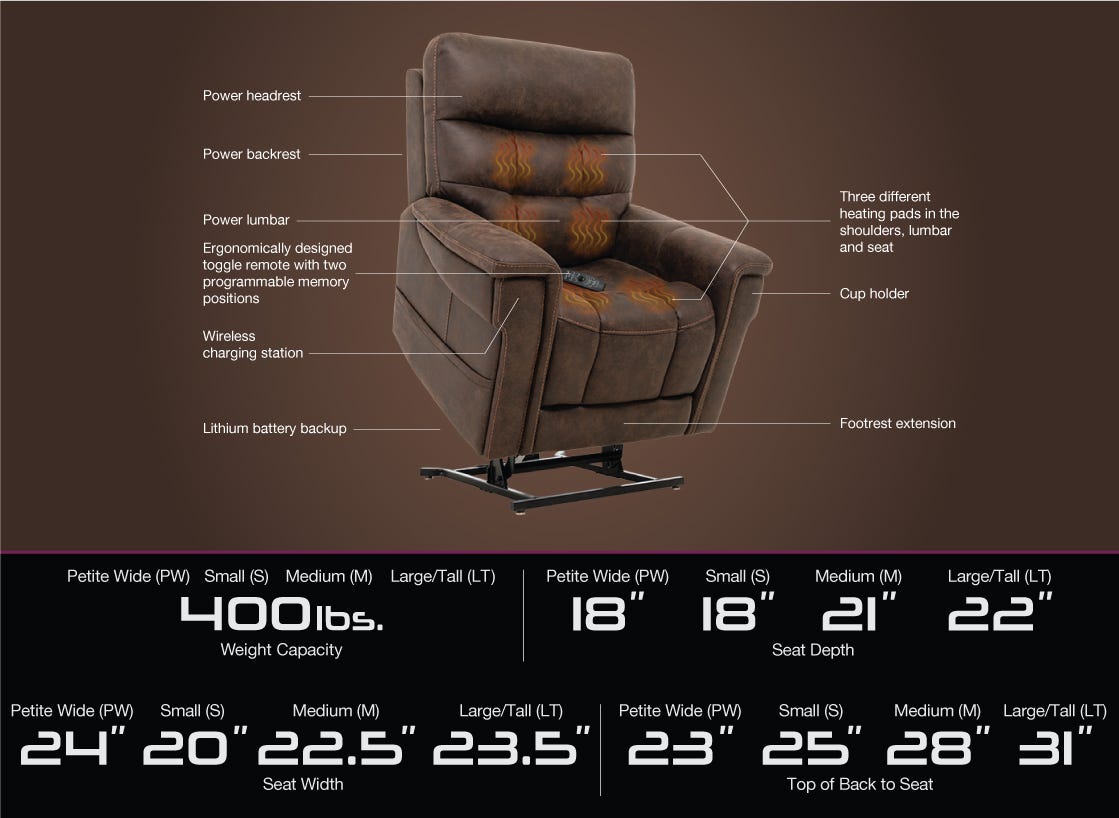 Product Highlights
Standard Heat System with three conveniently located heat pads in the shoulders, lumbar and seat regions of the chair
Ergonomically designed toggle remote
True-infinite positioning enables the backrest and footrest to move independently from one another so that a variety of positions can be reached
Hideaway wireless charging station conveniently charges your phone
Hideaway cup holder keeps your beverage close at hand
The power headrest lifts your head, neck, and shoulders for maximum support
The upward lift offers convenient stand assist for getting in and out of the recliner
The power lumbar enables you to personalize you comfort
The footrest extension allows you to relax and stretch out completely
The backrest moves up and down independently to help you find the perfect position
Lithium battery backup ensures your recliner is operational when the power goes out
Available in four sizes Petite Wide, Small, Medium, and Large/Tall
Easy-to-use toggle in the middle of the remote performs the up/down and recline positions
Adjust the power lumbar, headrest functions independently with a touch of a button
Convenient USB charger port allows you to charge your smart device
| | | | | |
| --- | --- | --- | --- | --- |
|   | Petite Wide | Small | Medium | Large / Tall |
| Size: | 5'4" and below | 5'4" and below | 5'4" - 6" | 6" and above |
| Weight Capacity: | 400lbs. | 400lbs. | 400lbs. | 400lbs. |
| Chair Weight: | 161lbs. | 156lbs. | 158lbs. | 178lbs. |
| Chair Height: | 40" | 41" | 43" | 49" |
| Seat Width:  | 24" | 20" | 22.5" | 23.5" |
| Seat Depth: | 18" | 18" | 21" | 22" |
| Seat to Floor Height: | 19.5" | 18" | 19.5" | 21.5" |
| Top of Back to Seat: | 23" | 25" | 28" | 31" |
| Overall Width: | 41" | 37" | 39" | 40" |
| Distance from Wall: | 14" | 15" | 15" | 21.5" |
| Fully Padded Chaise: | Yes | Yes | Yes | Yes |
| Heat Standard (no Massage) | Yes | Yes  | Yes | Yes |
| | |
| --- | --- |
| Lifetime Warranty, Chair Frame, Lift Frame, Recline Mechanism: | Yes |
| Warranty on Electrical Parts: | 3 |
Upon receipt of your lift chair, you have 3 days to inspect it for damages or defects. If any damages or defects are found, they will be repaired or replaced at no charge. The lift chair must be in like-new condition. As these are considered Medical Devices by the FDA their guidelines apply. The customer is responsible for freight costs both ways plus a 20% restocking fee unless the chair is defective. Chairs returned due to being refused by the customer or deemed undeliverable by the freight carrier are subject to fees for freight both ways and a 20% restocking fee. Stock chairs canceled prior to shipment are subject to a $50 cancellation fee. Builder chairs with customer features such as leather or any special options are No Return - No Exchange and cannot be canceled once in production.