Empresa® BodyMove Hi-Low Bed
By Accora
SKU# ACCEMP / Item ID # 34043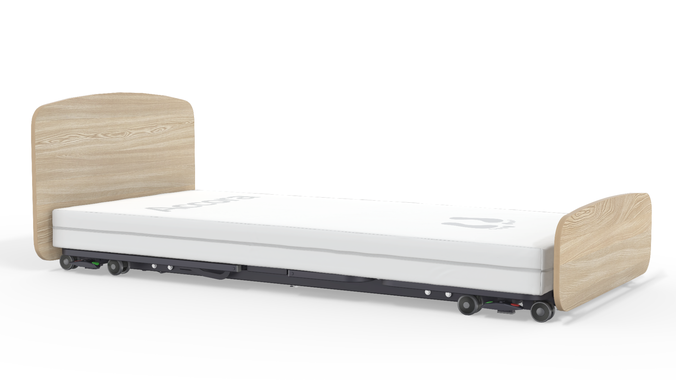 Ships by: Fri, Dec 9th
FREE Shipping over $50
Product Specialist
Lifetime Phone Support
Financing Options
Need Help?
Talk to one of our Experts!
Empresa BodyMove Hi-Low Bed by Accora offers you a safe and comfy area to sleep and rest. This medical bed gives you a range of features that make your life easy and comfortable. Not only this, but your caregivers can also offer you good care while you are using Empresa BodyMove. Unlike other standard medical beds, this bed complements every type of setting. You can place it in a traditional or modern space. Its appealing texture, finishing, material, and composition add an attractive feel to your room. This bed provides you with a weight capacity of 525 lbs, allowing overweight or obese people to benefit from it.
While the best candidate for this bed is bedridden folks or patients with mobility issues, individuals with any disorder, disease, or concern can get the most out of it. Whether you want a bed for personal use or a medical facility, this bed is perfect for supporting you in any situation. The most attractive feature is that this bed can rise more than 31.5 inches above the ground. This helps the caregivers easily provide medical assistance to the patient so that patients can receive good treatment without any hassle.
Empresa BodyMove Hi-Low Bed by Accora comes with footboards and low head segments that allow you to adjust your head and foot at the right angles. The medical staff or caregiver can also find it easy to access these areas for things like lower limb dressing and hair care. You also need to know that the footboard and low head give access to sliding sheets at the foot or head of the bed. This feature is ideal for patients with one caregiver, as they can easily reposition the bed. On the other hand, in the case of standard beds, there is always a need for multiple caregivers so that they can easily assist the patients.
Since you can lower your bed to the ground, you don't have to worry about falling during sleep. Even if you decide to keep it above the ground, you have the option to choose between half rails and assist bars to make your sleep time safe and comfy.
Every patient has different needs and requirements. This is why you have multiple options when it comes to mattresses. You can go for classic care DLX or total care VLX or other options. Make sure to consider the height and width while purchasing the bed.
Empresa BodyMove Hi-Low Bed by Accora is an ideal option for you if you are looking for various options in head and foot panels. Yes! Accora allows you to pick between light oak, walnut, and cherry wood so that the bed can seamlessly blend into your living space. If you ever plan to use the mattress, you can easily find an ideal mattress for your bed in the market. This is because the bed comes with a standard width mattress platform, allowing you to use your desired mattress.
There are no trailing wires, as the wires are properly secured in the bed frame. This lowers the risk of damage while offering safe use of play motors and mobile hoistPlug. Furthermore, you can use the backrest elevation function that provides a wide range of movements to patients. This feature also helps you swallow and lowers the risk of fluid buildup in the lungs. It offers improved respiratory function. Besides that, the knee break function enables a user to set their foot at different angles for different purposes. This amazing bed with wheels offers you four years electric warranty on different parts. Lastly, you can now purchase this amazing bed at an affordable cost.
Empresa BodyMove Hi-Low Bed by Accora offers you good care and allows you to easily get in and out of bed and sleep without worrying about falling. This medical bed comes with four wheels so that your caregiver can easily reposition the bed to give you excellent care. This bed also allows you to raise your bed head and footrest to provide you with maximum comfort and excellent facilities. Features like rails, mattress, and head and foot panel options allow you to personalize the bed based on your needs and requirements.
Product Highlights
Bed raises to 31.5 in, enabling caregivers to complete care tasks at an appropriate height
Low head and footboards enable access for care tasks, such as hair care and lower limb dressing
Low head and footboards facilitate access to sliding sheets at the head or foot of the bed, allowing a single caregiver to reposition a person up or down the bed
Standard width mattress platform is compatible with most mattress systems
No trailing wires. Wires fix securely to the bed frame, reducing the risk of damage and allowing safe use of a mobile hoistPlug and play motors, making maintenance easy
Backrest elevation function can assist with transfers and offer a range of movement for the user. The raised position enables easier eye contact resulting in better social interaction. In some cases, it may reduce fluid build-up in the lungs, facilitate improved respiratory function and assist with swallowing
Knee break function enables users to retain their position more easily as it can reduce the risk of the user slipping down in the bed. The function may also help to reduce fluid and pressure in legs and ankles
| | |
| --- | --- |
| Weight Capacity: | 525 lbs |
| Weight: | 265 lbs |
| Bed Height: | 3.9" to 32" (Not Including Mattress) |
| Overall Dimensions: | 40"W x 82.3"L |
| Trendelenburg: | 12° |
| Backrest Max Angle: | 70° |
| Legrest Max Angle: | 36° |
Frame - 12 Years
Electric/Parts - 4 Years. Manufacturer warrants to the original purchaser that this product will be free from defects in materials and workmanship for a period of 24 months from the date of delivery. During the warranty period, the manufacturer will replace at no charge, products or parts of a product which prove defective because of improper material or workmanship, under normal use and maintenance. This limited warranty does not cover any problem that is caused by conditions, malfunctions or damage not resulting from defects in material or workmanship. Parts under warranty will be covered at no cost. Any labor cost for service under warranty is not covered as per our terms of sale.
Standard Manufacturer Terms & Conditions are applicable for the Warranty of this product.
Beds that are delivered, are exempt from return. If defective or damaged, please send images to helpdesk@medmart.com so we can do a full replacement or a part replacement. Please contact the customer service number listed on your emailed order confirmation for assistance within 72 hours of delivery. Defects discovered more than 72 hours after the mattress or foundation has been delivered may be covered by the manufacturer's warranty, if any.
Frequently Bought Together:
Frequently Bought Together: