By Liko (Hill-Rom)
SKU# P2020003 / Item ID # 29921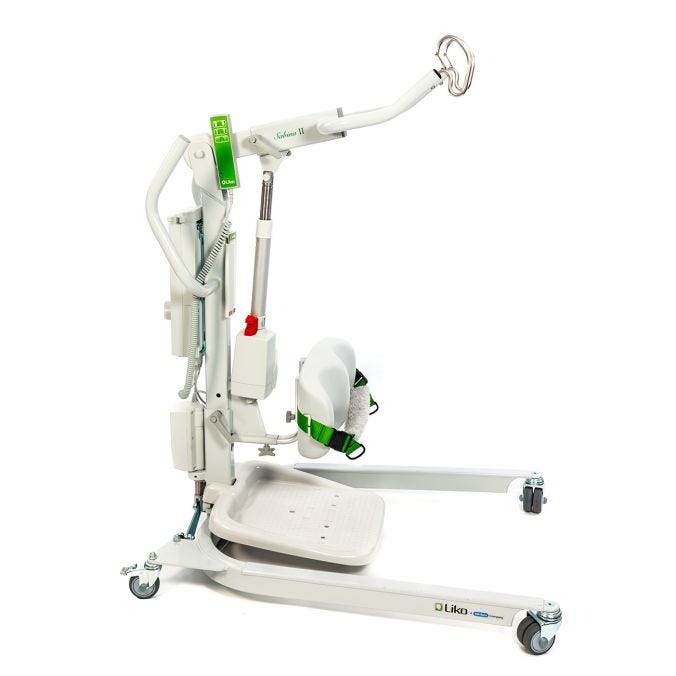 Ships by: Fri, Jun 25th
Earn 120 rewards points with this purchase
FREE Shipping over $50
Product Specialist
Lifetime Phone Support
Financing Options
Need Help?
Talk to one of our Experts!
The Sabina II can be used as a sit-to-stand lift, a lifting aid, or a traditional patient lift. This lift does triple duty, making it a highly desirable and space saving addition to your home or professional health care setting.
The Sabina II features exchangeable slingbars which allow you to accessorize the lift with innovative vest slings. A 350-slingbar can accommodate both the Liko SupportVest (used for supporting the back and under the arms to raise a patient into a standing position) and the Liko SafetyVest (used to provide stability to the patient during the entire transfer). The second slingbar, the Comfort slingbar, uses the Liko ComfortVest to help frail or weak patients move to an upright position without putting uncomfortable pressure under the arms. These slings can provide patients with extra stability and support which is specifically tailored to each patient's needs.
The Sabina II not only maximizes patient comfort – it is designed to maximize caregiver comfort and safety, too. This lift has a hand control with two speeds so that the caregiver can focus on the patient during the lift and transfer. Its base is powered to minimize the physical requirements of the caregiver. The base measures 27.5" when closed and 44" when open, making it easy to place this lift in and around furniture and other obstacles.
The Sabina II is a highly versatile lift. With its three potential uses, this lift offers you great value and space saving capacity – rather than three pieces of equipment, you only need this lift. The Sabina II has a lifting capacity of 350 pounds and its multiple slingbars allow you to design this lift to best suit each individual patient. This lift is ideal for professional settings where you work with multiple patients, or for home care settings where you want to save on space.
Product Highlights
3-in-1 lifting features
Full body lift & sit-to-stand lift
Hand Control with two speeds
Removable Footrest
Powerbase
Exchangeable sling bars
Adjustable height
Weight:
93 lbs
Weight Capacity:
440 lbs
Lifting Range:
31.5" to 67.9"
Powered Base:
Yes
Base Width Open:
44.9"
Base Width Closed:
27.2"
Base Length:
41.7"
Base Height:
4.2"
Overall Height:
69.7"
Clearance:
4.1"
Ground Clearance:
0.9"
Caster Size (front):
3"
Caster Size (back):
3"
Sling Types:
2-Point Sling
Standing Sling
Battery:
12V 3AH
The following parts will be repaired or replaced at our discretion, free of charge, for the following allowable time periods from the date of purchase. 3 Year Warranty on lift 3 Month Warranty on Batteries
As stated in the full Return Policy, this item may be returned within 30 days of receipt for a refund as long as the following conditions are met:


The item must be returned at the customer's expense in the original packaging.
The item must be in new condition.
A Return Authorization must be requested from Med Mart within 30 days of delivery.
Once the Return Authorization has been received, the product must be returned within 14 days.
Frequently Bought Together: